Net-Zero Hero: Jason John Paul Haskins

I'm helping to make Austin Net-Zero by building and advocating for affordable housing projects.
Meet our newest Net-Zero Hero: Jason John Paul Haskins, an architect with hatch + Ulland Owen Architects (h+uo), a firm focused on sustainable and socially responsible design. Jason led the way on the Roosevelt Gardens project, a transitional home for residents who are living with HIV and have experienced chronic homelessness. Jason's professional practice focuses on enacting and embodying solidarity, subsidiarity, and human dignity in the built environment. 
Jason is also the volunteer 2023 Chair of AIA Austin's DesignVoice committee. DesignVoice facilitates opportunities for design professionals to serve their community through collaborative design-focused events and informational programs. 
We met with Jason at Roosevelt Gardens to discuss their views on architecture and sustainability, the need for affordable housing, and how Catholicism influences their work.
---
Why did you decide to become an architect?
I first said I wanted to be an architect in the third grade when I was interested in both computers and art. I really enjoy the diversity in my work, as it includes a range of tasks, from highly technical aspects like decoding land development protocols to creative pursuits like designing spaces. Each day is different, and I appreciate that.
I joined h+uo in 2019, bringing with me experience from another nearby firm where I worked on affordable housing projects. My previous role involved both design and development, giving me a unique perspective that other architects may not have. I don't like to think of myself as an architect who is solely interested in sustainability and green building. For me, it's more about fostering equitable community development, with a particular focus on affordable housing.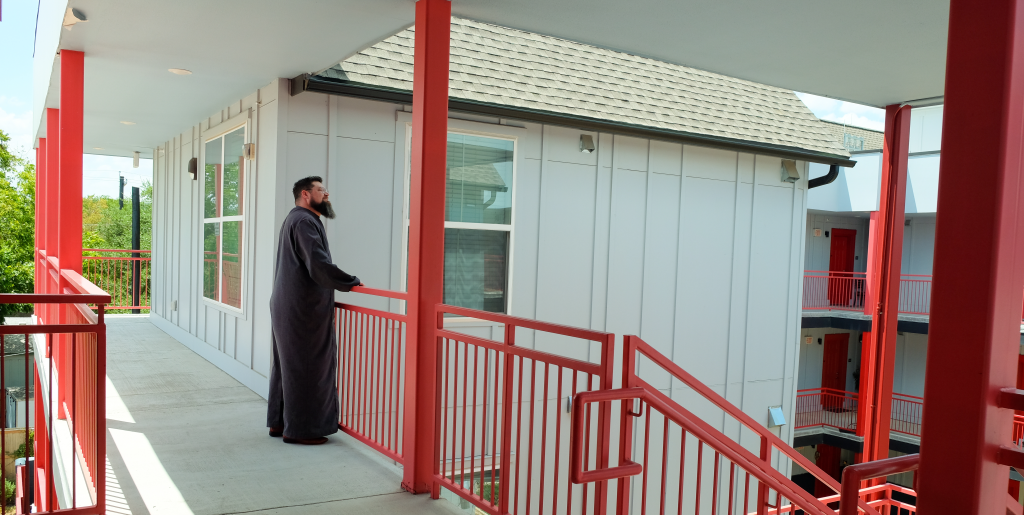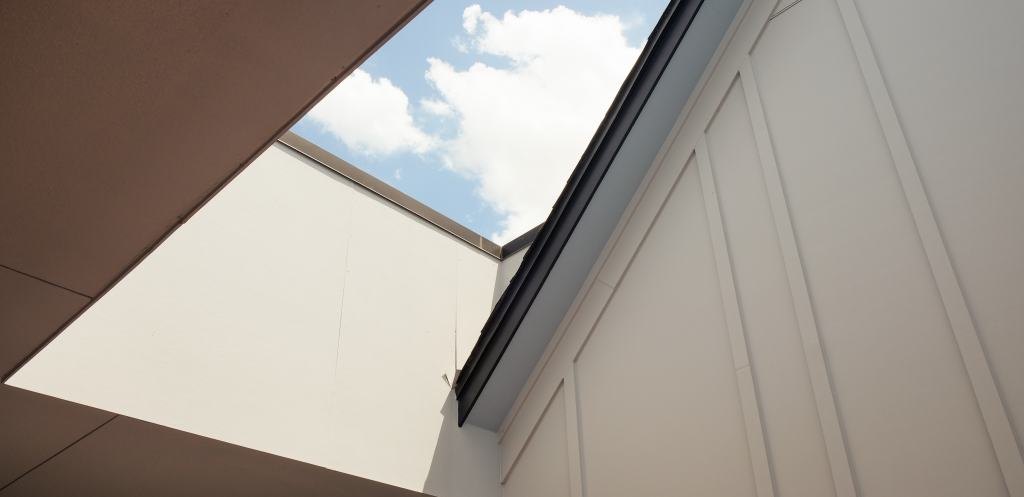 Top: Jason looks out onto the courtyard of the Roosevelt Gardens. Bottom: Architectural detail prioritizes natural light.
What inspired you to take action?
One of my initial inspirations was observing the current state of architecture, especially the real estate sector. In the US, I feel like there are inherent inequities. Housing is often treated more as a commodity rather than a human right, which goes against the principles outlined in the UN Universal Declaration of Human Rights.
The traditional path in real estate, where developers build cheaply and quickly to flip properties for a profit in a short time, contradicts the principles of sustainable community development. By contrast, affordable housing projects prioritize long-term benefits, focusing on residents' well-being and the longevity of the building. This approach aligns with sustainable design principles, which benefit everyone involved in the long run.
My practice is deeply rooted in Catholic social teaching that emphasizes solidarity, subsidiarity, and human dignity. These principles are things I think about and apply to my work all the time. I became a Catholic as an adult by immersing myself in the various writings. Pope Francis actually talks a lot about community development and equity in building and design. He says that green technology isn't going to solve all our problems — we need a human response to caring for the earth and caring for each other. 
The natural environment and the human environment are so intertwined — when they degrade, they degrade together. And, it's the most vulnerable who suffer the effects.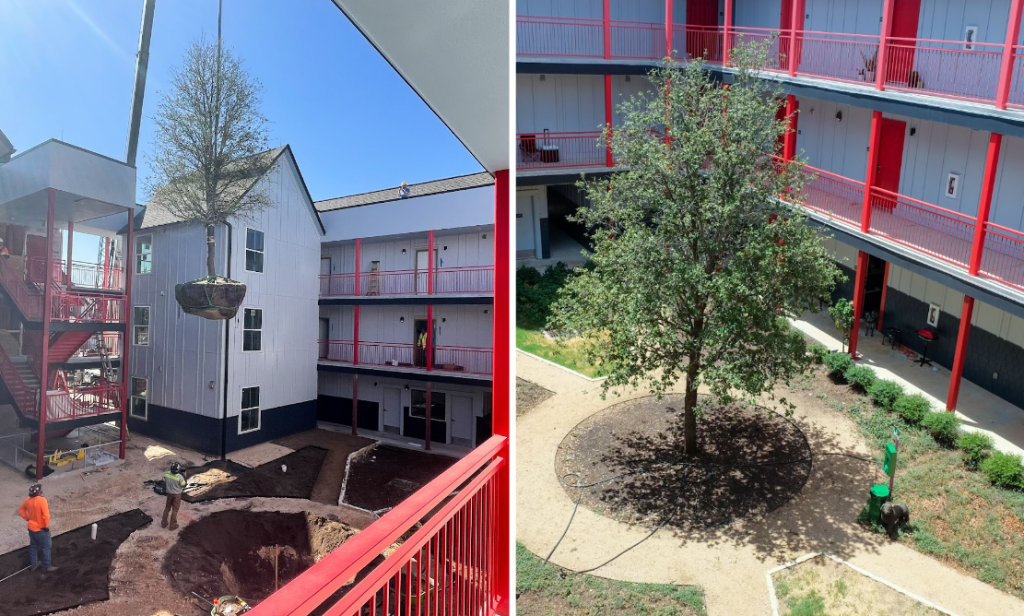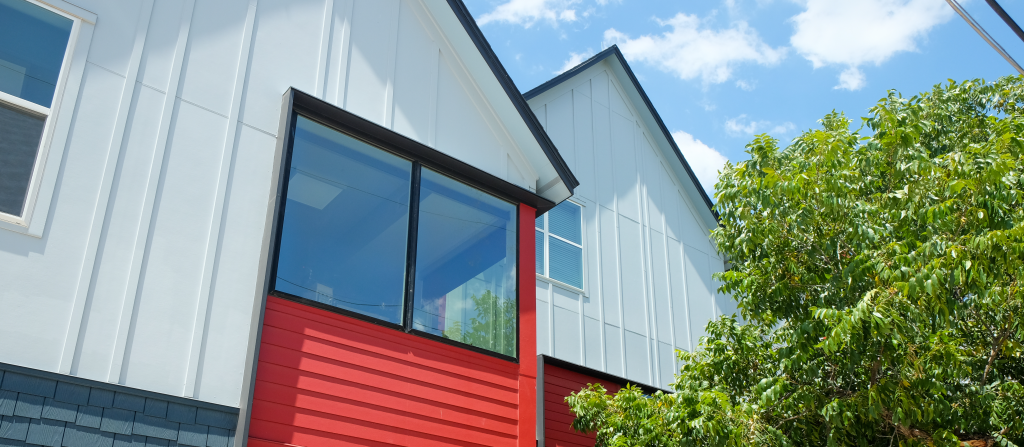 Top-left: The central courtyard oak tree being lowered at Roosevelt Gardens. Top-right: The tree is fully planted and thriving. Bottom: Another shot of the property.
How did you do it?
I approach my work by first understanding the organization or the clients. This will include their quality of life expectations, sustainability aspirations, and the specific requirements of their project. Beyond that, I try to use creative methods like interactive card sorting and including the staff and residents in the design process to gain even deeper insights.
For example, the Roosevelt Gardens project supports people living with HIV. This means almost everyone living there could have a compounding illness of some kind, so supporting health and indoor air quality becomes extremely important. Collaborating with the client, nonprofit Project Transitions, was so important. Their understanding of the resident's needs and their openness to advice steered us toward better solutions for the project as a whole. This was a redevelopment of an existing property, so we could base decisions on the actual needs of the current residents who would move back in at the end of construction.
I am particularly proud of the project receiving a 5-star rating from Austin Energy Green Building. Despite a tight budget, we made incremental smart decisions at every turn. For example, we implemented a central hot water loop without resorting to expensive systems and opted for low-flow fixtures and thoughtful landscape design. Being intentional about each small element allowed us to create a more human-centric design.
A notable feature is the right-sized units. We've managed to create 484 square-foot apartments that feel much larger. Understanding the lifestyle and preferences of the residents, we designed smaller kitchens, as most of them live alone and don't cook large meals. This strategy allowed us to incorporate higher-performing, appropriately sized systems, preventing issues like mold and humidity problems often present in larger setups.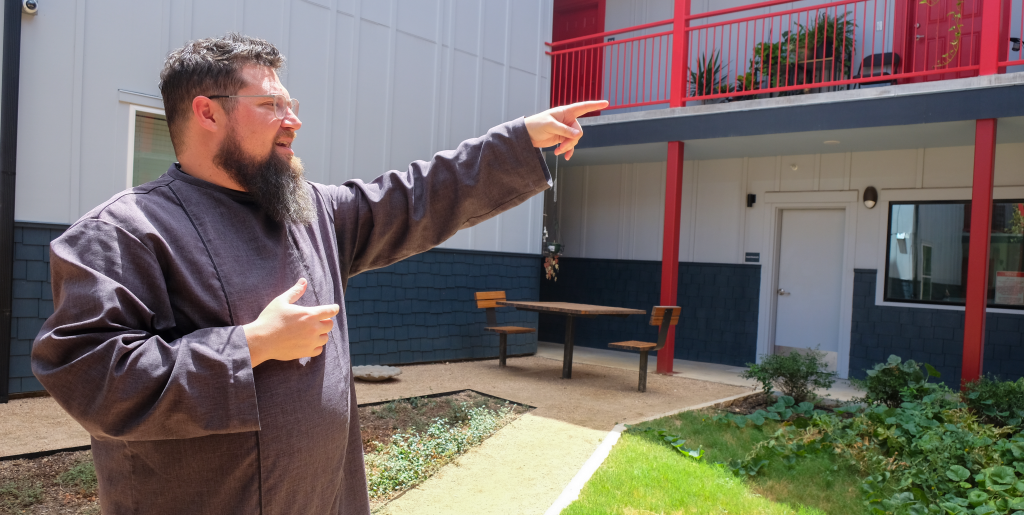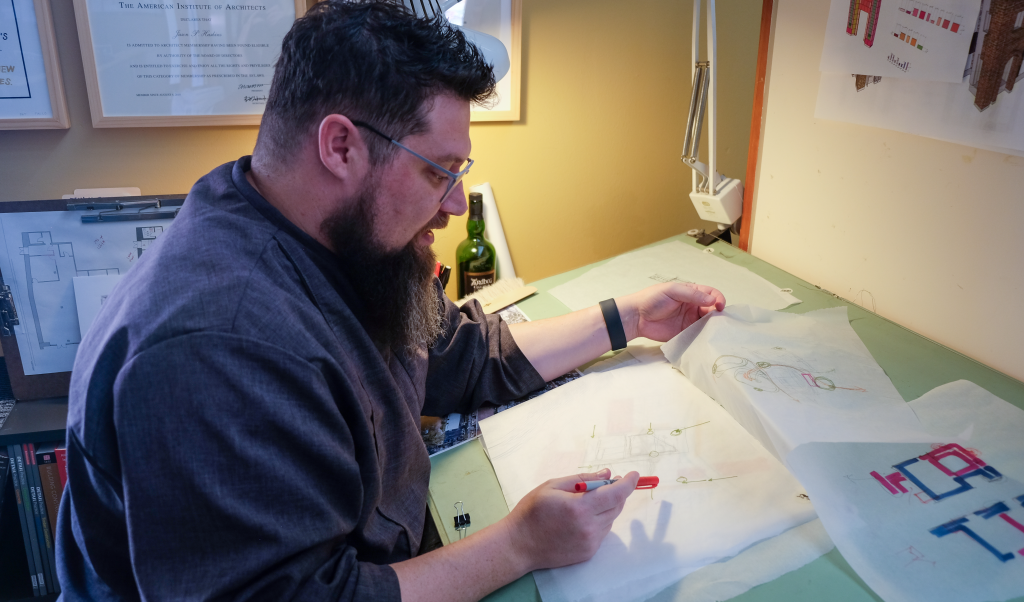 Top: Jason points out some sustainable features in the Roosevelt Gardens development. Bottom: Jason sketches at his drafting table in his office.
Currently, I am really involved in local advocacy work for affordable housing initiatives. I am also chairing the AIA Austin DesignVoice Committee this year, where our primary focus is on community design initiatives, offering pro bono conceptual design work for non-profits and helping them kick-start small projects.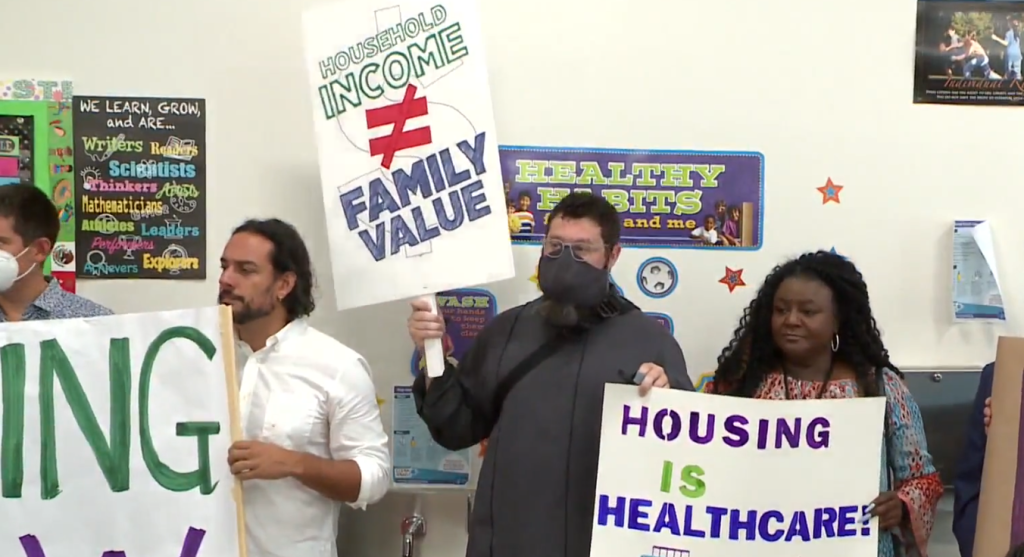 Jason and others advocate for affordable housing in Austin.
What's been the most rewarding about getting involved in this way?
The most rewarding aspect is getting people into housing — seeing an affordable housing project come to fruition and witnessing individuals actually moving in. Getting positive feedback about small yet significant features, like granite countertops that symbolize stability and achievement for many, is truly fulfilling. What drives me is listening to the community's needs, whether it's providing safe bathtubs or other amenities, and incorporating these elements into our designs. 
However, we know that there is an overwhelming demand for affordable housing. For example, our Laurel Creek project was filled in less than a day. This shows the urgent need for more projects like this.
What's been the toughest part?
The worst part is dealing with NIMBY (Not In My Backyard) sentiments, where people resist any sort of change in their neighborhoods — including the development of affordable housing. This resistance, often rooted in fear and prejudice, is both frustrating and demoralizing. It's exhausting to deal with these attitudes, which are not only divisive but also counterproductive to building sustainable and inclusive communities.
It's tough to witness other people effectively pulling up the ladder behind them and thinking that just because they own a home, they should be able to decide what happens within a 600-foot radius of it. It often feels like an uphill battle.
Another thing that's tough in my field is the bias toward luxury projects. It bothers me to see awards given to massive houses catering to just one single family, considering the resources could be used to accommodate multiple families in need. It's an issue that I believe we need to address urgently in our field.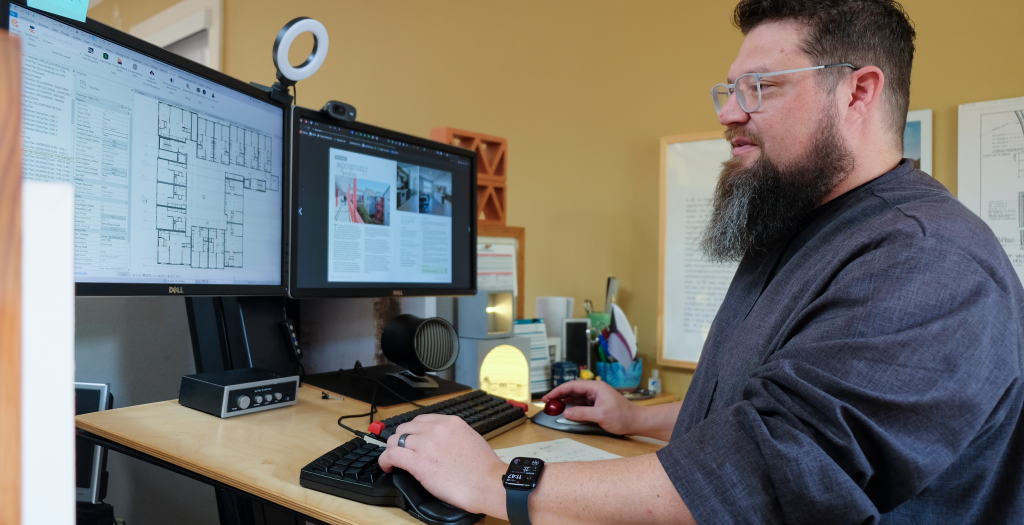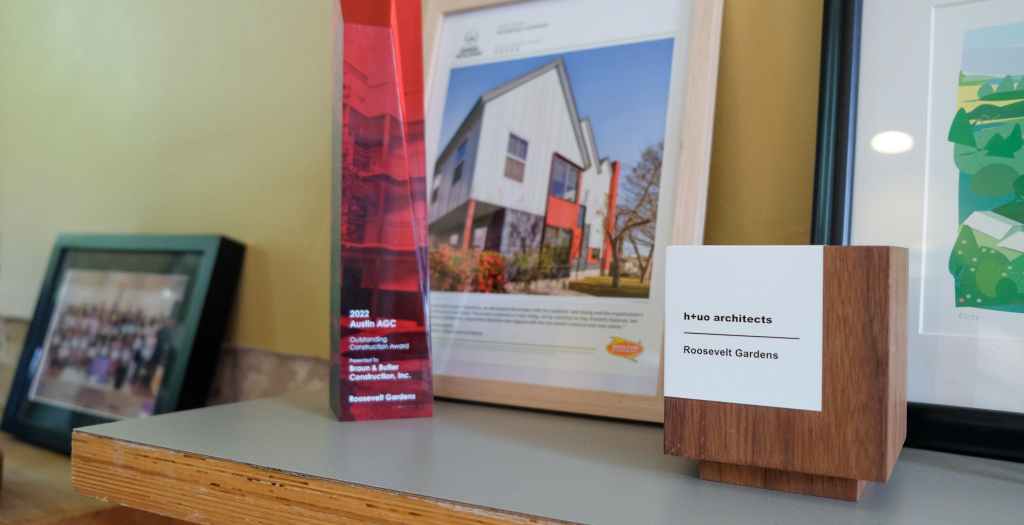 Top: Jason working in their office. Bottom: Awards won by h+uo for the Roosevelt Gardens project.
Is there a book, documentary, or other piece of media you would recommend for folks wanting to learn more about these topics?
I recommend the following readings, which have greatly influenced my thinking: 
What advice do you have for others?
We should always strive to imagine others complexly without judging them based on their income or housing situations. It's important not to assume that everyone has the same aspirations or values and the same markers of success. We should also look for opportunities to create more variety in housing types rather than favoring homogeneity and narrow notions of compatibility.
As for green building initiatives, I don't think they always have to be expensive or flashy. Much of our work actually doesn't win awards because it's too mundane, and we're happy with that.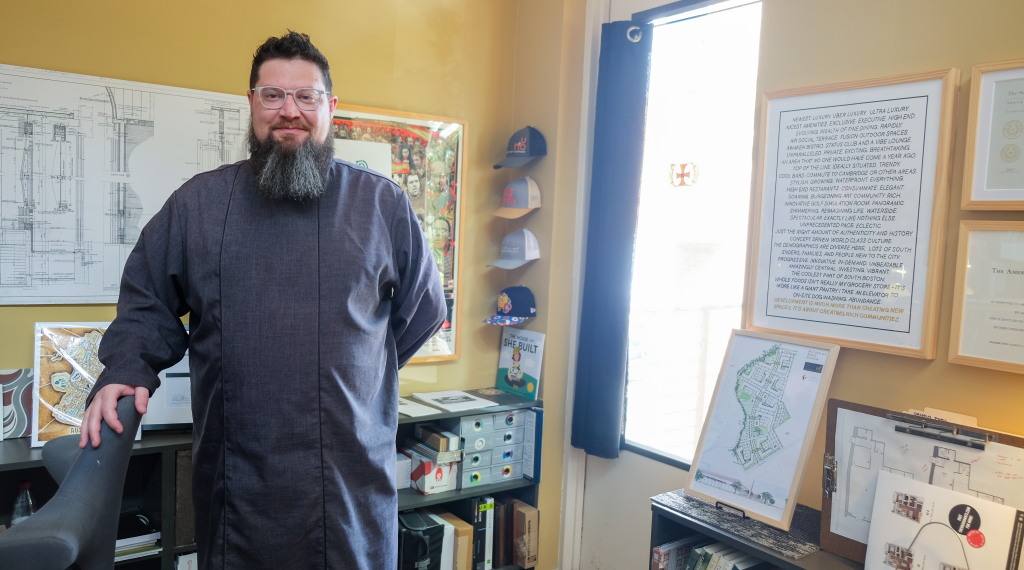 ---
Jason is currently serving as the Chair for AIA Design Voice, which facilitates opportunities for design professionals to give back to their community. Learn more about DesignVoice and how to join in on their monthly meetings. Find out more about Austin Energy Green Building. To learn more about Austin's net-zero goal and the actions you can take to support a greener community, check out the Austin Climate Equity Plan.
Share your net-zero contributions with us on Twitter or Facebook, and use #NetZeroHero. If you know a Net-Zero Hero (or heroes!) who should be recognized for their efforts, send your nomination to sustainability@austintexas.gov.