The truth about plastic bags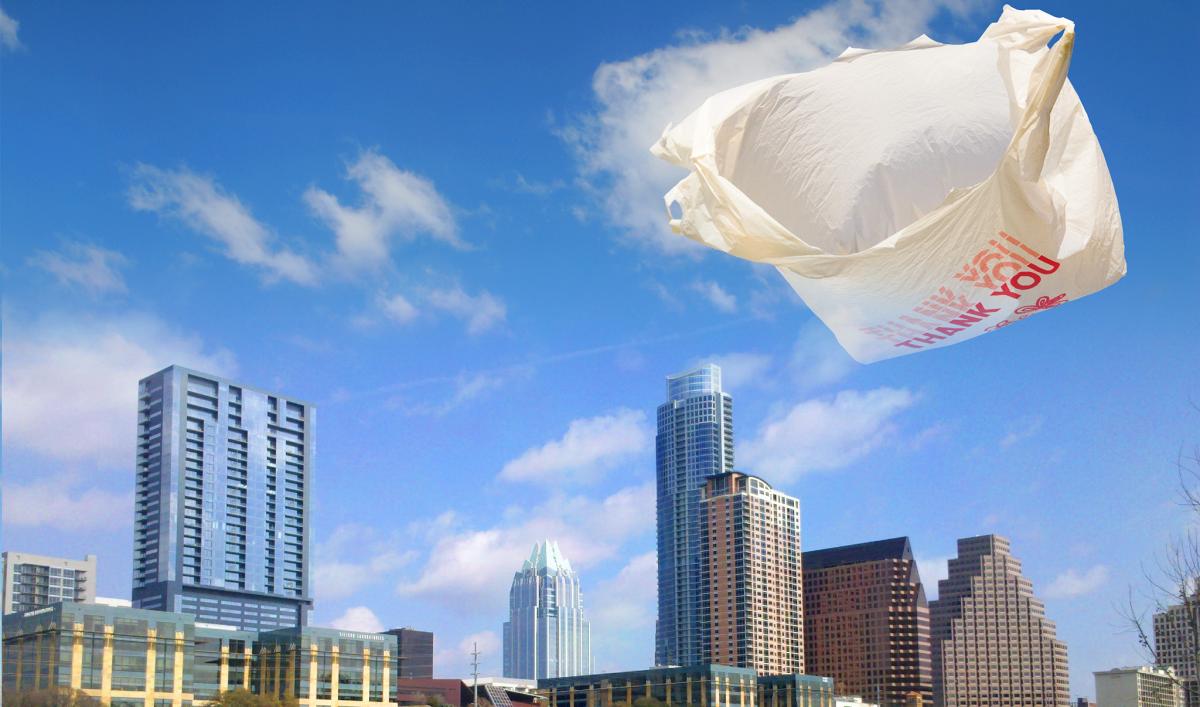 By: Keri Greenwalt
There has been a lot of talk about plastic bags since Austin's ordinance was overturned this past summer. With so much chatter it can be difficult to figure out the facts. Let's sort it out so we can stop the myths from blowing around like a stray plastic bag in the wind.
Myth: The City of Austin no longer cares whether I bring my own reusable bags when I shop or if I opt for single-use bags.
Fact: Austin's Single-Use Bag Ordinance (SUBO) took effect in March 2013. The ordinance regulated the types of bags that could be distributed by businesses in Austin and encouraged a shift to reusable bags. After the Texas Supreme Court ruled that a similar bag ban in Laredo violated state law, Austin lost its ability to enforce the ordinance.
While the ordinance can no longer be enforced, the City is still very committed to its Zero Waste goal. Austin Resource Recovery continues its efforts to reduce the use of these bags and other single-use disposable items. We encourage everyone to continue to bring their own reusable bags every time they shop. Austinites Ron Oliveira, Ali Khan and Tammie Williamson still bring their reusable bags. Use #IStillBringIt on social media to share your story about why you still bring it.
Myth: Local retailers must now offer free single-use bags at checkout.
Fact: There was never a local or state law requiring retailers to provide free bags at checkout. Doing so is up to the discretion of the retailer, and retailers can opt to charge for bags or refrain from providing them at all if they so choose.
Myth: I can recycle single-use plastic bags in my blue cart.
Fact: While single-use plastic film items like shopping bags and plastic wrap (basically plastic that is stretchy) can be recycled, these items should never be placed in your blue cart because they get tangled in the sorting machines at the Material Recovery Facility that processes the City's recycling. Instead, you can recycle these items by dropping them off at the City's Recycle & Reuse Drop-off Center or at many locations throughout the Austin area.
Rigid plastics that keep their shape can be placed in your blue cart and recycled curbside, while soft plastics that do not stretch (like snack wrappers) should be discarded in the trash cart. When in doubt, our handy sorting guide can help you figure out what goes where.
Myth: It doesn't matter if I opt for single-use bags every time I shop since the plastic film can just be recycled anyway.
Fact: While it is true that plastic film can be recycled, it is always best to reduce and reuse what you can first so there is less of this material in existence in the first place. Bags constructed from canvas and other durable materials can be reused many times and reduce the need for plastic bags in the first place. Read more about the environmental effects of the single-use plastic bag in Austin in this report released by ARR in 2015.
Myth: I'm only one person, so my efforts to help reduce single-use plastic bags won't make a difference now that the ordinance is no longer being enforced.
Fact: Each person can make a difference when it comes to Zero Waste. Every time you reduce, reuse and recycle you are preventing materials from going to the landfill. Continue to encourage your friends and family to do the same, and spread the word through social media with #IStillBringIt to rally others to join you in this effort. You can also share your thoughts on plastic bags with us by completing this survey by March 8.