Work Session of the Austin City Council
February 16, 2011
---
Meeting Agenda

  Agenda - Work Session,  741kb
Approved Meeting Minutes
The minutes for the Special Called Meeting of February 16, 2011 were approved on the 3rd day of March 2011 on Council Member Spelman's motion, Council Member Cole's second on a 7-0 vote.

  Minutes - Work Session,  826kb
Closed Caption Transcript

  Transcript,  196kb
Video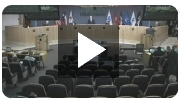 Play video - February 16, 2011
---
Agenda Items
---
Item A - February 16, 2011
Discussion, with representatives of AISD, the District's projected budget shortfalls in the next biennium and the proposed Council resolution scheduled for action on February 17, 2011.
The presentation was made by representatives from the Austin Independent School District as follows: Mark Williams, Board President; Nicole Conley-Abram, Chief Financial Officer; Meria Carstarphen, Superintendent; and Mel Waxler, General Counsel.
Work Papers and Other Backup Documentation

  20110216-A, Agenda Backup,  PDF,  360kb
---
Item B - February 16, 2011
Discussion and possible action on work session procedures.
The Mayor asked Council to delay action on this item until the City Manager has had a chance to present some specific proposals. Additional Council suggestions offered were: a. create an online question and answer process similar to what is used during the budget preparation; b. the work session is intended to allow discussion among Council Members and not necessarily just to question staff; c. if Council wants a particular staff person to respond to an agenda question, they would submit the request in advance and only those staff would be present during the work session; d. revisit the Council schedule for the year to see if there is any efficiency in meeting every other week; e. review options for meeting dates and times to determine what is the most effective and best for Council and staff; and f. set a deadline for Council to submit questions for non-agenda related items in time to be posted on the work session agenda.
There are no documents available for this agenda item.
---
Item C - February 16, 2011
Agenda: The City Council will meet in a work session to discuss items on the Thursday, February 17, 2011 agenda. No action will be taken and there will be no citizen participation during the work session. Citizens will be permitted to address agenda items at the regularly scheduled City Council meeting on Thursday, February 17, 2011.
Leslie Browder, Chief Financial Officer, and Joe Pantalion, Deputy Director of Watershed Protection, did a brief presentation about the items on the agenda for tomorrow related to the Waller Creek tunnel. The Mayor indicated those items will be discussed together at approximately 4:00 p.m., after the public hearing. The Mayor opened the discussion on the Thursday agenda items and allowed Council to give input or ask questions. Staff was available to provide verbal responses to Council questions.
There are no documents available for this agenda item.
Page updated: 7/18/2013
Office of the City Clerk