Work Session of the Austin City Council
November 18, 2014
---
Meeting Agenda

  Agenda - Work Session,  349kb
Approved Meeting Minutes

  Minutes - Work Session,  80kb
Closed Caption Transcript

  Transcript - Work Session,  358kb
Video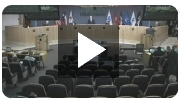 Play video - November 18, 2014
---
Agenda Items
---
Item B001 - November 18, 2014
Briefing on the State and Federal Legislative Programs.
Work Papers and Other Backup Documentation

  20141118-B001, Agenda Late Backup,  PDF,  128kb
---
Item B002 - November 18, 2014
Briefing on the preliminary results of the study conducted by the City Auditor concerning the structure and practices of council committees in peer cities with Council-Manager forms of government (Follow-up from Council Resolution No. 20141002-047).
Work Papers and Other Backup Documentation

  20141118-B002, Agenda Late Backup Part 1 of 3,  PDF,  908kb

  20141118-B002, Agenda Late Backup Part 2 of 3,  PDF,  408kb

  20141118-B002, Agenda Late Backup Part 3 of 3,  PDF,  531kb
Page updated: 10/20/2016
Office of the City Clerk