Special Called Meeting of the Austin City Council
September 12, 2012
---
Meeting Agenda

  Agenda - Special Called Meeting,  125kb
Approved Meeting Minutes

  Minutes- Special Called,  12kb
Closed Caption Transcript

  Transcript,  123kb
Video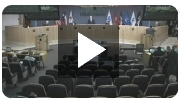 Play video - September 12, 2012
---
Agenda Items
---
Item SPEC001 - September 12, 2012
Set a public hearing to consider an ordinance creating an economic development program for and authorizing the negotiation and execution of an Economic Development Agreement with HID Global Corporation (Suggested date and time: September 27, 2012, 4:00 p.m. at Austin City Hall, 301 W. Second Street, Austin, TX).
Work Papers and Other Backup Documentation

  20120912-SPEC001, Agenda Backup: Recommendation for Council Action,  PDF,  63kb
---
Item SPEC002 - September 12, 2012
Staff presentation regarding an economic development proposal to create an economic development program for HID Global Corporation. (Public comment is permitted on this staff presentation).
Work Papers and Other Backup Documentation

  20120912-SPEC002, Agenda Late Backup Part 1 of 3,  PDF,  47kb

  20120912-SPEC002, Agenda Late Backup Part 2 of 3,  PDF,  65kb

  20120912-SPEC002, Agenda Late Backup Part 3 of 3,  PDF,  154kb
Page updated: 2/10/2015
Office of the City Clerk