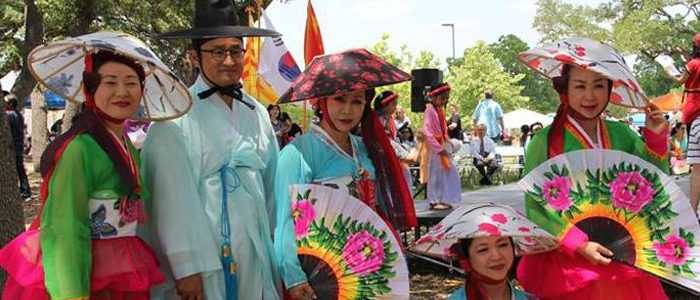 The Asian American Quality of Life Initiative seeks to improve the quality of life of Asian American residents living in Austin.
Background
The Austin City Council adopted a resolution calling for a quality of life "check" and engagement with Austin's diverse Asian American community. The initiative focuses on:
A. Executive Summary of Asian American Quality of Life in Austin. Final, March 2018. The Asian American Quality of Life Advisory Commission conducted an extensive process to evaluate challenges faced by Austin's Asian American population regarding access to services, housing, jobs, mobility, health care, and translation/interpretation services. The Commission reviewed three prior reports -- Asian American Health Assessment Report, Asian Community in Austin: A Demographic Snapshot, and Asian Americans in Austin: Final Report of the Asian American Quality of Life (AAQoL) Survey -- and carried out a comprehensive, three-year community engagement process. The report offers recommendations to City Council under five pillars: Economic Development, Housing and Community Development, Health and Human Services, Arts and Culture, and Civic Engagement. 
B.  Quantitative Research:  In partnership with Dr. Yuri Jang, The University of Texas at Austin's School of Social Work, a comprehensive questionnaire was completed in several languages spoken in Austin such as Chinese, Hindi, Gujarati, Korean, Vietnamese and Filipino.  The study is here.
C  Quality of Life Data Indicators: Assessment of health and quality of life issues was accomplished through a demographic study of the Asian Community. This report found that Austin is the fastest  growing metropolitan area in the nation, as well as, the ninth largest in terms of its Asian population at seven percent. By doubling in total size every 12 years, Austin's Asian population will become the third largest demographic group after non-Hispanic Whites and Latinos. "The Asian Community in Austin: A Demographic Snapshot".
D. The Health assessment project was conducted by the Asian American Resource Center, Inc. to raise awareness of the health concerns and disparities within the diverse Asian American community and to use its recommendations to address them. Asian American Health Assessment Report, by AARC Non-Profit; Lesley Varghese, Exec Director, Vincent Cobalis, Program Manager & Consultant, and Peteria Chan, Graduate Intern & MPH Candidate.
E. Community Engagement Data Indicators Report: A study gathered data about the awareness and the need for City Services through a survey, outreach and community engagement. The City conducted small and large facilitated community discussions at  cultural centers, refugee centers, Conversations Over Tea at homes and other private locations, as well as,  travel booths located at Asian specific events resulted in more than 3,500 comments on quality of life issues. The report is being developed and finalized and will be published toward the end of 2017.
F.  City of Austin raw data from Survey and Community Conversations.
Using a culturally and linguistically sensitive approach, many conventionally unrepresented populations were reached to understand how the city can better serve the vastly diverse Asian community.
The project is supported and guided by Austin leaders serving on the Asian American Quality of Life Advisory Commission. Commission meetings are held on the third Tuesday of the month from 6-8 p.m. at Austin City Hall.
As part of the initiative, the City Manager and City Council will receive recommendations to enhance or create new City Services, programs or practices to address issues discovered.
Get involved and provide feedback, here.
You are welcome to further your learning about the different Asian communities and share more comments or information about your own ethnic community on this online Asian community: https://asianlifeatx.bloomfire.com/