We help the City of Austin develop problem-solving capabilities to adapt rapidly to complex challenges and meet the needs of the future.
The Innovation Office opened in 2014 with the vision to explore new approaches to Austin's complex problems. We work with City departments and community members to research, design, and prototype solutions that make progress toward Austin's strategic goals. In addressing challenges, we start with the needs and experiences of our community, and continue through a process of questioning assumptions, engaging with empathy, stewarding divergent thought, reflecting, and learning.
Put simply, we help the organization create efficient, effective, and scalable positive impacts. Want to collaborate with us? Complete this form! 
---
Daniel Culotta, Interim Chief Innovation Officer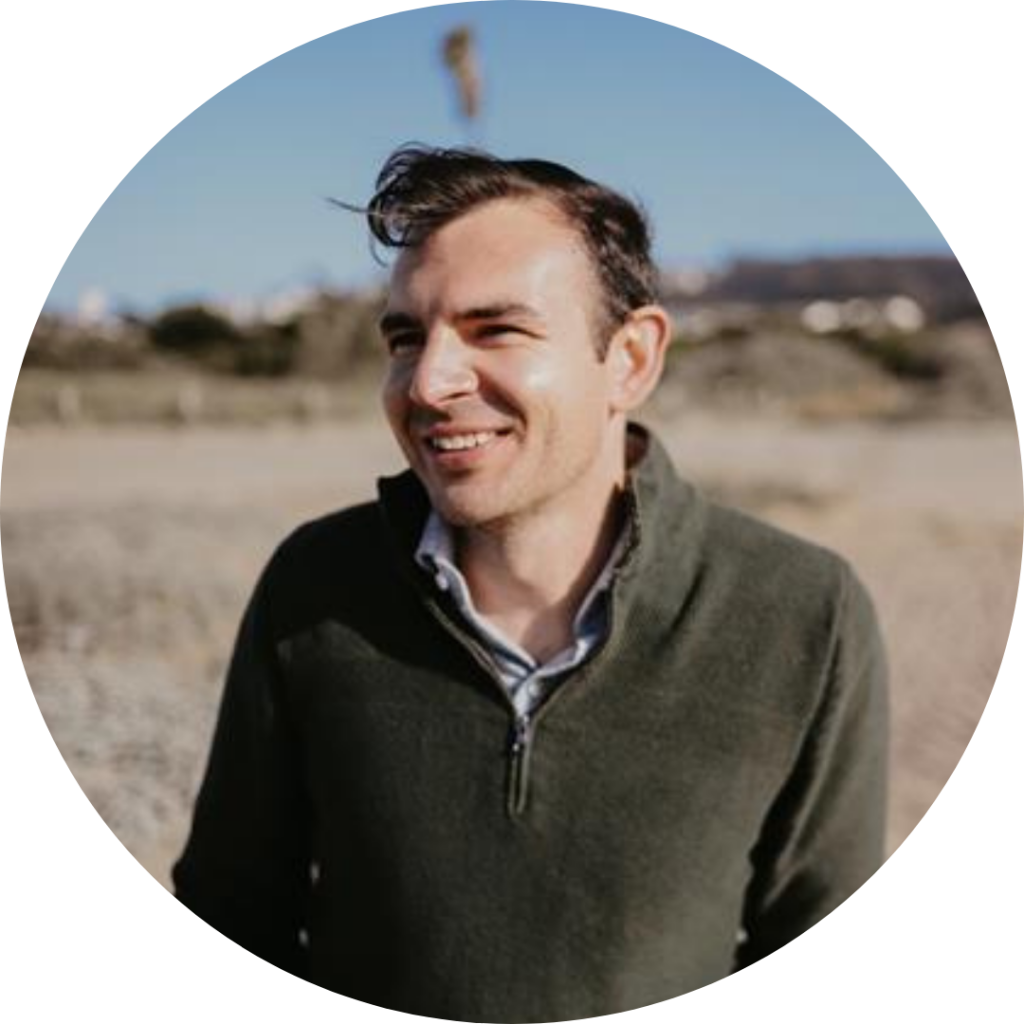 Daniel helps create strategic frameworks that let groups address complex challenges and pursue their goals effectively. His work has primarily focused on innovation, sustainability science, networks (on- and offline), decision making, planning, and intervention strategy. Daniel also has program design and management experience in consulting, academic, start-up, and government settings, as well as team leadership and development for nonprofits. He holds a Bachelor's degree in Anthropology with a minor in Business Administration from the University of Texas at Austin, and a Master's degree in Sustainability Science from Arizona State University. 
Staff
We are a nimble team with well-rounded expertise. Meet our staff and learn about various ways we can support your department and your work.
Ana Rodriguez DeFrates

, Innovation Research Program Lead

As the Innovation Research Program Lead, Ana applies research approaches to explore solutions for some of Austin's most pressing challenges. Under the office's Research & Strategic Initiatives focus area, Ana collaborates across departments and within local communities to develop projects, partnerships, and a civic research agenda that is forward-thinking, versatile, and centers equity and accountability as we prepare for the future. 

Ana's creative thinking and diverse project management experience comes with over two decades of dedication to gender and racial justice, both in the nonprofit and government sectors. Her interdisciplinary background spans work in public policy & law, community organizing & coalition building, research, and philanthropy.  
 
As a long-time community leader, Ana served on the Austin Commission for Women and was a founding board member of Austin's New Leaders Council chapter – a nonprofit organization working to recruit, train, and promote the next generation of civic leaders. She is a licensed attorney in the State of Texas, with a law degree from South Texas College of Law, and a Master's degree in Social Work from The University of Texas at Austin. In her free time, Ana enjoys the art of puppetry, traveling to Central and South America, and swimming with her family in the natural waters of Austin's beloved Barton Springs.

 

Andrea Kaltz, Business Process Consultant

Andrea "Dre" Kaltz combines her background in education, nonprofit leadership, advocacy, and operations to support under-resourced communities, with a particular focus on addressing homelessness. As Chief Development Officer, Youth Advocate, and founding member of LYTE Collective in Chicago, IL, Dre created community partnerships, managed diverse stakeholders, collaborated on policy, and provided direct service to youth. She transitioned to a role with the City of Austin's Innovation Office to continue and expand upon her work as a FUSE Corps Executive Fellow. Dre's work centers the voices of the communities most impacted, with the goal of ending harmful systems and working collaboratively to find innovative solutions. She is an animal lover, avid cyclist and yoga practitioner and teacher, and loves exploring all of the new places, live music and food that her new city has to offer. Dre earned her Bachelor of Fine Arts and Art Education certification from College for Creative Studies in Detroit, MI.

 Annabel Osburn

, Business Process Specialist

Annabel has more than a decade of experience working in the public sector, including spending four years as a Contract Manager for Austin Public Health helping to build and ensure the success of nonprofit programs funded by the City of Austin. She has experience managing federal volunteer programs, leading training initiatives, developing research projects, and identifying process improvement opportunities. She believes in the power of community and uses experience and training to develop a lens to help all people. Annabel has a Bachelor of Arts from Emporia State University and a Master of Public Affairs from Indiana University, and completed a term of AmeriCorps service in Woburn, Massachusetts. In her spare time, she reads as many novels from the library as possible and is slowly building a collection of stamps in her passport.

Charles

Purma

, Strategic Partnerships Manager

Charles has led multiple open government, web and software development, and research-based initiatives for the City of Austin, TX for over seventeen years. As both a project manager and supervisor, he's managed teams focused on collaboration-as-a-service, agile project management, and emerging technologies. Most recently, his focus is spanning the boundaries between the public, private, and community sectors to expand upon the municipal and civic benefits of open data, smart city, and integrative research programs. Prior to his service at the City of Austin, Charles was the business development director and lead technical writer at a marketing and design firm where he gained a deep appreciation for creative problem solving and effective visual communication. After finishing his undergraduate degree at Kansas State University, he received a master's degree in Political Science at the University of California, Santa Barbara.

Grace Bazzi, Grants for Innovation Manager

Grace is an astute strategist, experienced data analyst, and accomplished relationship builder with nearly a decade of experience working in the public sector and managing grants. As the Grants for Innovation Manager, her goals include using her experience in the grants world to build City staff's expertise at obtaining and managing grants – especially grants that will give them the resources to pursue cutting-edge research and exciting, innovative projects. In addition to her primary job functions, Grace has been recognized by many industry and public sector leaders for her extraordinary commitment to organizational and societal change. Grace graduated summa cum laude from the University of California, Los Angeles with a bachelors in Business Economics and a minor in Conservation Biology. Outside of work, she enjoys learning new languages and playing with her dog Freddy.

Prakhar

Bajpai

, Senior Data Scientist

Prakhar is a data science graduate from Texas A&M University (TAMU) and proficient in Tableau, Python and R programming tools. He has been an avid lover of mathematics since childhood and strongly believes in the importance of data analytics in the current and future problem solving across all domains. Prakhar feels the technology is a great tool for social justice and  should be used in upliftment of the most vulnerable population. 

Prior to joining the current position, Prakhar has worked with Austin Energy as a Data Analyst where he worked with utility design and customer dataset for generating valuable insights, infographics, and 360- degree dashboards using Tableau to evaluate performance KPIs, improving efficiency of reporting process by more than 120%.

Prakhar has done multiple projects using data science tools and machine learning algorithms. He was awarded first runner up prize in Data Science Competition 2019 at TAMU which involved time series forecasting of demand and revenue of a popular bike rental company based on Los Angeles. He also published two research papers in International Journals and worked as research associates at different organizations.

Vicky 

Pridgen

, Qualitative Researcher and Civic Designer

Vicky helps City staff better understand the needs and experiences of residents to design more impactful programs and services. She brings over a decade of community engagement, social impact, and service design savvy to the role. Prior to joining the Innovation Office, Vicky worked as a performance auditor for the Office of the City Auditor and a neighborhood liaison at Austin Code Department. Before joining the City, she formerly worked in various communications roles at The University of Texas at Austin and managed a startup co-working space whose mission was to support women and diverse entrepreneurs. Vicky is a returned Peace Corps Volunteer with service in Niger and Madagascar. She earned a Bachelor of Arts in Cognitive Sciences from Rice University and a certificate in Interaction Design and Social Entrepreneurship from Austin Center for Design.