Regular Meeting of the Economic Opportunity Committee
December 12, 2016
---
Meeting Agenda

  Agenda: Economic Opportunity Committee (EOC),  135kb
Closed Caption Transcript

  Transcript - EOC,  274kb
Video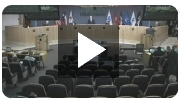 Play video - December 12, 2016
---
Agenda Items - December 12, 2016
Scroll down to view each item on the meeting agenda or click on a number to go directly to that item.

---
Item EOC001 - December 12, 2016
Approve the minutes of the Economic Opportunity Committee Meeting of October 10, 2016.
Work Papers and Other Backup Documentation

  20161212-EOC001, Agenda Backup: 10.10.16 EOC Draft Minutes,  PDF,  117kb
---
Item EOC002 - December 12, 2016
The first five speakers signed up prior to the meeting being called to order will each be allowed three minutes to address their concerns regarding items not posted on the agenda.
There are no documents published for this agenda item.
---
Item EOC003 - December 12, 2016
Discussion and possible action regarding the Economic Opportunity Committee meeting schedule for calendar year 2017.
(Notes: SPONSOR: Council Member Ellen Troxclair, CO 1: Council Member Leslie Pool)
Work Papers and Other Backup Documentation

  20161212-EOC003, Agenda Backup: Backup (2017 Proposed Council Committee Schedule),  PDF,  255kb

  20161212-EOC003, Agenda Backup: Recommendation for Committee Action,  PDF,  56kb
---
Item EOC004 - December 12, 2016
Discussion and possible action regarding the proposed revisions to the Minority-Owned, Women-Owned (MBE/WBE) and Small Business Enterprise Procurement Program ordinance.
(Notes: SPONSOR: Council Member Ellen Troxclair, CO1: Council Member Leslie Pool)
Work Papers and Other Backup Documentation

  20161212-EOC004, Agenda Backup: Backup (Draft Ordinance),  PDF,  188kb

  20161212-EOC004, Agenda Backup: Recommendation for Committee Action,  PDF,  56kb

  20161212-EOC004, Agenda Backup: Recommendation Local Preference in Local Government Procurement Amount,  PDF,  87kb

  20161212-EOC004, Agenda Backup: Recommendation Local Preference in Local Government Procurement Area,  PDF,  87kb
---
Item EOC005 - December 12, 2016
Briefing, discussion, and possible action regarding a proposed program to evaluate the impact of extended hours for Outdoor Music Venue permits for businesses within the Red River Cultural District.
(Notes: SPONSOR: Council Member Ellen Troxclair, CO 1: Council Member Leslie Pool)
Work Papers and Other Backup Documentation

  20161212-EOC005, Agenda Backup: Board & Commission Recommendation,  PDF,  58kb

  20161212-EOC005, Agenda Backup: Recommendation for Committee Action,  PDF,  56kb
---
Item EOC006 - December 12, 2016
Update on recent resolutions and recommendations from the Minority-Owned and Women-Owned Business Enterprise and Small Business Enterprise Procurement Advisory Committee.
(Notes: SPONSOR: Council Member Ellen Troxclair, CO 1: Council Member Leslie Pool)
Work Papers and Other Backup Documentation

  20161212-EOC006, Agenda Backup: Recommendation for Committee Action,  PDF,  56kb
Page updated: 12/15/2022, 3:42pm
Office of the City Clerk