Special Called Meeting of the Austin City Council
September 7, 2017
---
Meeting Agenda

  Agenda - Special Called Meeting,  156kb
Approved Meeting Minutes

  Minutes - Special Called Meeting,  99kb
Closed Caption Transcript

  Transcript - Special Called Meeting,  305kb
Video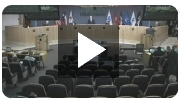 Play video - September 7, 2017
---
Agenda Items - September 7, 2017
Scroll down to view each item on the meeting agenda or click on a number to go directly to that item.

---
Item 1 - September 7, 2017
Discuss and take appropriate action related to the effects of Hurricane Harvey, to include appropriation of staff, funds, supplies and equipment to address emergencies along the Texas gulf coast and the execution of agreements to accomplish the same.
Work Papers and Other Backup Documentation

  20170907-001, Agenda Backup: Recommendation for Council Action,  PDF,  62kb

  20170907-001, Agenda Late Backup: Updated RCA,  PDF,  90kb
---
Item 2 - September 7, 2017
Discussion and possible action on the Council Budget Concept Menu.
Work Papers and Other Backup Documentation

  20170907-002, Agenda Late Backup: Budget Question Response - Financial Services,  PDF,  45kb

  20170907-002, Agenda Late Backup: Budget Question Response - Financial Services,  PDF,  20kb

  20170907-002, Agenda Late Backup: Fee Comparison Chart - CM Garza,  PDF,  33kb

  20170907-002, Agenda Late Backup: Property Tax Letter - CM Houston,  PDF,  29kb

  20170907-002, Agenda Late Backup: Proposed Budget - Mayor Adler,  PDF,  46kb

  20170907-002, Agenda Late Backup: Proposed Budget Adjustments - CM Alter,  PDF,  38kb

  20170907-002, Agenda Late Backup: Proposed Budget Concept Item List - CM Houston,  PDF,  22kb

  20170907-002, Agenda Late Backup: Proposed Budget Concept Menu - CM Kitchen,  PDF,  49kb

  20170907-002, Agenda Late Backup: Proposed Budget Items Summary - CM Pool,  PDF,  245kb

  20170907-002, Agenda Late Backup: Proposed Budget Priorities - MPT Tovo,  PDF,  22kb

  20170907-002, Agenda Late Backup: Proposed Budget Savings List - CM Kitchen,  PDF,  79kb

  20170907-002, Agenda Late Backup: Proposed General Fund Spending - CM Alter,  PDF,  60kb
Page updated: 12/15/2022, 11:00am
Office of the City Clerk