The National Weather Service completed a historical rainfall study for Texas in 2018, called Atlas 14. This study shows that Central Texas is experiencing heavier rainfall and that severe flooding is more likely than previously thought.
The Atlas 14 study affects many aspects of our flood risk reduction efforts.
Floodplain Maps
The City of Austin, Travis County and other Central Texas communities are updating floodplain maps in the region based on the Atlas 14 study. Our current floodplain maps show where flooding is likely to occur with 10.2 inches of rainfall in 24 hours. The updated maps will reflect flooding from almost 13 inches of rain in some areas. This amount of rainfall has a one percent chance of occurring in any given year (the 100-year storm). Find out more about floodplain remapping efforts at ATXFloodplains.com.
Updated Floodplain Regulations
In November 2019, the city updated its floodplain regulations in response to the Atlas 14 study. These regulations provide rules for constructing and remodeling buildings and developing property in the floodplain. The rules help protect the public from flooding and reduce public expense in the aftermath of a flood.
The floodplain rules only apply when you are building, redeveloping or remodeling in the floodplain. If you are simply living in your home or running your business, you do not need to make any changes to comply. The most significant change is to base development regulations on the current FEMA 500-year floodplain, instead of the 100-year floodplain. The 500-year floodplain is larger, based on heavier rainfall, and better reflects Austin's risk of flooding as revealed in the Atlas 14 study. Making this change gives us time to update our floodplain maps to reflect the Atlas 14 information. It helps prevent new houses and businesses from being built or significantly improved in flood-prone areas while the floodplain maps are updated.
There were also changes to the process to get a permit in the floodplain to redevelop or remodel residential properties. When the redevelopment or remodeling make the property safer from flooding, City staff can now approve the permit instead of seeking approval from the Austin City Council. There were also changes to the specifics of how high a building needs to be elevated. 
Commercial Redevelopment
We are currently working on a code revision regarding commercial redevelopment in the floodplain. The change is meant to make it easier to redevelop a commercial property when the changes make the building safer from flooding. This proposed code revision is similar to the provision for residential properties that went into effect in 2019.
Here is a copy of the draft ordinance with the code revisions. We will present this ordinance to various boards and commissions before asking City Council to approve the ordinance. Here is a list of tentative dates for our presentation. Dates are subject to change:
Is Your Property Affected?
Floodplain maps are online. Maps default to show the floodplain used to regulate development, called the fully developed floodplain. It is based on the current FEMA 500-year floodplain. To view floodplain maps, follow the instructions below or download these instructions: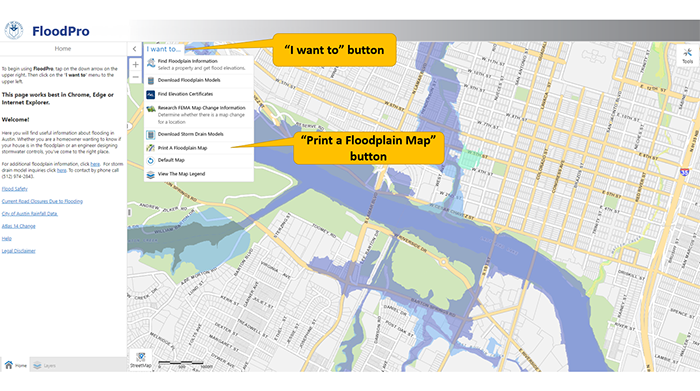 Go to www.ATXFloodPro.com.
Click the "I want to" button, then "Find Floodplain Information"
Enter your address and click on "Search."
Areas shown in light blue are in the fully developed floodplain and subject to floodplain regulations. Areas shown in darker blue are subject to stricter regulations.
To print or download a map of your property, click the "I want to" button again and select "Print a Floodplain Map." Check the circle next to "COA Map." Click "Print" and wait for your map to be created. Then, click "Download your map" to save the map file. Choosing "Print Current" will prepare a map of the area you are currently zoomed in to.