This study assessed various options to reduce the risk of flooding along Shoal Creek between 15th Street and Lady Bird Lake.
Overview
The study looked at a variety of options that to reduce flood risks. It assessed how well different options would work to reduce flooding, what challenges are associated with implementing the options and how much they cost. It also took  the recreational, historical, ecological and culturally significant aspects of potential sites for flood mitigation strategies into consideration.
Recommendations
The study makes two primary recommendations. One recommendation is the development of a Community Resilience plan for this area. This plan would entail the City of Austin, property owners, and residents working together to help improve public safety and minimize property loss during flood events. The schedule for this effort has not yet been determined.
The study also recommends that the City further explores the idea of an underground bypass system to intercept and carry flood flows directly to Lady Bird Lake. This would entail a very large, expensive project. It would require additional analysis and community engagement before it could move forward. At this time, we are not moving forward with this option.
You can download the study in the documents section below.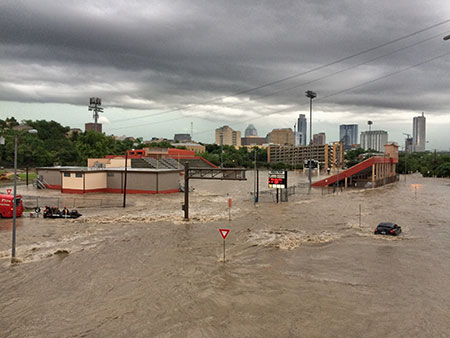 House Park Stadium is underwater on Memorial Day 2015, the site of a dramatic rescue. Austin's emergency responders successfully saved a man, clinging to the stadium fence. Photo by Jonathan Berry.
Risk of Flooding
Approximately 8,000 acres drain to Shoal Creek, making it one of Austin's larger creeks and one of the most flood-prone. There has been severe flooding along Shoal Creek throughout Austin's history. Shoal Creek was particularly hard hit on Memorial Day 1981. 13 people died in the flooding that day, many of them in their vehicles. More recently, the creek was the site of dramatic flooding on Memorial Day 2015, although more extensive flooding is possible along Shoal Creek. There have been numerous smaller floods along the creek as well. 
Watershed Protection estimates there are approximately 75 buildings, both commercial and residential, vulnerable to flooding in the study area during a 100-year flood. In addition, long stretches of Lamar Boulevard and other roads become dangerous and impassible with enough rainfall.
Documents
Email Updates
To stay informed about this project, please email Stephanie Lott and ask to be added to the email distribution list for the Shoal Creek study.