The Maternal Infant Outreach Program (MIOP) provides peer support to African-American/Black women who are pregnant. 
MIOP employs African American Community Health Workers (CHWs) to provide free services to African American/Black women in Travis County.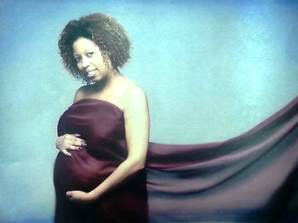 These services include health education, navigation assistance, one-on-one home visits, birth education, and labor and delivery support. Services are focused primarily on pregnant women throughout their pregnancy and through the first year of the child's life.
The Community Health Workers are African American women who live in the same communities in which we provide services. They have a strong understanding of the strengths and struggles of African American women, which gives them a unique perspective on the situations experienced by the women we support.
Here in Travis County, the preterm birth rate is 16.1% among African American women, 9.6% among whites, and 10.9% among Hispanics (March of Dimes Peristats, 2014). MIOP is working on helping women achieve healthy term births (births after 37 weeks gestation).
The program is funded through the Public Health and Human Services 1115 Waiver Transformation Program.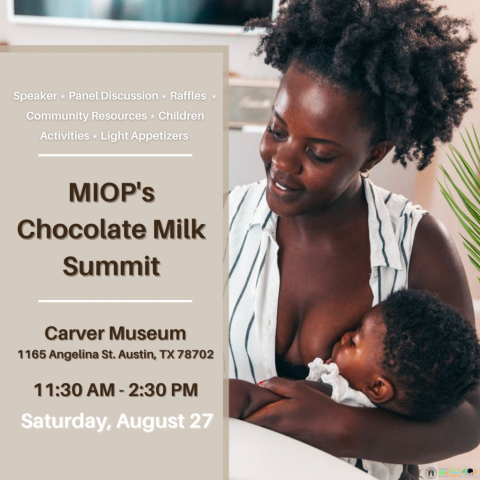 The Maternal Infant Outreach Program (MIOP) invites you to join us in celebrating Black Breastfeeding Week (August 25th – August 31st) at MIOP's Chocolate Milk Summit!
In the U.S., Black women have the lowest breastfeeding initiation rate compared to other women. Breastfeeding can provide many benefits to both baby and mom. MIOP is committed to raising awareness on the benefits of breastfeeding to reduce the maternal and infant health disparities experienced in the Black community.
Join us in a community dialogue of moms sharing their lived experience in breastfeeding. We will have activities for children, community resources, raffles, and light appetizers. APH's Medical Director/Health Authority, Dr. Desmar Walkes, will present the proclamation for the week. Phyllis Everette from Saffron Trust will be the keynote speaker.
MIOP's Chocolate Milk Summit will be hosted Saturday, August 27, at the George Washington Carver Museum located at 1165 Angelina St. Austin, TX 78702 from 11:30 a.m. - 2:30 p.m. No need to register. 
Frequently Asked Questions
How do I qualify? Women who are planning a pregnancy, currently pregnant, or already have a child are eligible.
How do I apply? Through a simple intake form with your community health worker (CHW) by phone or in person.
Who will provide support from MIOP? MIOP has a number of different CHWs that can be assigned to you. All have participated in extensive, culturally specific training and have undergone background checks.
I don't have transportation. How will I meet with my CHW? Your CHW can come to your home or a nearby location to meet with you.
What if I feel like my CHW is not a good fit for me? We understand the importance of having a CHW you are comfortable with. You can interview more than one CHW to find the best fit for you. If you prefer to switch to a different CHW, you can do so at any time.
How long can I be in the program? Pregnant women can receive support for up to one year after the birth of their child. Women who are not pregnant may also be eligible for services.
What if I no longer want to be in this program? Your participation is voluntary. You can discontinue services at any time.