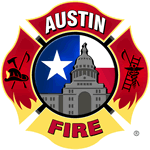 Our Mission
The Austin Fire Department is committed to creating safe and resilient communities through prevention, preparedness, and effective emergency response.
Our Vision
The Austin Fire Department sets the standard among public safety agencies, serving the community through innovation and collaboration, while honoring tradition and embracing inclusion, equity, and diversity for all.
Our Motto
Excellence beyond our standards. Service beyond your expectations.
The Austin Fire Department provides our community with the services to not just meet their expectations, but to exceed them whenever possible. Responsive, high-quality public safety provided by dedicated AFD personnel build community capital in our department—the "profit" we make in exchange for those services—which directly determines the level of trust our various stakeholders have in the department's leadership to make decisions in their best interests.