The City of Austin Parks and Recreation Department (PARD) will renovate the Burnett "Blondie" Pharr Tennis Center. The tennis courts have reached the end of their service life and need to be modernized.  The Pro shop building is to be brought to current codes with compliant restrooms.
Current Phase and Updates
During the solicitation phase, only two bids were turned in at the bid opening. The first was deemed non-compliant and both bids cost were not feasible to accept.  We are in process of value engineering portions of the project and  will be resoliciting for contractors this Fall 2021. The need for a second solicitation has impacted the construction start date. Construction is now anticipated for Spring 2022.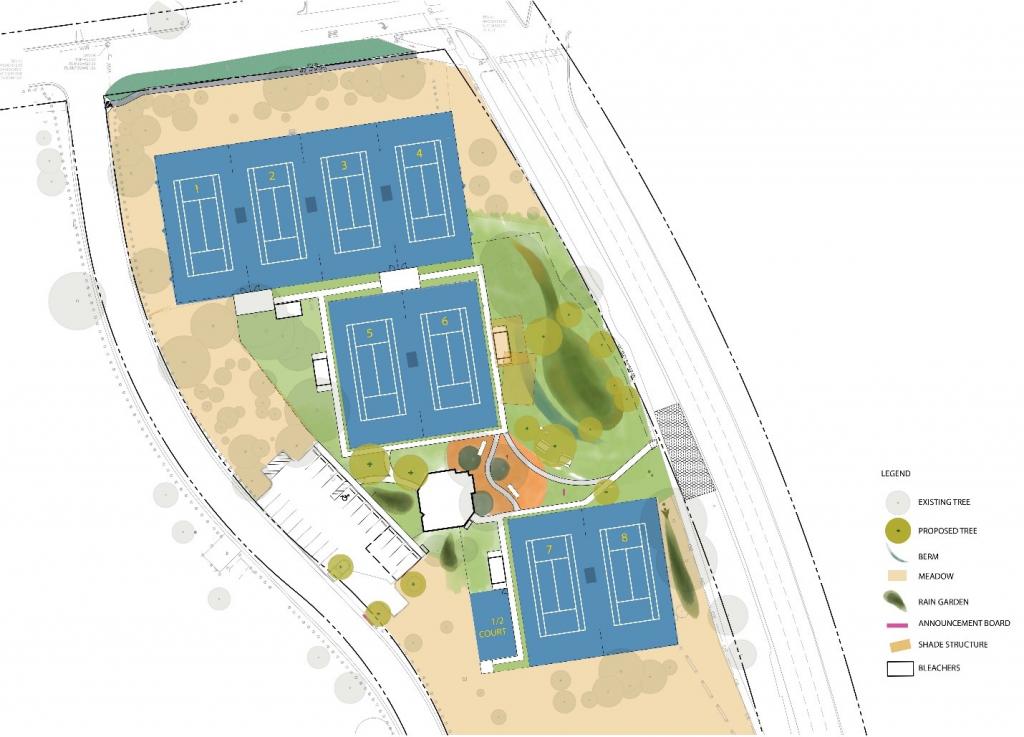 Project Background
Pharr Tennis Center is one of four municipal tennis centers, offering year-round tennis play and supervised tennis activities to the community through comprehensive programs for all ages. Pharr Tennis Center is located next to Patterson Neighborhood Park and adjacent to the Mueller Development on Airport Boulevard in Council District 9.
The Center was named for Burnett "Blondie" Pharr. Blondie Pharr (1898-1976) was the band director at The University of Texas and is credited with writing the University's fight song. During his lifetime, Mr. Pharr also managed the Caswell Tennis Center and was an influential music educator in Central Texas. The Pharr Tennis Center was named in his honor on December 11, 1975, for the seminal and remarkable contributions to the development of tennis in Austin.
Pharr Tennis Center was constructed in the late 1970s during a period where the Austin Tennis League experienced exceptional growth in Austin. More than forty years later, the tennis courts at the Center have reached the end of their service life and need to be renovated and modernized.
Project Description
The project goal is to renew the forty-plus year tennis courts and pro shop building facility with new improvements that meet accessibility requirements and address various site deficiencies. The project will refurbish the courts; add energy efficient sports lighting; replace fencing, windscreens, and court amenities; and provide accessible parking, security site lighting, and proper drainage. Additionally, the project will provide new facility signage, shade structures, and park furnishings. Kirksey Architecture, a Houston and Austin-based architecture firm was hired to lead the design of the site improvements.
Currently, the project design is at 90%.  Upon completion and approval, the project design is planned to be advertise for  a general contractor in the Spring.  Bids shall be reviewed and with Council approval, awarded. Construction is anticipated for Summer/ Fall  2021. 
Environmental Goals
The Pharr Tennis Center project is pursuing LEED Silver certification. The planned sustainability initiatives are expected to reduce operation and maintenance costs and restore the natural ecosystem. Major site-related sustainability measures include protecting and restoring the site's habitat, preserving open space, and managing rainwater through the development of three new raingardens. The project site is well connected to mass transit, within walking distance of multiple surrounding businesses, and connected to a bicycle network. The renovation of the Pro Shop provides opportunities to reduce water use through the installation of new low-flow and low-flush fixtures, and to ensure good indoor air quality for occupants using low-emitting materials. Finally, by replacing the tennis court light fixtures and interior fixtures with highly efficient LED lights, the project will significantly reduce its energy use. There are several additional initiatives being considered that may help the project achieve higher levels of LEED certification including the installation of solar panels, Electric Vehicle charging stations, and separate energy metering.   
The Pharr Tennis Center is also pursuing SITES certification. The project team is using an integrated design process to protect, conserve, and restore the landscape and the ecosystem services it provides. These ecosystem services are essential benefits that the landscape provides to the surrounding community, such as managing stormwater, cleaning air, sequestering carbon, regulating climate, enhancing human health and wellbeing, and providing habitat for pollinators and other native fauna. The specific strategies pursued as part of the project's SITES certification include managing 100% of stormwater on site, improving soil health, installing native and adapted landscaping, protecting heritage trees, providing spaces that support human health and wellness onsite, and using sustainable materials and construction processes.
Art in Public Places
A permanent artwork will be created as part of the Pharr Tennis Center rehabilitation. The City of Austin's Art in Public Places (AIPP) program facilitates this artwork process. The artist budget is $30,000 (all inclusive). Local artists were invited to apply by October 29, 2020 to be considered for this project. A jury of visual arts professionals (advised by community members and City staff) reviewed the applications and recommended artist team Rakhee Jain Desai and Melissa Knight for the project. The recommendation was approved by the AIPP Panel and Austin Arts Commission in December 2020. Artists Rakhee and Melissa are currently under contract and are carrying out the community engagement phase of their design process.
Are you a Pharr Tennis Center user or neighbor? Meet the artists online on Sunday, August 29th for some casual engagement and discussion about the artwork! Your input will help inform the artwork design.
Meeting
Sunday, Aug 29th, 5:30pm-6:30pm
Meeting ID: 879 5931 2653
Passcode: 420167
Find your one tap mobile here.
Can't attend the meeting? Send the artists your input via one of the following surveys:
For questions, please contact AIPP Project Manager Alex Irrera by email or phone at 512.974.7860.
Anticipated Schedule*
Development Review Permit issued – Spring 2021
Rebid of Project and Council Action –Fall 2021
Anticipated closure of Pro-Shop and Tennis Courts – Winter 2021 
Anticipated construction completion date–  Summer  2022
Anticipated Tennis Court Facility Opening –  Fall 2022
Please note that as in any construction project, schedules are projected as accurately as possible, but all dates are subject to change due to the nature of construction and weather.
Funding and Resources*
Funding is provided through the 2018 G.O. Bond, which included $4 million for the Pharr Tennis Center.
Community Engagement
Community Meeting on Design Concepts  was held virtually on June 11, 2020
Contact Information*