The Upper Onion Creek project area is located in the Onion Creek Neighborhood near Pinehurst Drive and Wild Dunes Drive. A feasibility study completed in 2017 recommended buyouts for 138 houses in this area.
Upper Onion Creek Flood Risk Reduction Project Overview
We have divided the houses into four groups: Recovery and Phases 1-3.
The Recovery and Phase 1 buyouts are largely complete. We have purchased 58 of the 59 homes in these groups.
Phase 2 consists of 79 homes and was approved by the Austin City Council on March 28, 2019. As of July 11, 2022, we have purchased 71 homes.
Phase 3 consists of eight homes that could become isolated by the buyout of neighboring properties. It was also approved on March 28, 2019. We have purchased five of these houses.
Participation in these buyouts is optional.
Note that Upper Onion Creek is a bit of a misnomer. The area is the upstream area of Onion Creek within the City of Austin. However, when looking at the entirety of Onion Creek watershed, the area is in the lower third of the creek. This is partly why the area is subject to severe flooding, given a heavy enough rainfall.
Project Maps
The maps below show the houses in the Recovery Phase in grey. Phase 1 houses are shown in red, Phase 2 in blue and Phase 3 in green The top map shows the Pinehurst Drive area and the bottom map shows the Wild Dunes area.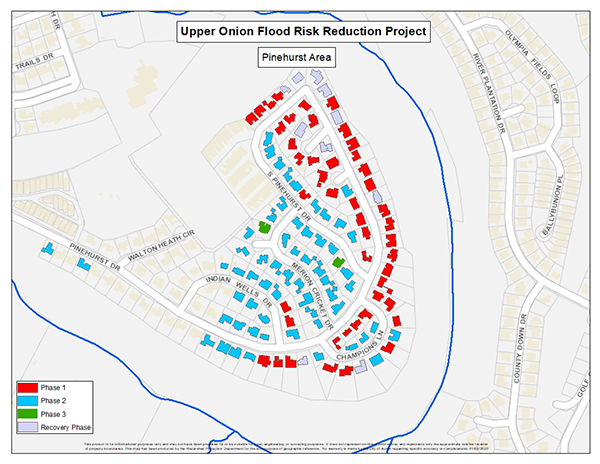 Click on the map for a larger version.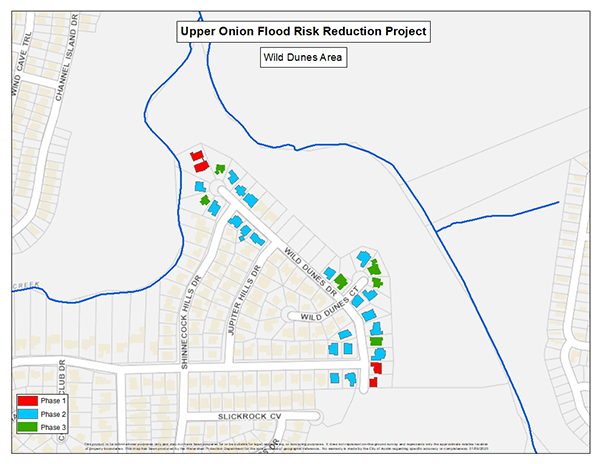 Click on the map for a larger version.
Demolitions
The City of Austin will test the houses for asbestos, abate any asbestos found and then demolish them. We will remove the foundations, walkways and driveways to the edge of the right of way. We leave the driveway approaches in places. Utility connections will be terminated and capped. The lots will be regraded and revegetated.
What Happens to the Buyout Area
The land will be designated for open space in perpetuity. In the short-term, we will add the properties to our vegetation control schedule and mow them six times a year during the growing season. Long-term, we will work with the neighborhood to develop options and plans for the future. The options may include nature trails, community gardens, wildflower meadows and open space for the neighborhood to enjoy.
Documents
Public Meeting Documents
Austin City Council Documents