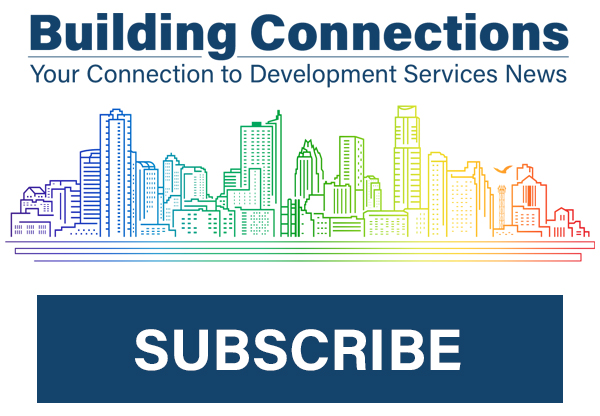 Building Connections is Back!
The Development Services Department is excited to share our freshly reimagined newsletter, Building Connections. Subscribers can now expect monthly editions with news about DSD initiatives, process improvements, opportunities to engage with our team, and more. From time to time, we will still send timely and relevant updates to stakeholders outside the Building Connections schedule.
Read and download past editions of Building Connections and other DSD emails below.
August 2022

August 11, 2022 | AB+C Portal Access Restored  (message from City CIO Chris Stewart)

Sent to 5,714 DSD email subscribers

 

---

Sent to 788 special event and outdoor music venue stakeholders

July 2022

Sent to 5,717 DSD email subscribers
 

---

Sent to 3,601 tree permit holders
 

---

Sent to 9,523 AMANDA users and DSD stakeholders and 512 members of Community Registry

June 2022

Sent to 5,727 DSD email subscribers

Proposed Parkland Dedication Fees for FY 2023 Reflect Higher Land Costs

DSD

Simplifies Appointment Scheduling Process

New Carbon Monoxide Detector Rules

Commercial Intake Launches Customer Dashboard Tool

Tree Smart Educational Meetings Restarting in July
Parkland Early Determination Process Improvements
Roots & Wings Festival to Return
Nature in the City Blog Post

Upcoming Key Dates

 

---

Sent to 5,731 DSD email subscribers

DSD

Simplifying Appointment Scheduling Process
New Carbon Monoxide Detector Rules

Commercial Intake Launches Customer Dashboard Tool

Tree Smart Educational Meetings Restarting in July
Parkland Early Determination Process Improvements
Roots & Wings Festival to Return
Nature in the City Blog Post

Upcoming Key Dates

 

---

Sent to 5,166 mechanical and general contractors

 

---

Sent to 1,412 contractor registration stakeholders

May 2022

Sent to 5,736 DSD email subscribers

Building Safety Month

Now Schedule Environmental and Tree Inspections Online

Tenant Notification and Relocation Ordinance in Review

Parkland Dedication Fees for Commercial Development

Tips for Using Expedited Plan Review Service

Street Impact Fee Collection Begins in June

Top 10 Tips for a Successful Inspection

Dust Off Your Air Quality Knowledge

Upcoming Key Dates


 

---

May 13, 2022 | Environmental Inspections Stakeholder Engagement Reminder

Sent to 432 neighborhood environmental protection stakeholders

 

---

Sent to 1,651 safe fencing stakeholders

April 2022

Sent to 1,653 safe fencing stakeholders

---

Revisions to Service Center Request Form
Land Use Team Upgrades Intake Process
Site Plan Exemption Simplified for Tree Permits
Safe Fence Regulations Code Amendment Process Underway
Get Registered: Upcoming Street Impact Fee Webinars
Save Water and Money with Austin Water Rebates
Small Business Week: Permitting Guidance for Small Business Owners
Two New Programs Replace Shop the Block Pilot
Urban Forest Grants Grow Opportunities to Support Austin Trees
Building Safety Month is Coming Soon!

Sent to 5,739 DSD email subscribers

---

Sent to 432 neighborhood environmental protection stakeholders

---

Sent to 7 Shop the Block permit holders

March 2022

Sent to 14 Shop the Block permit holders

---

Get Registered to Learn About New Street Impact Fees
Wednesday Workdays
Alarm Administration Payments Move to CityBase
Time Saving Pro Tip: One-Time Inspections
Register for Tomorrow's Free Fire Code Symposium

Sent to 5,735 DSD email subscribers

---

Sent to 230 solar energy stakeholders

---

Sent to 2,027 Building Permit holders

---

Sent to 5,740 DSD email subscribers

February 2022

New Asbestos Options
City Launches CityBase Payment Portal
Stakeholder Meeting Recap & New Resources
PDC Receives City's First WELL Gold Certification
Permitting ATX Moves to City Website
How Preliminary Plan Review Can Help You
Planting Seeds for the Future

Sent to 5,739 DSD email subscribers

---

Sent to 4,547 tree permit holders and neighborhood associations

---

Sent to 5,734 DSD email subscribers

---

Sent to 5,735 DSD email subscribers

---

Sent to 8,131 permit holders

January 2022

Building New Foundations for You - Read the FY 2021 Annual Report
Remote Operations to Continue in February
Inaugural Affordable Housing Planning Officer Selected
Alarm Permits Now Available through DSD
DSD Releases Code Interpretation Library
AB+C Portal Offline Evening of Feb. 2 for Maintenance
Comment on Proposed Changes to Tree Rules by Feb. 28
Stay Weather Aware This Week
Stakeholder Meeting Resources Now Available
Online Resources Can Help with Inspection Questions
Environmental Inspections Team Tackles Removal of Ghost Underground Storage Tanks
Moving Healthy Heritage Trees

Sent to 5,722 DSD email subscribers

---

Sent to 79 attendees of Jan. 26, 2022, stakeholder meeting

---

Sent to 36 volume builder customers

---

Sent to 1,602 demolition permit holders and contractors + Community Registry

---

Sent to 5,724 DSD email subscribers

---

Sent to 36 volume builder customers

---

New Online Form Simplifies Building Application Process
Virtual Stakeholder Meeting Scheduled for Jan. 26
New CityBase Payment Portal Scheduled to Launch Jan. 20
Key Dates at a Glance

Sent to 5,725 DSD email subscribers

---

Sent to 5,716 DSD email subscribers
December 2021

November 2021

October 2021

September 2021

August 2021

July 2021

June 2021

May 2021

April 2021

March 2021

February 2021

January 2021
December 2020

Proposed Rules for Demolition Notification Now Available

August 2020