A degraded riparian zone is often entirely mowed, which results in bare soil along a stream bank.  A lack of vegetation is a visible and primary variable that relates to overall riparian health.  A degraded riparian area does not provide the important functions and services of a healthy riparian zone (see riparian function FAQ).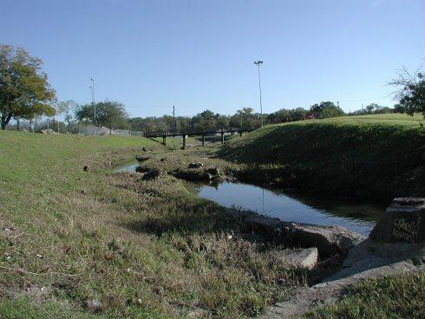 A heavily mowed, channelized creek exhibiting degraded riparian health.
Probably the most important driver of degradation to a riparian zone is the alteration of the natural hydrologic cycle that occurs from the urbanization of a watershed.  This change or degradation in rain infiltration, flashy flows and baseflow essentially disconnects the banks and buffers from the stream and the water table.  The types of vegetation that thrive in wet, active floodplains cannot survive in this disconnected state and the result is a degraded, abandoned, or upland vegetative community.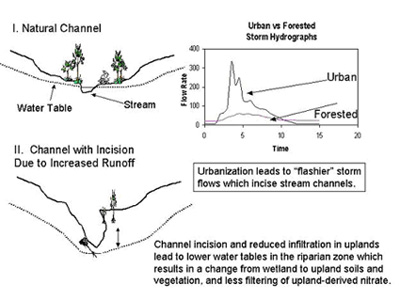 Changes that occur to riparian hydrology through urbanization (from Groffman et al. 2003. Down by the riverside: Urban riparian ecology. Frontiers in Ecology and Environment 6:315-321.)
After hydrology, the next most important factor that degrades riparian areas is alteration of the mature vegetative communities that evolve in these areas.  This occurs  primarily via human intervention, i.e. mowing, agriculture, logging or development.  These activities remove the original vegetation, and degrade and compact the soil.  These activities, when repeated over decades, make it very difficult to "replant" a healthy riparian vegetative community.  Removing the disturbance that is keeping the riparian area in a degraded state is the most important thing to do in riparian restoration.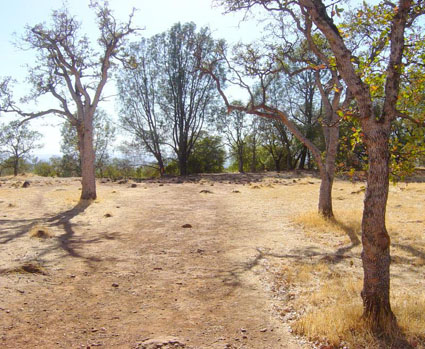 A trail area in a park where soil is compacted and vegetation is excluded.