When a violation of the ordinance occurs, the City of Austin requires removal of the coal tar sealant. One of the most effective ways to meet this requirement is by a process called 'shot-blasting'. Shot-blasting uses small steel beads or "shot", and a blasting machine, to remove the top layer or layers of sealant. Blasting machines come in two different styles, walk behind (self-propelled or push) and ride-on, with varying blasting widths ranging from 8" to 48".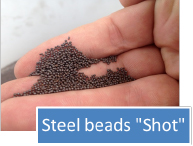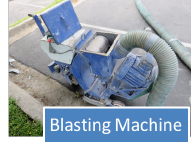 The City of Austin requires that shot-blasting machines have a dust collection system (bag or cartridge filters) that minimizes or eliminates air-born dust particles containing harmful PAH's from contaminating nearby soils, lakes or streams.  The removed sealant should be properly contained on the site.  Depending on the size of the removal project, some containment options may be bagging the waste in heavy-duty black trash bags or using a roll-off dumpster.  Roll-off dumpsters should be properly covered with tarps or plastic sheeting to prevent runoff should precipitation occur.  Once the project is completed the generated coal tar waste should be properly disposed of (See "Coal PAH Disposal" under the FAQ section)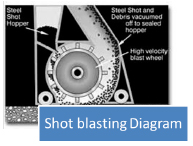 Property and business owners should ensure that their contractor is properly licensed and bonded and will use the correct removal and disposal methods.
Listed below are contractors known to provide shot-blasting services for the removal of coal tar-based sealants.  There may be other contractors that can perform the work.  Contractors that are interested in being added to this list may email Christopher Miller to begin the process.
| | | |
| --- | --- | --- |
| Name | Contact | Phone |
| | Paul Jackson | 405-495-9797 |
| | Chris Johnson | 972-881-0391 |
| | | 281-350-3663 |
This list is compiled from various listings and company contacts and may not represent all shot-blasting companies that service the Austin area. The Watershed Protection Department does not endorse company products or services and is not responsible for their performance.