Monkeypox is a disease caused by infection with the monkeypox virus. It is not commonly seen in the U.S. Typical symptoms include fever, malaise and a rash that may appear as pimples or blisters. Monkeypox is spread by close contact with an infected person, or by touching clothing or linens that were in contact with the infected person's rash or body fluids.
Anyone can get monkeypox regardless of gender identity or sexual orientation.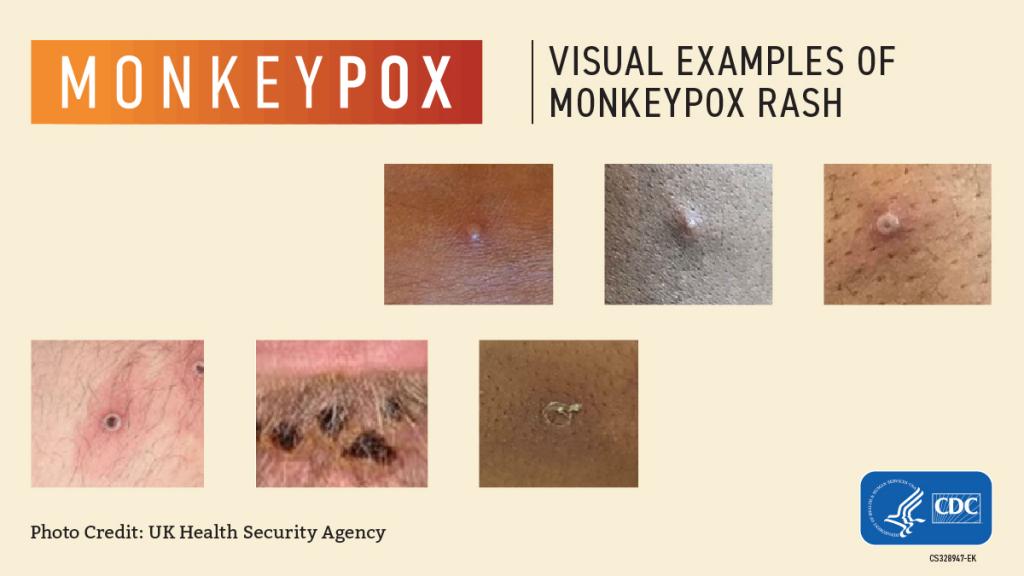 Monkeypox cases in Travis County
Travis County monkeypox case counts will be updated on Fridays.
As of September 30, 2022
186 confirmed monkeypox/orthopoxvirus cases.
Find state and national totals here.
The Texas Department of State Health Services (DSHS) tests for orthopoxvirus. Positive orthopoxvirus cases are considered presumptive monkeypox cases. Samples are sent to the Centers for Disease Control and Prevention (CDC) where they are confirmed through additional tests.
Monkeypox vaccine information
Determine your eligibility for a vaccine and schedule an appointment online.
Austin-Travis County's supply of the JYNNEOS monkeypox vaccine is currently limited. APH is currently prioritizing available vaccines for people who are at high risk, following the required criteria of DSHS and CDC.
APH is continuing to enhance its monkeypox vaccine response efforts through a partnership with Wellness Equity Alliance. APH and Wellness Equity Alliance will work together to administer Jynneos monkeypox vaccines to high-risk groups in both Austin and Travis County.
To determine eligibility for receiving the vaccine, the public can visit Wellness Equity Alliance's website. Those who qualify for the vaccine will be given an option to schedule an appointment. 
Those who need assistance can call the APH Equity Line at 512-972-5560. 
NOTE: Emails will be sent from a Wellness Equity Alliance account (@wellnessequityalliance.com). 
Eligible individuals include:
A person who has had close contact with someone diagnosed with monkeypox in the last 14 days. This includes close skin-to-skin contact, sexual contact, or kissing.

A person who may have been exposed to the monkeypox virus in the community within the last 14 days by:

Having multiple sexual partners in the recent weeks OR

Attending an event or venue where sexual contact occurred with one or more partners (e.g., bathhouse, sex party, sex clubs.

A male or a transgender woman with multiple or anonymous sexual partners in the past 21 days.

A person taking pre-exposure prophylaxis (PrEP) to prevent HIV.

A person diagnosed with a sexually transmitted infection including HIV, gonorrhea, chlamydia, or syphilis in the last 12 months.

A healthcare worker or member of a response team with high-risk exposure to monkeypox.

A person handling monkeypox specimens in a clinical or research lab.
Anyone who believes they are a close contact with a monkeypox case should reach out to their health care provider. Those without a health care provider may call APH's Equity Line at 512-972-5560 for information. 
APH has compiled a list of vaccine providers in Austin-Travis County.
Monkeypox testing information
If you have symptoms of monkeypox, you should see a health care provider for testing. If you do not have a provider, call APH's Equity Line at 512-972-5560. You should only get tested for monkeypox if you are experiencing rash symptoms.  
Testing involves a provider taking a swab of a lesion. You can only get tested if you have lesions. Only your provider — not APH — can give you the test result. While you are waiting for your test result, which can take a few days, isolate yourself from others. 
How monkeypox spreads 
Monkeypox is rare and does not spread easily between people without close contact. Unlike COVID-19, people who do not have monkeypox symptoms cannot spread the virus to others. 
Monkeypox is spread through: 
Direct contact with monkeypox sores on skin, in the mouth on the genitals or anus, scabs, and rashes through intimate or skin-to-skin contact such as kissing, cuddling, wrestling, or sex. 
Contact with objects or fabrics (e.g., clothing, bedding, towels) that have been used by someone with monkeypox. 
Respiratory droplets or oral fluids from someone with monkeypox; historically, these respiratory droplets can only travel a few feet, and are of primary concern among those who have very close face-to-face prolonged contact. 
• Monkeypox does not spread from person to person through:  
Walking by someone who is infected  
Casual conversation with someone infected 
Steps to take to decrease your risk for
monkeypox
Here are some things people can consider to decrease their risk for monkeypox: 
Decreasing the number of sex and intimate contact partners.
Not going to places like bathhouses or other public sex venues.
Avoiding raves, parties, or clubs where people wear minimal clothing and where there is direct, intimate, skin-to-skin contact. For those who attend these events or venues, avoid coming into contact with rashes or sores you see on others and minimize skin-to-skin contact when possible. 
Events where attendees are fully clothed and unlikely to share skin-to-skin contact are safer. However, attendees should be mindful of activities (like kissing) that might spread

monkeypox

. 
As this is a newer outbreak, public health entities nationally and internationally are still learning about the potential networks or behaviors that may put people at increased risk, and APH will continue to share information with the community as we learn more. 
Symptoms of monkeypox 
A person cannot spread monkeypox unless they have symptoms.
Monkeypox is part of the same family of viruses as smallpox, but symptoms are milder and monkeypox is rarely fatal. Symptoms can include: 
Fever  
Headache  
Muscle aches and backache  
Swollen lymph nodes  
Chills  
Exhaustion  
A rash that can look like pimples or blisters that appears on the face, inside the mouth, and on other parts of the body, like the hands/palms, feet/soles of feet, chest, genitals, or anus.  
The rash goes through different stages before healing completely. The illness typically lasts 2-4 weeks. 
I have symptoms; what now?
Seek medical care immediately if you experience any of the above symptoms. If you do not have a primary health care provider you can all APH's Equity Line at 512-972-5560.
Considerations for lowering risk of monkeypox 
A person's risk for monkeypox is determined by their behavior and the people, or network of people, they come into physical contact with. 
If you or your partners feel sick or have any rashes or sores, avoid sex and gatherings, especially if they involve close skin-to-skin contact or prolonged face-to-face contact, and see a healthcare provider to get checked out. This is always a good plan, even if a rash or illness is unrelated to monkeypox. 
Examples of monkeypox rashes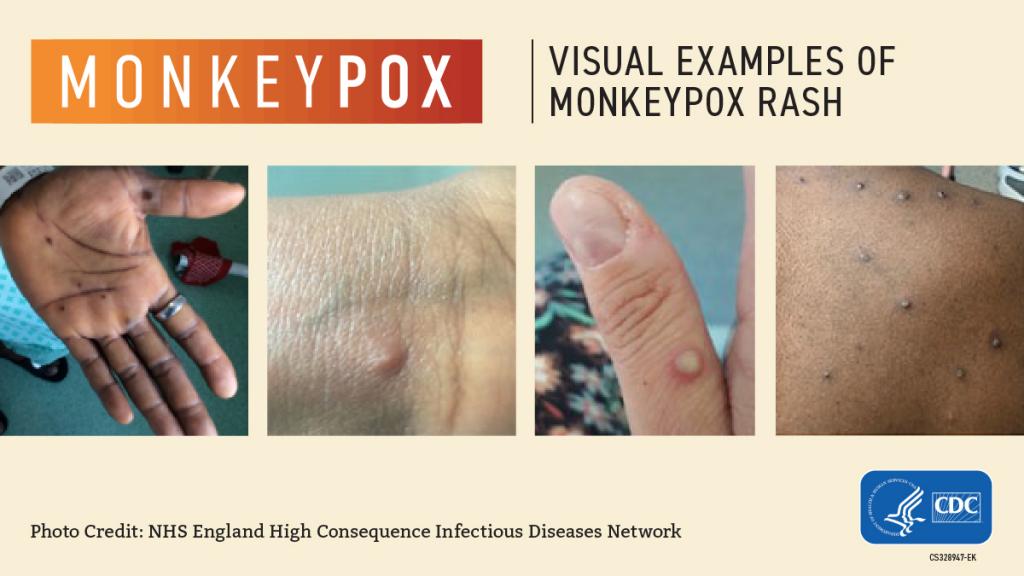 Community resources
Mental Health Resources

Integral Care

Crisis Text Line

24/7 support via text
Text TX to 741741 

National Alliance of Mental Illness

Housing Resources

Best Single Source Plus (BSS+)

APH Neighborhood Centers

Provide emergency rent, utility and food assistance to low- and moderate-income families in need

Food Resources

Food pantries in your zip code

Call 211
https://www.211texas.org/

Meals on Wheels

Central Texas Foodbank

Find other resources for food, health, housing, and more

Calling 211
Helpful Guidance