AUSTIN, TX – The City of Austin Housing Department announces a multi-family portfolio acquisition, consisting of seven existing multifamily apartment complexes and a small office building, by the Austin Housing Finance Corporation (AHFC).  The acquisition was made in partnership with the Austin Housing Conservancy Fund, which is managed by the non-profit, Affordable Central Texas (ACT). Totaling 234 units, these are AHFC's first acquisitions in Council Districts 7 and 9, and many of the properties are within a quarter mile of the planned Project Connect system. Average rental rates at the property will be targeted to households earning less than 80% Median Family Income (MFI) with many units affordable for those earning as low as 50% MFI.  
"This portfolio of properties demonstrates our commitment to preserving existing affordable – subsidized and naturally occurring – multi-family housing," explains Rosie Truelove, Director for the Housing Department. "We are pleased to partner with AHFC and ACT as we continue to address the ongoing issues of affordable housing." 
As authorized in December 2022, AHFC partnered with ACT, a non-profit dedicated to preserving existing multi-family workforce housing, to purchase the $34.9 million portfolio of which AHFC contributed $14.9 million in 2018 General Obligation Bond dollars.  The Austin Housing Conservancy Fund is referenced as the "Strike Fund" in the Austin Strategic Housing Blueprint and was formed to meet moderate income housing needs in greater Austin. 
"ACT is a great partner with experience in transitioning multi-family complexes for long-term affordable housing," explains James May Housing and Community Development Officer for the Housing Department. "The City works with partners to more effectively address these challenges and reach our community's affordability goals."  
All the properties will receive renovations and repairs to ensure a safe and healthy living environment with over $2 million planned to be spent over the next two years.  In alignment with goals set in the Austin Strategic Housing Blueprint, this acquisition hits several goals for the City including: preservation of existing affordable housing, geographic dispersion of affordable housing, and deeper affordability with 50% MFI units. Median Family Income (MFI) is the amount of money earned by a family in a metropolitan statistical area that divides the income distribution of all families in that area into two equal parts - half having incomes above that amount and half below. 
Above all, fulfilling efforts of the Austin Strategic Housing Blueprint ensures the expanding availability of affordable housing while also maintaining the livability standards and benefit for people who perform all types of jobs and whose contributions are essential to making Austin a vibrant, culturally diverse, and livable city. 
"We are excited to continue to partner with AHFC to expand and preserve low and moderate-income rental housing in Austin," said Monica Medina, President of Affordable Central Texas. "Acquiring smaller properties close to transit, schools, and local amenities near central Austin is vital to meeting the housing needs of essential Austinites." 
Austin Housing Finance Corporation Portfolio Acquisitions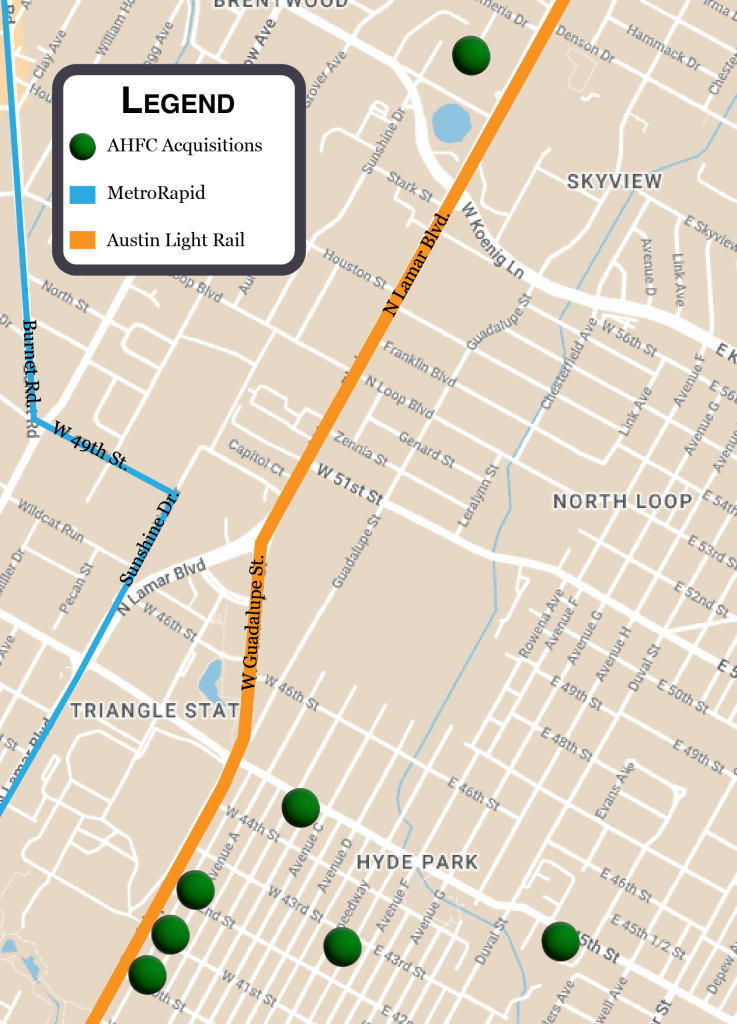 Central Park Apartments – 6008 and 6010 North Lamar Blvd. 
Siesta Place – 609 E. 45th Street 
Villa Del Rey – 4000 Avenue A 
Midway - 4100 Avenue A 
Fiesta 1 & 2 - 4200 and 4208 Avenue A 
Del Mar – 4415 Avenue B 
Tom Thumb – 4209 Speedway 
Resources for affordable housing and displacement prevention available online at www.austintexas.gov/housing.  
### 
About the City of Austin Housing Department 
The City of Austin Housing Department provides equitable and comprehensive housing, community development, and displacement prevention to enhance the quality of life of all Austinites. To access affordable housing and community resources, visit www.austintexas.gov/housing. 
About the Austin Housing Finance Corporation 
The Austin Housing Finance Corporation (AHFC) was created as a public, non-profit corporation and instrumentality of the City of Austin. The mission of the AHFC is to generate and implement strategic housing solutions for the benefit of low- and moderate-income residents of the City of Austin.   
About Affordable Central Texas
Affordable Central Texas (ACT) is a 501 (c)(3) and is the sponsor and investment manager of the Austin Housing Conservancy Fund. ACT was formed in 2016 by a group of highly experienced Austin real estate, finance, and affordable housing professionals to ensure Austin's workforce can afford to live in greater Austin by building a scalable open end, social impact fund to preserve well located multi-family apartment properties for long-term affordability as well as provide programs to build community and improve resident outcomes.  To-date, the Fund has invested in almost $400 million of apartment communities totaling 1,940 units serving 3,500 residents in 13 properties with a long-term goal of preserving 10,000 units in Central Texas.