City of Austin
FOR IMMEDIATE RELEASE
Release Date:
Contact: Austin Resource Recovery media line (512) 974-1800
---
The Conscious Pet wins $12,000 cash prize
AUSTIN, TX – The City of Austin announced the winner of the 2023 Circular Austin Showcase, a pitch competition for local circular businesses focused on reuse and zero waste. Circular business models reduce the need to extract new resources from our planet by keeping materials and products in use for as long as possible. 
The event took place on August 29 in partnership between Austin Resource Recovery, the Economic Development Department and the Austin Young Chamber.  
A judging panel selected The Conscious Pet as this year's winner following pitches from eight finalists. Two of the finalists participated as Reverse Pitch Innovation Fellows. Scoring criteria included business viability, fundability, circular economy/ zero waste impact, economic impact and local job creation, along with effectiveness of pitch delivery. 
Mason Arnold with The Conscious Pet will receive a $12,000 cash prize. Kelly Rytlewski with Heartening will receive a $1,000 cash prize for placing second. In addition, all competitors gained valuable feedback from the judges.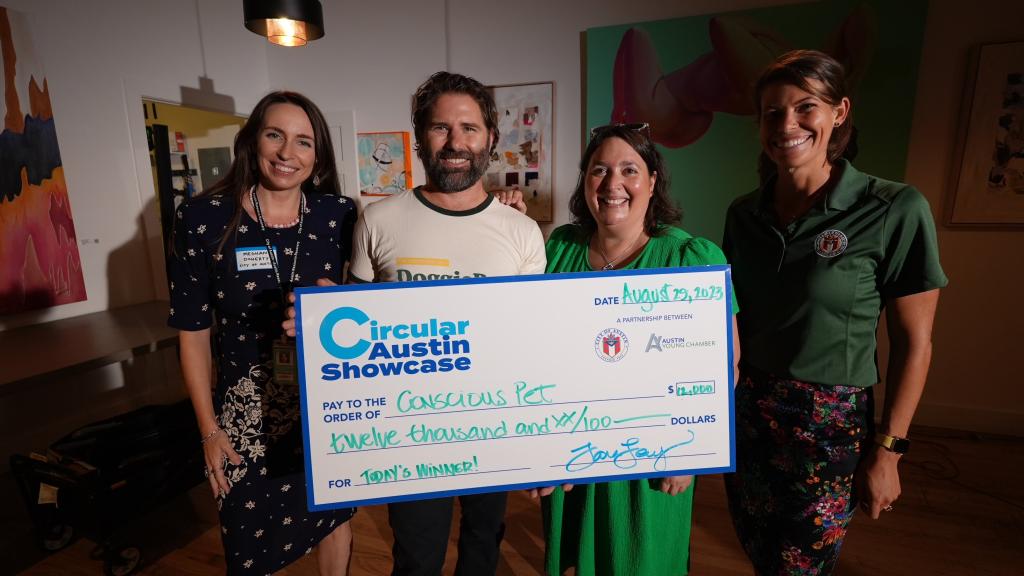 Mason Arnold (second from left) accepts the cash prize at the Circular Austin Showcase from Meghan Doherty (left), Tara Levy and Maddie Morgan.
 
 Finalists from the Circular Austin Showcase included:   
diaperkind is a modern cloth diaper service that emphasizes zero waste, zero laundry and zero chemicals. 
Dispoze is focused on improving recovery infrastructure for lithium-ion batteries. The organization aims to refurbish recovered batteries for reintroduction into US supply chains and offset the carbon emissions caused by the mining of precious metals. 
Frontier Resource Recovery aims to create scalable agricultural solutions to restore the environment. 
Heartening* plans to create a product line of pallet-able patio furniture made from upcycled wooden pallets and recycled textile cushions. 
Pyrocycling* plans to use carbon filter pads from Deep Eddy Vodka to harvest agricultural minerals directly from treated municipal sewage. 
Sleep, Never creates quality slow fashion, that is suitable for a fast-paced world. 
The Conscious Pet provides nutritious, sustainable food for dogs and for the planet. 
Wanderlust Wine Co. is the world's largest wine-on-tap winery with a mission to change the world through wine by utilizing sustainable, recyclable and reusable packaging and practices. 
*Winners of the 2023 [Re]verse Pitch Competition 
 
"The Circular Austin Showcase is an exciting event that supports local businesses that keep materials out of the landfill through innovative reuse solutions," says Richard McHale, Interim Director for Austin Resource Recovery. "We congratulate and thank all of the finalists who are helping Austin toward a zero waste future, especially The Conscious Pet." 
 
Judges for the Circular Austin Showcase included: 
Adrienne Longenecker, Executive Director at Colorado River Alliance           
Clarissa Simmons, Co-Founder at Make at Rosie    
Brandi Clark Burton, Founder & Chief Inspiration Officer at The Austin Common and EcoNetworking    
Erika Haskins, Head of Partnerships at Make Startups
Juli Berwald, Science Writer & Author
Skyra Rideaux, Principal Consultant & Owner at Skyra Rideaux LLC
"The Circular Austin Showcase is a great chance to connect local entrepreneurs to critical funding and resources to grow their businesses," says Sylnovia Holt-Rabb, Director of the Economic Development Department. "This is also an important opportunity to inspire and educate the investment community on the social, environmental and economic benefits of circular economy businesses." 
The Circular Austin Showcase is a program created by the City of Austin's Circular Economy Program. The event is focused on connecting local investors to circular economy entrepreneurs and business owners. The Showcase aims to help Austin reduce waste, help our planet and grow the local circular economy. 
### 
About the Circular Economy Program   
The City of Austin Circular Economy Program's mission is to attract, retain, and grow businesses, non-profits, and entrepreneurs in the zero waste industry in order to create well-paying local jobs, attract investment, and support the necessary infrastructure for a resilient circular economy in Central Texas. The program is a partnership between Austin Resource Recovery and the Economic Development Department. 
About Austin Resource Recovery   
Austin Resource Recovery (ARR) is a department of the City of Austin. We provide essential services that protect people and our planet. We collect recycling, composting, trash, large brush, bulk items and dead animals. We also sweep the streets, recycle and safely dispose of household hazardous waste, and provide community outreach and education. ARR is driving the global transformation of traditional waste management to sustainable resource recovery. Learn more at austinrecycles.com.  
About the City of Austin Economic Development Department  
The City of Austin Economic Development Department supports business growth, creative industries, and local communities. These programs build an equitable, sustainable economy to improve the lives of all Austin residents. To learn more about helpful resources, visit www.austintexas.gov/edd and subscribe to our newsletter. Connect with us @AustinEconDev on Facebook, @AustinEconDev on X, and @AustinEconDev on YouTube. 
About the Austin Young Chamber 
The Austin Young Chamber supports the Central Texas business community through initiatives and efforts designed to build and strengthen a diverse young professional workforce. Connect with the Austin Young Chamber on Facebook, Instagram, LinkedIn, and learn about upcoming programs at austinyc.org.