City of Austin
FOR IMMEDIATE RELEASE
Release Date:
Contact: Public Affairs Office, City of Austin Public Works 512-974-7111 Email
---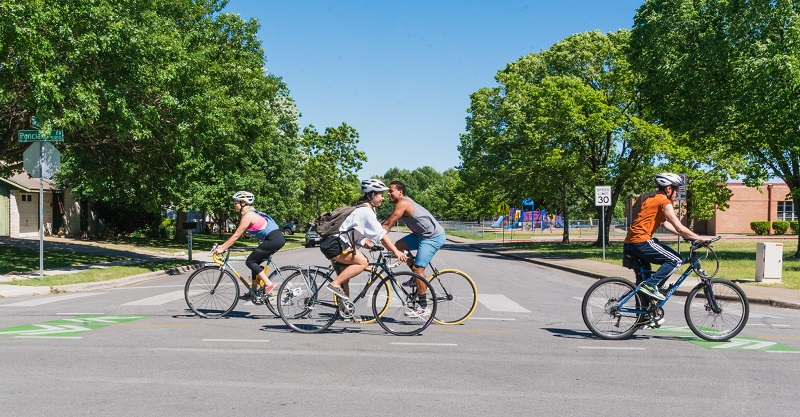 Launching today, the new ATX Walk Bike Roll Public Input Map enables Austin residents to show the City of Austin exactly where they'd like to see improvements made to Austin's pedestrian and bicycle network. Austin Public Works and Austin Transportation are accepting feedback through the online tool now through March 6, 2022.  
Using the mapping tool, residents can pinpoint where they'd like to see improved street crossings, new bikeway and urban trail routes, and where barriers need to be addressed. Residents who are unable to use the online mapping tool can request a physical feedback form by calling (512) 974-7182 or emailing ATXWalkBikeRoll@AustinTexas.gov
This geographic input will be used to update and improve Austin's Urban Trails, Bikeways, and Sidewalk Plans through the ATX Walk Bike Roll project.  The plan updates will take two years to develop and are expected to be finalized in 2023. The updated plans will influence where and how people walk, bike, and roll in the future. 
"ATX Walk Bike Roll is exciting because it presents a unique opportunity to evaluate all of our active transportation plans at the same time," explained Gina Fiandaca, Assistant City Manager over Mobility. "Our residents know their streets best. We need this ground-level feedback from the Austin community to make the most of this opportunity and get these plan updates right." 
Many steps have now been completed in the ATX Walk Bike Roll planning process, including: 
Performing an equity analysis and creating an equity framework to guide how the project team will make decisions through an equity lens 
Launching a community ambassador program to collect feedback and build relationships with residents from communities that have been historically underrepresented in City of Austin planning processes 
Conducting a trip potential analysis to identify where people are expected to walk or bike  
Analyzing where crashes involving people walking or biking occur, and which populations are most impacted by traffic crashes 
Gathering public input on how people currently walk, bike, and roll through the city and how their experiences could be improved 
Currently, the project team is analyzing Austin's existing pedestrian and bicycle networks and evaluating if they provide effective access to key destinations, including transit stops, employment centers, grocery stores, schools and parks. They're also working on mapping where there are barriers, opportunities, and potential connections in the urban trails, sidewalks, and bikeway networks. Public input is needed to help the team determine where and how to expand these transportation networks. 
The project team is continuing to analyze all public input received to date and plans to publish a summary of this feedback by Spring of 2022.  
  
Visit the ATX Walk Bike Roll website to learn more.
###