Benefits - Home               Details               Calendar
---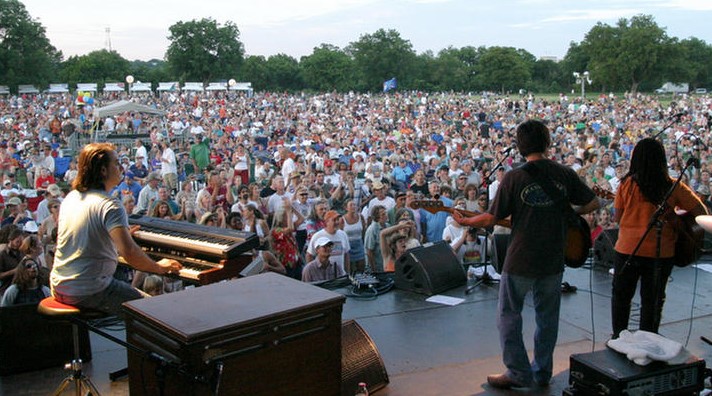 Special Events are one of many diverse programs and experiences that the Parks and Recreation Department uses to offer support to communities in expressing identity and creativity.  
The values of the Austin Parks and Recreation Department are embodied in Special Events as Event Organizers create park programming that strives for accessibility, diversity, equity, and inclusion of cultures.  Connection between event attendees and park spaces is intentionally created to offer a meaningful and sustainable experience.
There are many unique annual Special Events hosted in City of Austin parks - of the events, almost three quarter offer access to the general public without the need to purchase a ticket. 
In order to preserve and enhance parkland for future generations, strategies and requirements for impact mitigation of Special Events have been developed by the City of Austin through Task Force recommendations and adoption of industry best practices.
Many Special Events attract out of town visitors and contribute to hotel occupancy.  Since 2017, nearly $17 million has been allocated to PARD historic preservation projects through the Historical Preservation Fund from the Hotel Occupancy Tax revenue. 
Types of Events in Parks

Required Event Impact Mitigation

Special Events at Premier Park Locations

Historic Preservation and Heritage Tourism Program

The City of Austin's Heritage Tourism Division, within the Economic Development Department, manages heritage tourism programs aimed to derive economic, business, and community benefits associated with preserving Austin as a place of personal heritage. Fifteen percent of Hotel Occupancy Tax revenue in Austin is allocated for historic preservation and comprises the Historic Preservation Fund.

The Parks and Recreation Department is an important partner in this effort as public parks, museums, and cultural centers are among the top tourist attractions in the City. Partially funded by Hotel Occupancy Tax revenue, the PARD Historic Preservation and Heritage Tourism Program manages approximately 350 historic and cultural resources and works to restore, steward, and promote spaces within Austin's park system.

See below for Preservation Projects as well as Designations and Honors!

Completed Preservation Projects

Elisabet Ney Museum Historic Wall and Gate Restoration
Oakwood Cemetery Chapel Restoration
Oakwood Cemetery and Annex Gate Restoration and Fencing Improvements
Mayfield Park Historic Garden Shed Restoration

In Progress Preservation Projects

O. Henry Museum Restoration
Fiesta Gardens Restoration
Elisabet Ney Museum Restoration
Zilker Clubhouse Restoration
Seaholm Intake Building Rehabilitation
Zilker Café Rehabilitation
Barton Springs Bathhouse Rehabilitation
Brush Square Rehabilitation

Upcoming Preservation Projects

Sunken Gardens Rehabilitation at Zilker Park
Old Bakery and Emporium
Historic Norwood Estate Restoration
Henry Madison Log Cabin at Rosewood Park
Historic Montopolis Rural "Negro" School

National Register of Historic Places 

Fiesta Gardens
Fannie Davis Gazebo
Covert Park and Mt. Bonnell
Hancock Golf Course
Lions Municipal Golf Course

Recorded Texas Historic Landmark

Downs Field
Hezikiah Haskell House
Hancock Recreation Center

State of Texas Official Marker

Rosewood Neighborhood Park
Ollie O. Norwood Estate
Parque Zaragoza Neighborhood Park
Wood Street Settlement at Shoal Creek
Oertli Dairy
Lions Municipal Golf Course
Gant Family at Oakwood Cemetery 

State Antiquities Landmark

Covert Park at Mt. Bonnell
Pease District Park

Historic Texas Cemetery

City of Austin Historic Landmark

Zilker Metropolitan Park Caretaker's Cottage

Texas Recreation and Park Society Lone Star Legacy Park

Pease District Park
Eastwoods Neighborhood Park
Rosewood Neighborhood Park
Parque Zaragoza Neighborhood Park
Zilker Metropolitan Park