Español  |  Tiếng Việt  |  العربية  |  한국어  |  简体中文 |  繁體中文 |  မြန်မာစကား | اُردُو  | Français  | हिंदी
Please Note: The City of Austin's language access program manager and a working committee of language access single points of contact from various departments are currently updating the City of Austin's Translation and Interpretation Policy with the approval goal of October 2021.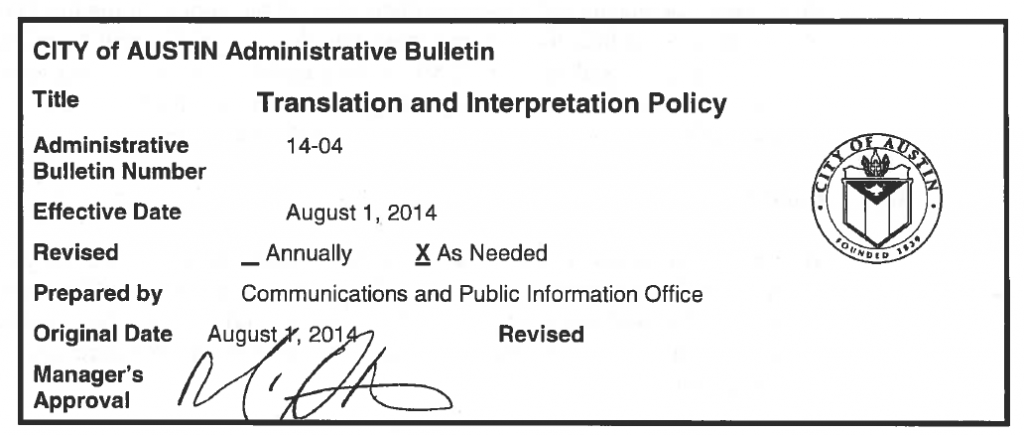 PURPOSE
The City of Austin is committed to open government and the provision of quality customer service. This includes making reasonable efforts to ensure that City services and information about those services are provided in a manner that is accessible, relevant and timely to residents. This policy is designed to establish a citywide translation and interpretation protocol to promote fair and equitable access to City services for individuals with limited English proficiency.
POLICY
The City is committed to using competent, trained and culturally sensitive translators and interpreters. City departments should make all reasonable efforts to apply these policies whenever applicable to their operations:
I)            Document Bank
The Communications and Public Information Office (CPIO) shall maintain an intranet resource of existing translated documents, as well as translations of commonly-used terms such as official department and division names, key initiatives, employee titles, and frequently-used departmental terminology. This resource shall be accessible and updatable by individual departments as needed.
II)           Emergency Notifications
     a) In the event of an emergency where reverse-911 or other call-out systems are implemented, the City will provide a direct option to receive the message in Spanish.     
         The City shall make all reasonable efforts to provide the message in additional languages, or provide call-in instructions by which to receive the full message in additional languages.
     b) Critical documents and messages distributed to the public during emergency response, to include those distributed through social media, will be provided in both  
          English and Spanish. If 5% of the population in the affected area consists of another specific language group (1), then the City will make reasonable efforts to provide the message in that language.
(1)  As determined by the most recent US Census or American Community Survey_v Data.
III)         Interpretations
     a) City Departments organizing community meetings should inform the public in advance that interpreters may be provided at the meeting if the City receives a request five working days prior to the event. Should a request be received, the lead organizing department will make reasonable efforts to secure a qualified interpreter.
     b) For requests made less than five days in advance, it will be at the lead department's discretion to determine if accommodations can be made.
     c) If a meeting or event specifically targets a community or population group with a high concentration of foreign-language speakers, the lead organizing department will make reasonable efforts to secure a qualified interpreter in the appropriate language.
     d) City Departments, at their own discretion, may provide interpreters more frequently than required in this policy.
IV)         Language Line
a) Austin 311 will maintain a contract for language line services. Departments in need of assistance with foreign-language phone inquiries should contact 311 for assistance in fulfilling those needs.
V)          Translations
     a) CPIO will conduct a prequalification process every two years for translation services, and provide a list of prequalified vendors for those seeking translation services.
         Prequalification will be based on both professional skill and relevant cultural competency.
     b) Translations of a complex, legally-binding and/or technical nature, and translations mandated by applicable law, should be performed by professional translators in any circumstance where a bilingual departmental employee with specific technical knowledge is unavailable or unable to do so.
VI)         Partnerships
a) Notwithstanding any of the articles or requirements outlined in this policy, departments may have opportunities to partner with community groups or other agencies for the provision of translation services in specific instances. To the extent that these partnerships meet the requirements for accuracy and cultural competency, departments are not prohibited from seeking such alternative arrangements.
VII)        Accountability
     a) CPIO shall solicit feedback and comments from staff, the immigrant and refugee communities, and translation and interpretation contractors annually on the effectiveness of this policy.
     b) The City shall periodically review this policy and make adjustments, as appropriate, based on changing demographics and other factors.
DEFINITIONS
For the purpose of this policy, the following definitions should apply:
Limited English Proficiency (LEP)
A person with limited English proficiency (LEP) cannot speak, read, write or understand the English language at a level that permits him or her to interact effectively with the City.
Individuals who communicate with American Sign Language are covered in this definition, although other Federal laws and regulations such as the Americans with Disabilities Act apply and should be considered separately.
Translation
Translation is the conversion of written communication from one language to another in a written form. An accurate translation is one that conveys the intent and essential meaning of the original text.
Interpretation
Interpretation is the oral rendition of a spoken message from one language to another, preserving the intent and meaning of the original message.
Document Bank
A Document Bank is an internal resource that includes information related to translations and interpretations. A Document Bank is a living document that will evolve with the collaboration of the users.
Language Line
A Language Line is a commercial interpretation service accessed through the telephone.
Critical Information
This information may have life and death implications, such as emergency response messages, or may be essential to effective operation of City services. Critical information could be presented in writing or orally.
Primary Languages
Primary languages are languages other than English spoken at home by the largest number of Austin residents, based upon data from the Federal Census Bureau (2).
In Austin, Spanish is the most spoken language after English. However, there are many other languages spoken in Central Texas. The most common languages (other than English) spoken in Austin are:
•            Spanish (25.7%)
•            Chinese (1.3 %)
•            Vietnamese (0.8%)
•            Korean (0.5%)
•            Hindi (0.5%)
For the purposes of this policy, Spanish translations should be culturally appropriate to the predominant form of the language spoken in Central Texas.
(2) 2012 American Community Survey 5-year estimates, Table B1600], US Census Bureau.
ROLES AND RESPONSIBILITIES
•            Communications and Public Information Office
     o            Establish and maintain the Web infrastructure to host the Document Bank.
     o            Establish and maintain a list of pre-qualified professional and court-certified translators and interpretation providers.
     o            Provide a limited number of assistive-listening devices for live interpretation, available for checkout to departments.
     o            Work with departments, as needed, to seek partnerships for sharing translation and interpretation services.
     o            Conduct process for soliciting periodic feedback on policy effectiveness .
•            All Departments
     o            Provide relevant information for the Document Bank relative to their respective departments, and update the resource as necessary.
     o            Translate critical information and other appropriate documents into Spanish and other languages as outlined in this policy.
CORRESPONDING PROCEDURES AND POLICIES
Not applicable.
FORMS
None