Creek modifications are one of three alternatives under consideration to reduce the risk of flooding along the middle portion of Williamson Creek. The alternative would enlarge the channel of the creek in five areas, changing the look and feel of the creek. We would expect more than 50 houses to be helped if this option is selected. The map below shows the potential areas for creek modfications in green.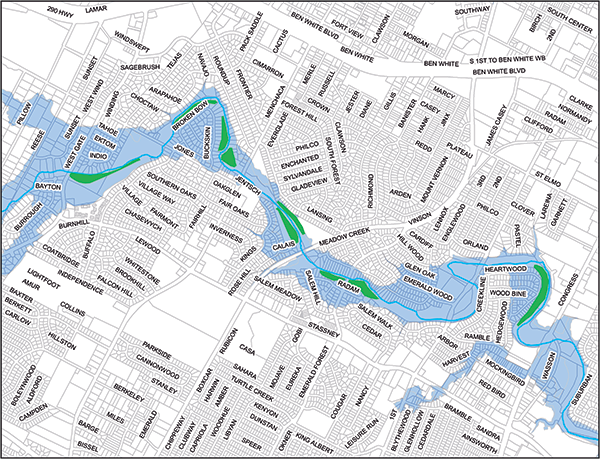 Please note that the benefits, impacts and details of this option still need to be refined. For the Feasibility Study, only a summary analysis was done. More detailed engineering models would need to be completed during the Preliminary Engineering phase.
Summary Evaluation
This option appears to be the most cost effective in terms of the amount of money spent for the amount of flood reduction it provides. It is also the least expensive in terms of total costs. However, it helps the fewest number of homes and has more environmental impacts than the other two alternatives.
It would use both city-owned land and easements purchased from private landowners. It would likely require a federal permit under the Clean Water Act and environmental variances from the City of Austin for work in the critical water quality zone and removal of protected trees. There are springs and wetlands in the construction area, and it is within 200 feet of the Edwards Aquifer Transition Zone.
Flood protection: over 50 structures
Cost: $60 to more than $100 million
Timeline: 5 to 7 years, once funding is secured.
Prior Public Input
In 2006, the U.S. Army Corps of Engineers proposed an alternative that included work in the creek. At the time, many community members were concerned about the environmental impact of this work, concerns that were shared by our department. This alternative is the same general type of work, but it has a much more limited scope and would incorporate more environmentally friendly practices. Because of the new scope of the creek modifications and the length of time that has passed since our last community outreach, we would like to give the community a chance to weigh in on this alternative.
Detailed Evaluation
During the past few years, we have acquired 52 properties in the project area. This land makes available new opportunities for creek modifications than those recommended in the 2006 U.S. Army Corps of Engineers report. As currently proposed, this alternative includes a "flood bench" in five locations at a minimum 3 to 1 slope. A bench is an engineering term that means a wide, flat area by the creek channel. A flood bench provides more room for flood waters and helps slow their flow. In this proposal, the benched areas would all be two feet above the bottom of the channel to allow some flow in the creek and reduce environmental impacts.  
Environmental Constraints and Permitting Efforts
Several critical environmental features are in the project area, including at least 4 springs and a wetland. There are also several seeps. There are no documented occurrences of any threatened or endangered species in the project area.
Austin Environmental Laws: It is unlikely that we could avoid removing protected trees. The channel excavations would be entirely within the Critical Water Quality Zone. We would revegetate and restore the disturbed areas with native species according to the City of Austin Environmental Criteria Manual. However, a variance or exemption from City of Austin environmental regulations would likely be needed.
State Law: An Edwards Aquifer Protection Plan might be needed since part of the project would be in the Edwards Aquifer Transition Zone. We also might need to coordinate with Texas Parks and Wildlife to relocate fish or other aquatic species for any seasonal or perennial pools of water. In addition, Chapter 191 of the Texas Natural Resources Code (Antiquities Code of Texas) would apply. Either a cultural resources survey would need to be done or the Texas Historical Commission would need to determine that the project would have no impact on cultural resources.
Federal Laws: The project would likely need a Clean Water Act, Section 404 permit, associated with dredge or fill in the Waters of the U.S.
Land and Easement Acquisition
There would be approximately 6.4 acres across 19 different properties of permanent drainage easement needed.
Potential Major Utility Impacts
Utility impacts are anticipated in the Westgate and Radam areas.
Time of Implementation
The anticipated time of implementation, once funding is available, is five to seven years, including design, permitting and construction.
Anticipated Operations and Maintenance
The channel modifications would be designed with anticipation that dense vegetation would eventually grow along the flood bench and modified slopes. This would minimize operations and maintenance costs.