Large-Scale Engineering Projects
Austin Transportation is working to create a transportation network that protects human life, even when individual users make mistakes; in other words, we are designing our network with safety as the primary consideration. Engineering and street design are therefore key strategic elements of a successful Vision Zero program.  Find out more about some of our engineering projects improving safety, below:
---
Systemic Safety Initiatives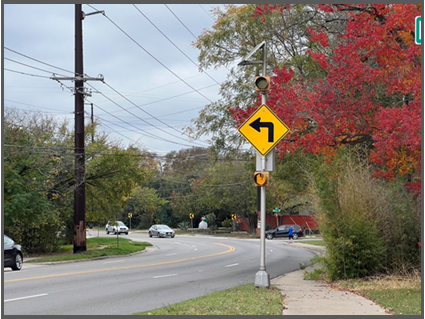 The City of Austin's Vision Zero efforts follow a Safe System approach: to design and operate our transportation network in a way that anticipates human errors, accommodates human injury tolerance, and has the ultimate goal of reducing fatal and serious injuries on our roadways. Per the Austin Strategic Mobility Plan, one key principle of Austin's Vision Zero program is that "safety initiatives should proactively improve systems safety." A proactive approach recognizes that there are certain similar conditions across our built environment that need to be addressed whether or not a severe crash has happened at that location in the past.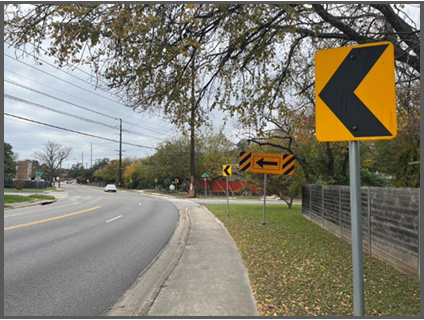 The Vision Zero team identified multiple sets of systemic safety projects, or collections of similar locations that could be suitable for the application of a set of countermeasures, as part of a recently completed analysis of five years of severe crash data and common roadway conditions. The systemic safety countermeasures identified in the report are prioritized by expected benefit compared to cost. In addition, locations within each systemic safety countermeasure set were further evaluated with detailed engineering assessments.
The first set of systemic improvements planned is curve improvements to address crashes with one motor vehicle involved, which happen frequently at roadway curves and isone of the most frequent severe crash types in the past five years.  The team established a methodology for selecting curve improvement locations, including crash frequency, comprehensive crash cost, curve radius, speed limit, crash types, and root-cause evaluation. Treatments for each location were developed with application of MUTCD (Manual on Uniform Traffic Control Devices) and AASHTO (American Association of State Highway and Transportation Officials) recommendations, supplemental warning systems, and engineering review. The team will apply a wide array of treatments depending on site needs, including chevrons, warning signs, flashing beacons, LED devices, raised pavement markings, striping, rumble strips, and advisory speeds. The design improvements are expected to be constructed in Winter/Spring 2022 at over 40 locations throughout Austin.
Substantially Complete Improvements

City Parks Road

Four Points Drive

Ladera Norte

Cooper Lane

Marcus Abrams Boulevard

South 1st Street

West Gate Boulevard

Loyola Lane

Manor Road

Techni Center Drive

East Riverside Drive

West 6th Street

Taylor Draper Lane

Duval Road

Metric Boulevard

S

heridan Avenue

Cameron Road

Wasson Road

Southwest Parkway

In Progress Improvements

East

Stassney

Lane

Parker Lane

Azie

Morton Road

Burton Drive

Oltorf

Street

Montopolis

Drive
Mount

Bonnell

Road

Winsted

Lane

Metropolis

Drive
---
High-Injury Roadways
Austin Transportation's Vision Zero program developed a High-Injury Network (HIN) which identifies streets in Austin with a relatively high number of serious injury and fatal crashes. From this network, the Vision Zero program identified 13 High-Injury Roadway sections to receive effective, low-cost safety improvements. The most recent five complete years of crash data was analyzed to identify top locations for focused engineering design initiatives, improved signage, and targeted enforcement on key dangerous driving behaviors. For more information, visit the High-Injury Roadways page.
---
Speed Management Program
Speeding is the primary contributing factor in one quarter of Austin traffic fatality crashes. Each year more than 10,000 people lose their lives to speed-related crashes in the United States. In Austin, data shows speeding was the primary contributing factor in 24% of traffic crashes resulting in death between 2013-2017. This makes it the top one of the four behaviors which contribute to most of the fatal crashes in Austin (along with failure to yield, distraction, and intoxication).
Effective speed management is critical for creating streets that support safe and convenient travel by everyone—whether they are in cars, on bicycles, walking or using assisted mobility devices. People get around Austin in different ways (sometimes on the same trip); by implementing intuitive, context-sensitive speed management strategies, the Austin community can enable safe and convenient travel for all.
Visit ATD's Speed Management Program page for more information on efforts to reduce egregious speeding on all street levels and the likelihood of serious injury and fatal crashes.
---
Vision Zero Equity Storymap
Over 2,400 people in Austin were seriously injured or killed in traffic crashes over the past five years, 55% of which were people of color. Austin Transportation has released a Vision Zero Storymap to highlight the racial disparities in traffic crashes and injuries in Austin, provide context for the historical context and institutional factors that have contributed to and perpetuated these disparities, and, describe some of the ways how the Vision Zero program will seek to advance racial equity it its transportation safety work.
View the Safe for All Storymap. (Seguro para Todos)
---
Get Home Safe
Driving while under the influence of alcohol is one of the four primary causes of crashes with fatalities and serious injuries in our City. Austin Transportation's Get Home Safe resources provide everyone with safe ways to get home after a fun night.