Located along a eleven block stretch in downtown Austin, between 4th and 15th streets, is the Red River Cultural District, which sustains Austin's reputation as the live music capital of the world. While Red River still retains much of its tough, punk rock exterior, it has become a place where locals and visitors can find musical acts, comedy performances and events that cater to every taste. Visitors can stay at Hotel Indigo, a plush boutique hotel located in the heart of the RRCD. Grab a drink at the famous Cheer Up Charlie's, where themed nights include disco and funk, drag comedy shows and LGBTQ pride nights. If it's artists-to-watch or national acts you're after, check out the iconic Mohawk, where everyone is welcome. For the hungry music aficionado, Red River offers a variety of choices that promise to satisfy every appetite. For live bands with a side of quality craft meats, try the world famous Stubb's, known for their fried green tomatoes and Post Oak smoked brisket. Just down the road is Arlo's food truck, offering unbelievably delicious vegan and vegetarian options that will please even the hungriest meat lover. If you're looking for the tried and true, Hoboken Pie knows that nothing goes better with music and beer than a warm slice of pizza. For those seeking to take in some local history, the German-Texan Heritage Society is one of the oldest in Texas, and contains artifacts, historical maps and beautiful photography showcasing the lives of Austin's first settlers. Whether it's brunch with friends or a night of music and dining, Red River never disappoints.
The Red River Cultural District is known as the Live Music Capital of Austin. In collaboration with Souly Austin, they hope to strengthen their cohesive identity through creative placemaking initiatives. Building daytime patronage and foot traffic is a priority for the RRCD, and they're looking into the creation of daytime activities, iconic events, supporting creative industries, and beautification. Traffic and parking concerns are on the agenda for the RRCD and they're working with Souly and the City of Austin to make improvements that will increase safety for locals and visitors.
Website: http://redriverculturaldistrict.org
Instagram: @redriverculturaldistrict
Facebook: https://www.facebook.com/redriverculturaldistrict/
Red River Cultural District Map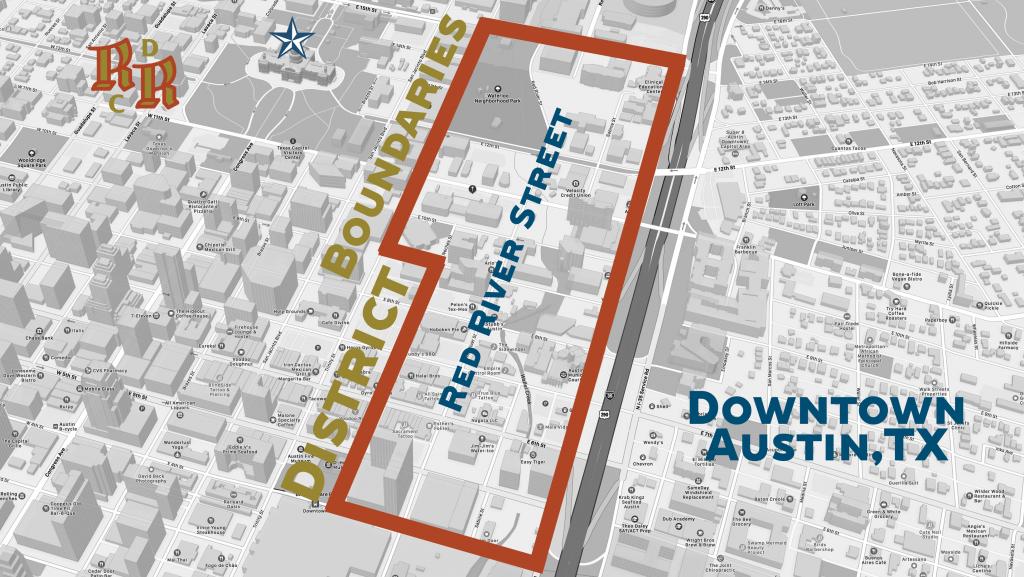 *Note: District Map reflects Red River Cultural District Boundaries adopted by the Red River Cultural District Merchants Association, as of February 2021.
Red River Cultural District Video
2018 Lone Star Emmy - Short Format Program - Informational