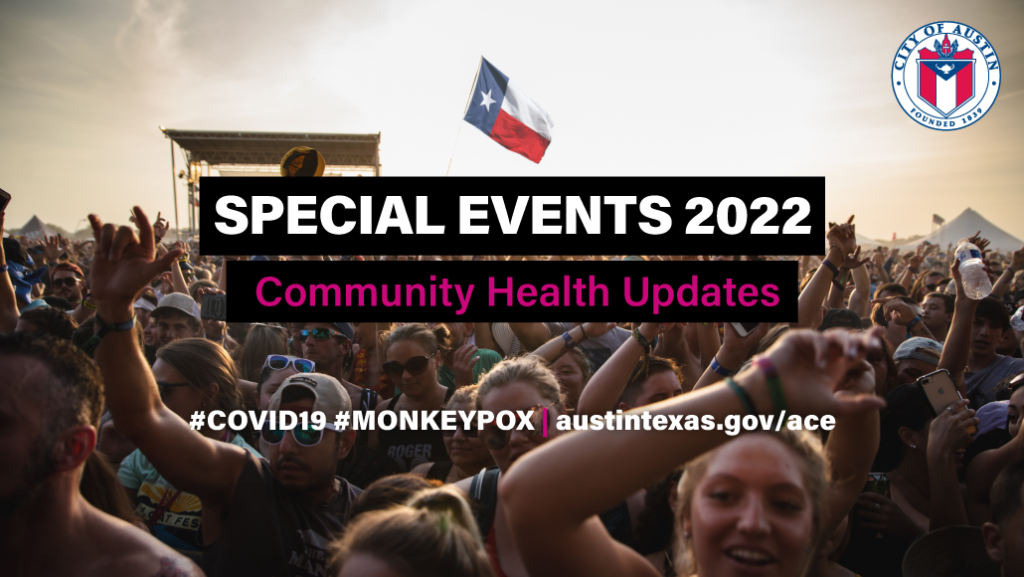 COVID-19/Monkeypox Special Events Updates: September 15, 2022
Monkeypox Safety Guidelines for Community Events
Austin Public Health (APH) issued Monkeypox safety guidelines on August 5, 2022 for those attending community events. These recommendations include:
Being fully clothed and avoiding skin-to-skin contact with strangers. 
Limiting close and or/intimate contact to people you know. 

Close contact includes sharing items like drinks and blankets. 

Wearing well-fitting masks in close quarters when social distancing isn't possible to reduce sharing mouth/nasal fluids.
Being aware of monkeypox symptoms. Along with rash, symptoms include fever, headache and muscle aches, chills, and swollen lymph nodes. 
Washing your hands and use hand sanitation often. 
Staying home if you feel sick or experience any symptoms. 
APH also established a Monkeypox informational hub with resources about testing, vaccines, and case counts and a Monkeypox communication toolkit that event organizers and venue operators are invited to use.
At this time there are no additional APH event planning requirements that exceed those established during the COVID-19 pandemic. 
COVID-19 Health & Safety Form: Still a requirement, but now a check list
APH updated the COVID-19 Health & Safety Form to a one page check list.  A COVID-19 Health & Safety Form is still required to be submitted with your special events permit.
Find the NEW COVID-19 Risked-Based Guidelines here.
Submitting a completed COVID-19 Health & Safety Form is a requirement for special event application approval. Austin Public Health is committed to working with event organizers to review COVID-19 Health & Safety Plans and support safe events.  
Submit your COVID-19 Health & Safety Plan using the on-line form. (COVID-19 Health & Safety Form)
Preview the COVID-19 Health & Safety Form (Health and Safety Form Preview)
Bringing Events Back: Safety Guide for Venues & Special Events
The latest recommendations will help event organizers with COVID safety mitigations. This special events guidance is reviewed at least every 30 days in partnership with APH to ensure guidelines reflect current COVID-19 health conditions. 
Community Levels Special Events Guidance 
As you proceed with special event planning, several mitigation strategies are available for all levels based on risk assessment: 
Develop a send home policy for staff. 
Establish handwashing and hand sanitizer plans and cleaning policies. 
Establish a notification process for reporting positive cases.
Create a prescreening plan for attendees before the event. 
Post COVID-19 safety signage at the event. 
Encourage social distancing for those who are at risk and/or are not up to date with COVID-19 vaccines.  
Make testing available onsite. 
The current community level is LOW. 
Community Level: Low 
Current recommendations for special events are:  
Masks are optional for those who are not up to date on vaccinations or at risk in any situation. 
Encourage social distancing. 
Community Level: Medium 
Masks are recommended for those who are at risk in all situations. 
Mitigation strategies recommended for indoor events: 
Testing within 72 hours of the event. Organizations may include proof of vaccine as an alternate option to testing for attendees and staff. 
Establishing measures to promote social distancing is recommended, such as configuring layouts to avoid queuing. 
Mitigation strategies recommended for outdoor events: 
Masking for at risk individuals in areas where social distancing isn't possible. 
Establishing measures to promote social distancing, such as configuring layouts to avoid queuing. 
Community Level: High  
Masks are recommended for everyone in all situations. 
Mitigation strategies highly recommended for indoor events: 
Testing within 24 hours of the event. Organizations may include proof of vaccine as an alternate option to testing for attendees and staff. 
Archived Guidance for Reference Only 
Contact specialevents@austintexas.gov for questions on guidance or for support with your special events application. 
Vaccine Support & Mobile Vaccine for Events
Event organizers and their staff can get vaccinated before an event. Organizers can register to co-host a mobile vaccine event. Complete the Austin Public Health Mobile Vaccination Request Form to request a pop-up COVID-19 vaccination clinic at least one month before the event to help staff and volunteers be fully vaccinated prior to the event.  
COVID-19 vaccinations are free and require neither identification nor insurance. Residents can locate providers in their area using Vaccines.gov or they can text their zip code to 438829 (822862 in Spanish) to find a nearby clinic.  
City-owned Event Facilities 
Austin Public Health is also working closely with City of Austin departments that have event facilities. Each department is operating on an independent reopening schedule.  
Austin Public Library Department  announced The Austin Central Library will begin hosting private events and facility rentals beginning April 1, 2021. All events must receive approval by local health authorities and adhere to Austin–Travis County COVID-19 safety guidelines. More information is located at the rental page.   
Austin Convention Center Department has been given authorization by Austin Public Health to operate. For more information visit Austin Convention Center or Palmer Events Center sites.  
Gatherings on City Parkland and Park Facilities 
The Austin Parks and Recreation Department (PARD) continues to consult with public health authorities regarding park use. The use of picnic sites, event buildings, or special event sites occur based on the reopening guidelines for specific sites. For more information on current PARD facility operations, visit austintexas.gov/parkclosures. 
Events on City parkland require a separate park permit and reservation. Please contact the PARD Office of Special Events at reservations@austintexas.gov and consult the information on the PARD Office of Special Events department website.
Resources and More Information 
If you have questions about your event application or future plans, contact specialevents@austintexas.gov and we can schedule a remote meeting with you.
FAQ
Where did these guidelines come from?

The recommendations in these guidelines were developed with reference to Centers for Disease Control 'Considerations for Events and Gatherings', the Texas Departments of State Health Services 'Opening the State of Texas' guidelines, and under the direction of the Austin Public Health Department and Office of the Medical Director. 

At a local level, input was sought from Austin's experience sector professionals and organizations including Special Events Task Force, International Live Events Association (ILEA), Texas Live Events Association (TLEA), and the Experience Sector Working Group, a diverse group of over 40 special event and venue leaders in Austin.  

These guidelines were developed with consideration of best practices from industry-led standards of the National Independent Venue Association and the Event Safety Alliance. These guidelines were also reviewed by Reopening Every Venue Safely, a 10-city pilot developed by Music Cities Together, in which Austin has participated during the pandemic. 

When do these guidelines go into effect? 

The guidelines went into effect beginning March 19, 2021, and are updated in accordance with the latest health recommendations. 

When will these guidelines end? 

Due to the evolving nature of the COVID-19 pandemic and its effects in our community, we are unable to set a specific date on when the guidelines will end. However, it is the intention of ACE for these to only be in effect so long as they are deemed prudent by the Health Authority. The guidelines are reevaluated regularly and are amended or will be phased out when it is safe to do so.  

How often will these guidelines be updated? 

Austin Public Health and ACE staff will convene at least every 30 days to review the existing guidelines in relation to changes in COVID-19 trends. Guidelines will be promptly updated and released after each review cycle. 

Are masks required at events?

Masking recommendations should follow the guidelines as shown in the latest Health Authority Rules  Masks are required at City of Austin facilities. If your event is at a City facility you will need to require masking and outline how you will ensure compliance during your event. 

How do guidelines fit in with the Risk Based Guidelines? 

Austin Public Health Risk-Based Guidelines provide guidance for individuals' behavior. Austin Public Health uses several metrics including new hospital admissions, hospital and intensive care unit (ICU) capacity, ventilator use, overall positivity rate, vaccination rates, and rate of change of these metrics determine the current risk. 

Who is reviewing these guidelines and how will you ensure consistency in application review? 

These guidelines will be reviewed by Austin Public Health Department, in collaboration with ACE. Dedicated reviewers will help ensure consistency of our process and can answer questions and provide guidance specific to an applicant's specific plan.  

How do these new guidelines impact the Special Event Permit process?

In addition to completing the standard ACE special event application through the Austin Build + Connect portal, applicants will also complete the COVID-19 Health & Safety Plan. 

Once the Health & Safety Plan has been submitted a copy will be sent to the ACE Team and we will include it as part of your overall application for review.

Austin Public Health and ACE staff will review your plan for completeness and reach out if additional clarification or modifications are required.

Please work with ACE staff to schedule meetings to discuss logistical considerations for your event, answer questions, and make preparations. We are available to help event organizers with all aspects of event permitting, including this new COVID-19 Health and Safety Plan requirement. 

Special Event Permits will be issued after fees have been collected and in advance of your event date, as outlined in the Special Events Ordinance.

How will the Bringing Events Back guidelines work for outdoor events?

Applicants interested in obtaining a Special Event Permit for outdoor events will need to submit a Health & Safety Plan and gain approval in addition to the standard ACE application.

What is the COVID-19 Health and Safety Plan and what is a COVID-19 Health and Safety Form?

For Special Event Permits, applicants must submit a COVID-19 Health and Safety Plan with their application. To ensure everyone has a consistent experience, applicants can submit their plan through the on-line COVID-19 Health & Safety Form. ACE staff will combine the form with the rest of the ACE Special Event Permit application. 

How do these guidelines impact artists, musicians, vendors and venue or special event employees working at venues and special events? 

Artists, musicians, vendors and employees of venues and special events will all benefit from the same understanding of minimum health and safety guidance. For a full list of resources for artist and musicians visit www.atxmusic.org and www.atxrecovers.com. 

Is COVID-19 Health & Safety Plan approval the same as approval for my special event? 

No, the COVID-19 Health & Safety Plan is one component of your special event application. The Special Event Permit is the formal approval from the City for your event to take place. 

How do I know that I have approval for my COVID-19 Health & Safety Plan?  

Upon approval of your COVID-19 Health and Safety Form, ACE will notify you via email and notate your special event permit application. Your application status can be checked by signing into AB+C portal and selecting My Permits. 

Direct questions about your special event application to specialevents@austintexas.gov

I want to talk to someone about my event. Where can I go for help? 

The Austin Center for Events is here to help you plan for a successful and safe event. For questions or guidance please contact us at specialevents@austintexas.gov. 

How specific does my layout need to be when submitting a site plan? If the requirements are subject to change between now and a summer or fall event, should I go ahead and submit the application and then any potential changes? Or wait it out? What kind of safety procedures are you looking to see implemented most of all that will ensure we can conduct our event?

The site plan layout needs to indicate all barricades, seating, vending areas, tents and other physical structures. Drawings can be approximate and don't necessarily need to be to scale, computer aided drawings are not required. The intent of the site plan is to convey the layout of the event so staff can review for life safety and health safety compliance. If safety requirements change a revised site plan can be submitted for consideration. Check out the site plan guidance webpage with sample site plans. 

What's the difference between the Tier 1, 2, 3 and 4 events?

The Special Events Ordinance outlines the difference between the Tiers. Tier 1 is smallest and Tier 4 is largest. Each has a different application deadline and submittal requirements.

What are event organizers responsible for with respect to tracking or holding onto contact tracing information from an event? 

The City of Austin is not requiring event organizers to obtain or hold on to COVID-19 tracing information. However, The Special Events Health and Safety Plan does recommend immediate reporting of any known positive cases to Austin Public Health by calling 512-972-5555. 

Are event organizers obliged to require proof of vaccinations as part of the COVID-19 Health & Safety Plan?

Providing proof of vaccine for patrons will not be a requirement for event applicants. Any pre-admission proof of vaccine protocols will be up to event organizers to determine. See current recommendations from Austin Public Health.