The Austin Parks and Recreation Department (PARD) is working with the community to create a new vision for Beverly S. Sheffield Northwest District Park. View the draft Vision Plan below. Take a virtual tour of the park here.
Upcoming Engagement Opportunities:
Parks and Recreation Board, Draft Vision Plan Presentation, January 25, 2022, 6 p.m.
Draft Final Vision Plan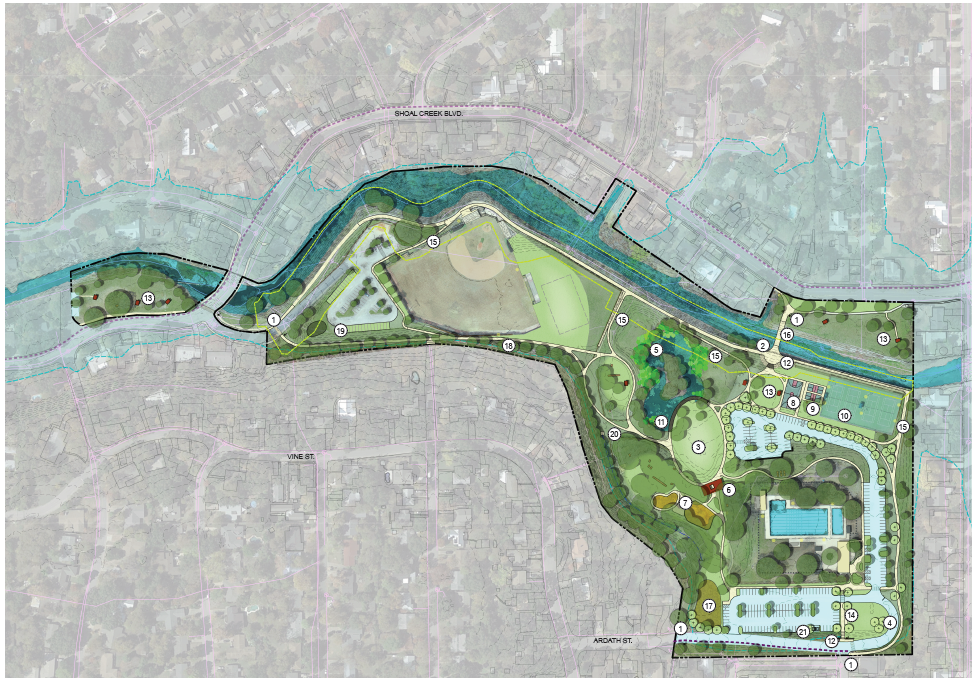 To provide feedback on the vision plan report, please email: nwparkplanfeedback@austintexas.gov
Park Background
Beverly S. Sheffield Northwest District Park is a 31-acre park in the Allandale neighborhood. The park was acquired by the City of Austin in 1955, and was last planned in 1987. Located at 7000 Ardath Street, the park is named after former director of the Parks and Recreation Department, Beverly S. Sheffield. Park amenities include baseball fields, basketball and tennis courts, a pool, rentable picnic spaces, a duck pond, and trails along Shoal Creek.
Project Description
PARD is now gathering community input to develop a plan to guide future development in the park. The plan will include recommendations for phased implementation.
Objectives include:
Engage community stakeholders in visioning the park's future
Create a plan to guide phased implementation of desired park updates and features
Final Planning Values: Identified through community input
A. Enhance and preserve park natural amenities
Preserve and enhance shade within the park
Improve and maintain the duck pond
Add more native habitat areas (trees and grasses/wildflowers)
Remove impervious cover
B. Enhance and increase recreational amenities (active and passive)
Support walkers and bikers with adequate trail networks
Add seating for passive recreational opportunities
Incorporate more open-ended active uses of the park
Support existing active recreation uses (baseball, tennis, pickleball, pool)
Provide dedicated spaces for gatherings, pedestrians, cyclists and dogs
Develop unutilized areas of park
Improve lighting
Improve playground and restroom facilities
C. Increase park connectivity and park identity
Better connect the park to the neighborhood and nearby recreational amenities
Enhance signage and wayfinding
Create opportunities to learn about the park and its history
Update existing footbridge to park
Build a new footbridge to park
D. Balance park amenities with other City infrastructure needs
Coordinate dam rehabilitation requirements with community needs
Provide space within the vision plan for pool modernization
Plan for sewer line replacement project
Anticipated Schedule
Small group meetings: April 2021
Community Meetings: May to August 2021
Finalize draft park vision plan: October to November 2021
Present draft park vision plan to boards and commissions for approval: January 25, 2022
Due to COVID-19 pandemic and Boards and Commissions schedules, timeline may be modified.
Community Engagement
Community members are invited to participate in community engagement events and opportunities to share about park needs and uses. Opportunities will include virtual community meetings, virtual small group meetings, and online survey opportunities. Small group meetings took place in April 2021, and community-wide meetings began in early May 2021. Check back to register for upcoming events.
Give us your feedback about the future of Sheffield Northwest District Park.
Share your memories - Comparta sus recuerdos - SpeakUpAustin
Community Survey #1: closed April 19, 2021 (View survey results)
Community Survey #2: Review Your Planning Values: closed May 17, 2021 (View survey results)
Community Survey #3: Provide Feedback on Vision Plan Concepts: closed July 6, 2021 (View survey results)
Community Survey #4: Draft Final Vision Plan: closed August 23 (View survey results)
Small Group Discussions
These discussions focused on the specific issues identified. Recordings of meetings can be viewed below.
Community Meeting #1: What We've Heard
May 4, 2021
Two times available; register for your preferred time on Zoom
Community Meeting #2: Proposed Site Concepts
June 15, 2021
Noon and 5:30 p.m.
Presentation (PDF, 14 MB)
Community Meeting #3: Draft Final Vision Plan
August 3, 2021
Draft Final Vision Plan: Pop-up Events in the park
Funding and Resources
This project is funded through 2018 Bond funding.
Contact Information
For more information or to provide feedback, please contact Charles Mabry by email at nwparkplanfeedback@austintexas.gov.