Circular Innovators: Classic Childhood upcycles men's dress shirts into European-style clothing for infants
By: Thomas Nguyen
---
Did you know?
It takes 5,300 gallons of water to make one pair of jeans and a t-shirt. That's the equivalent of how much fuel it takes to fly a Boeing 737 from Austin to the heart of the Amazon Rainforest!
---
Welcome back to our Circular Innovators series. In this series, we'll be highlighting Austin businesses that are embracing the circular economy; reducing waste and creating value for their customers and the planet.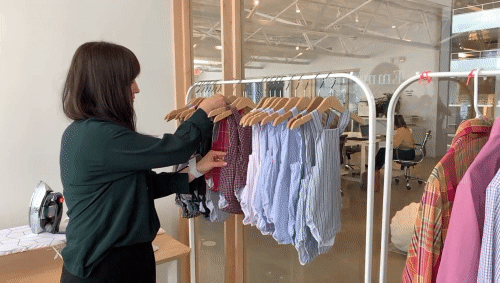 We're glad to welcome Classic Childhood to the stage, a generational-leap towards inspiring our children to benefit from circular principles. Classic Childhood is an online retail store that specializes in upcycling old shirts into European-style clothing for infants. They are tackling the problem of fast fashion that has taken over the clothing industry.
 
Fast Fashion 101
The fashion industry is forecasted to reach a value of $2 trillion in 2022, an increase of more than 30% since 2017. This may sound great for the overall health of the economy, but current fashion production practices are detrimental to our environment and communities. In order to meet consumer supply and demand, designers produce thousands of styles every quarter to stay competitive. Many companies will mass produce these styles and, if a style is not successful, the garments will end up being thrown into the world's landfills. To put it into perspective, textile waste produces over 10 million tons of material that is sent to to landfills each year, in the United States alone.
Characteristics of Fast Fashion:
Products have a shorter life span
Uses social pressure to get consumers to buy new and "fit in"
Unethical treatment of garment workers
Byproduct from the manufacturing process pollutes resources such as water, land and air
Taking the initiative to start a slow fashion trend, Classic Childhood is stitching together circularity and cuteness.
 
Classic Childhood & the Heirloom Collection
Open for business since 2018, Classic Childhood is an online retailer specializing in European-style children's clothes, with a sustainable line of upcycled items. Business owner Pamela Torres was inspired by her husband and newborn son.
Coming up with the idea to use her husband's gently-used dress shirts, she began creating prototypes for what is now Classic Childhood's Heirloom Collection of sustainable products. In a way, Pamela innovated the cradle-to-cradle design business model into a husband-to-cradle model.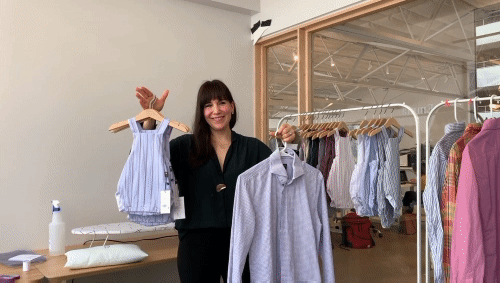 "Revising the way we look at trash isn't always easy, but when you find the solution it's a no-brainer!" Pamela said.
Pamela sources her upcycled dress shirts from donations, and through local textile recycler JOSCO Products.
After connecting to textile manufacturer Stitch Texas through the City's [Re]Verse Pitch Competition and learning about their textile waste challenges, Classic Childhood introduced a new line of pillows using Stitch's remnant bamboo fabric scraps as pillow filling.
As Pamela notes, "It isn't just about zero waste, it is about preserving the future."