Circular Innovators: Miranda Bennett Studio creates Zero Waste fashion with nature as a model
By: Thomas Nguyen
---
Did you know?
The average textile dye used for clothing is made up of 8,000 synthetic chemicals and after the dyeing process, many factories and mills will dump the excess into water streams.
---
Welcome back to our Circular Innovators series. In this series, we'll be highlighting Austin businesses that are embracing the circular economy; reducing waste and creating value for their customers and the planet.
What is Biomimicry?
What is biomimicry? If we break it down, bio = life; mimicry = imitate. Thus, biomimicry is using inspiration from nature to help solve human challenges. Examples of biomimicry include swimsuits that feel and act like shark skin to swim faster; Japanese speed trains modeled after a Kingfisher bird's thin, long beak to reduce noise and power usage; and edible packaging that resembles fruit and vegetable skin. Nature makes the most of limited resources. Think of plants during a drought or birds building nests; everything gets used, without creating 'waste.' The natural world has many lessons to teach, and one local fashion business has been taking notes.
The Start of Miranda Bennett Studio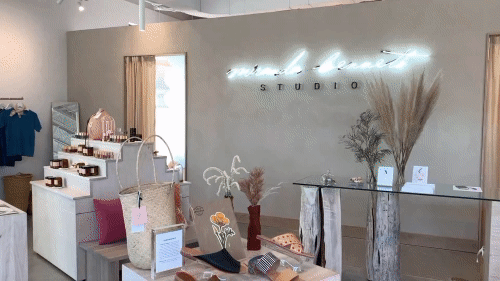 Founded by Miranda Bennett nearly 12 years ago, Miranda Bennett Studio (MBS) is a modern boutique designing a collection of plant-dyed apparel. From a young age, Miranda was interested in textiles; she created dresses for her dolls and developed her own style of clothing as a teen. While studying design in New York, she was exposed to unconventional approaches to fashion that brought about disruptive innovation (think upcycling vintage). Using this principle as her college thesis, she started her own handmade clothing collection that would be the start of MBS. Her style of free-flowing and environmental consciousness brings together an ethical and sustainable design.
Miranda Bennett Studio's Inspiration
With nature as a driving force behind her design inspirations, Miranda has developed her business model around the theme of her social campaign: #thefutureiscircular.
MBS partners with Open Arms, a textile manufacturer empowering the lives of refugees through training and fair-wage employment. MBS also provides community outreach events to educate the general public about the benefits of creating a zero waste lifestyle, upholding their morals and beliefs towards a circular economy.
Instead of using harsh chemicals to dye their products, the studio uses natural, plant-based dyes, including some dyes created from existing waste streams such as avocado pits and milled wood scraps.
The company continuously looks for new ways to go Zero Waste—they recently tested using Chitosan, made from crab shells, to treat the fabric before dyeing.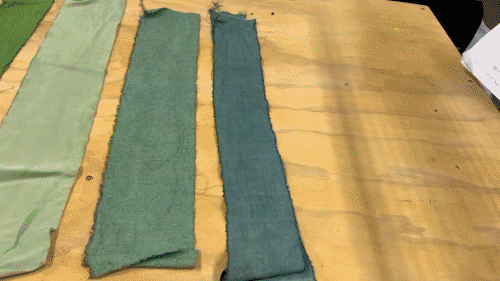 "We should all view waste as an asset rather than a liability"—Miranda Bennett, CEO
The MBS Zero Waste initiative was also created as a multi-faceted approach to divert every scrap of textile remnants from landfills. MBS uses fabric scraps from their garment production to create their Zero Waste line which includes children's dresses, small drawstring bags, pillows, and scrunchies. Their rebate program allows customers to return their purchase in exchange for a 20% off coupon allowing the item to be donated, recycled or repurposed.
MBS' desire to be an ethical and environmentally responsible company pushes them to innovate, always looking for a new efficiency, a new way to support their community, or new ways to turn waste into something beautiful.