The icy chill of a pool in early spring is no shock to Dan Morrias, one of the regulars who have been frequenting Deep Eddy Pool this month.
"It makes me feel good and it keeps me in good health," Morrias said by the poolside one March morning. "I'm 66 and I've never had a major health problem in my life."
Morrias has been swimming every day since 1975, mostly at Barton Springs. He's diverted to diving into Deep Eddy Pool when Barton Springs Pool is closed.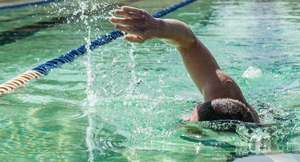 Like Barton Springs, Deep Eddy is a freshwater swimming pool. The water is cleaned out and replaced with fresh well water every day on alternating sides of the pool, so there is one new pool to jump into each day, said Jodi Jay, Aquatic Program Manager for the Austin Parks and Recreation Department.
The 600,000-gallon concrete pool is surrounded by grass and trees, and in the spring it is quiet – devoid of the splashing children, flying floatation devices and gleeful screams of summer.
This time of year, the only sounds are steady, discrete strokes of confident swimmers and the bright songs of golden-cheeked warblers in the trees.
It's also an historic site, Jay said. The pool, established in 1915, is the oldest swimming pool in Texas.
It began as a swimming hole in the Colorado river, according to the Friends of Deep Eddy website.
"Cold springs rose from the river banks and people swam in the river where a large boulder formed an eddy. In 1915, A.J. Eilers, Sr. bought the land surrounding the swimming hole and built the concrete pool. The pool served as the centerpiece of a resort, the Deep Eddy Bathing Beach, which featured cabins, camping, and concessions," the website states.
The pool today is owned by the Parks and Recreation Department, and is open year round. During the winter, loyal lap swimmers show up every day, Jay said. On warmer winter days, sun bathers lay out on the hill and as the weather warms in the Spring, families and college students being showing up for a recreational swim and some sun.
"The thing about all of our pools is they all have their own communities," Jay said.
More information about Deep Eddy Pool.