Get to know Zach Baumer, Interim Chief Sustainability Officer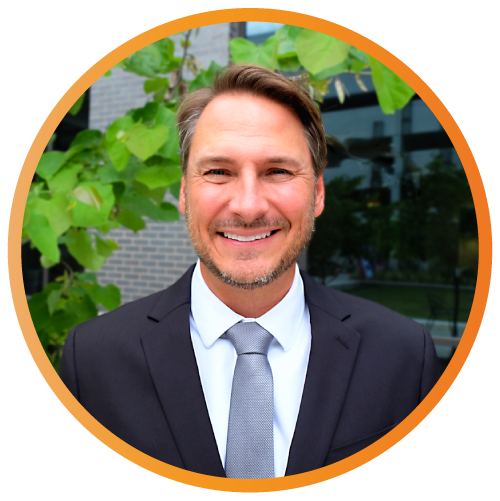 In January, after over a decade of service with the Office of Sustainability, Chief Sustainability Officer Lucia Athens retired from her work with the City. With her departure, Climate Program Manager Zach Baumer was appointed Interim Chief Sustainability Officer. "I know I am leaving things in good hands with the exceptional Zach Baumer filling in for me in an acting role," wrote Lucia, "I could not be more confident in his capabilities."
As Zach steps into this new role, we sat down with him to understand his journey with the City, how sustainability shows up in his life, and what he hopes to focus on. Read on to get to know more about Zach and the future of the Office!
---
Can you tell us a bit about your journey with the Office of Sustainability?
I joined the Office of Sustainability team as Climate Program Manager in May 2011 and have been in this role ever since! It's been a long road in the same position, but that's because I've really enjoyed working on climate change and serving the Austin community. The work is always interesting, challenging, and changing, and I've been surrounded by some of the best team members you could ask for.
This office has achieved so many things over the past decade that directly impact our climate, our local environment, and the people of Austin. I couldn't be more proud to continue my work in the Office of Sustainability — and to keep advancing this work at an even faster pace in the coming years.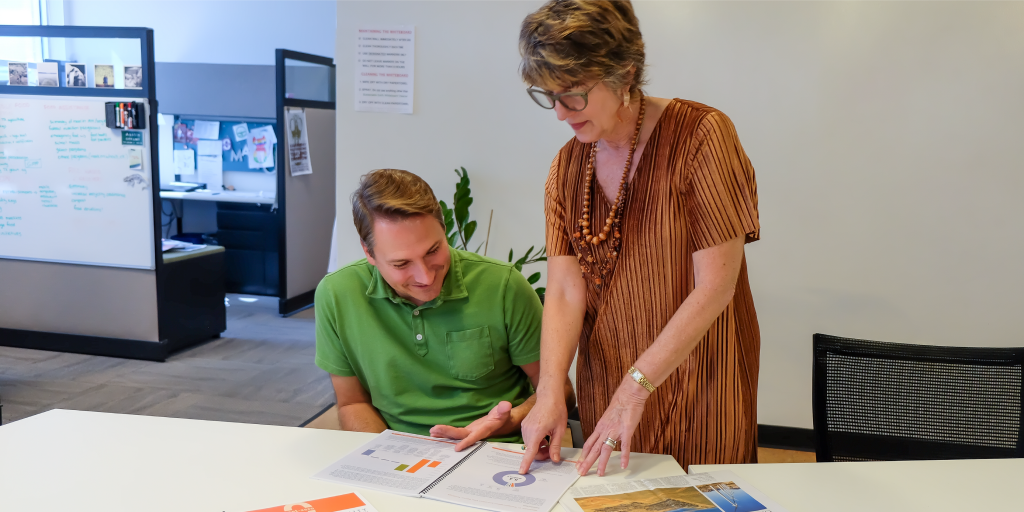 Lucia Athens and Zach Baumer collaborate on a project in 2019.
What are you looking forward to accomplishing as Interim Chief Sustainability Officer?
First, I'm looking forward to continuing all the impactful work and programs we have underway. From implementing the Climate Equity Plan, to supervising the Community Climate Ambassadors program, collaborating with the Resilience Office, creating the first Austin Regional Food Plan, and sharing stories with our community about the amazing sustainability work happening across our city, there is no shortage of activity.
I'm also looking forward to pursuing more federal funding for our work locally. Through the Inflation Reduction Act, there are new opportunities to attract funding to local initiatives, as a municipality and in collaboration with Austin-based non-profits. This is particularly true in efforts to advance the Justice 40 Initiative, which in many ways aligns with the goals in Austin's Climate Equity Plan. This is a huge opportunity for Austin to address climate change, and I'm hopeful that we can see more equity-centered action to create change for those it can benefit most. 
How do you practice sustainability in your own life?
I do all sorts of things in my life to support sustainability. I engage in sustainable transportation by walking, riding my bike, and owning an electric vehicle. At home, we have solar panels on the house,  we compost and recycle, landscape with local, native plants, and keep a vegetable garden to grow our own food.
My most recent step toward a more sustainable lifestyle was to replace the natural gas cooktop in my kitchen with an induction cooktop. Making the switch took some research and required hiring an electrician, but I love it! Now, there are no more fossil fuels in my kitchen, plus cooking is quicker, easier to clean up, and much safer for my family without the fumes and flames.

What are some of your favorite things to do or places to go in Austin?
My favorite activities are swimming, hiking, and sports, both playing and coaching. I spend a significant portion of my summer at Barton Springs and hiking in local greenbelts, preserves, and parks. Tennis and pickleball are my favorite sports to play, so, when outside of work, you can often find me on the courts at local parks and City-owned tennis centers playing for fun and competition. Finally, I'm proud to coach my daughter's softball team. Three days a week each spring and fall you can find me on the softball field, helping them be the best team they can be.