Net-Zero Hero: Matthew Gaston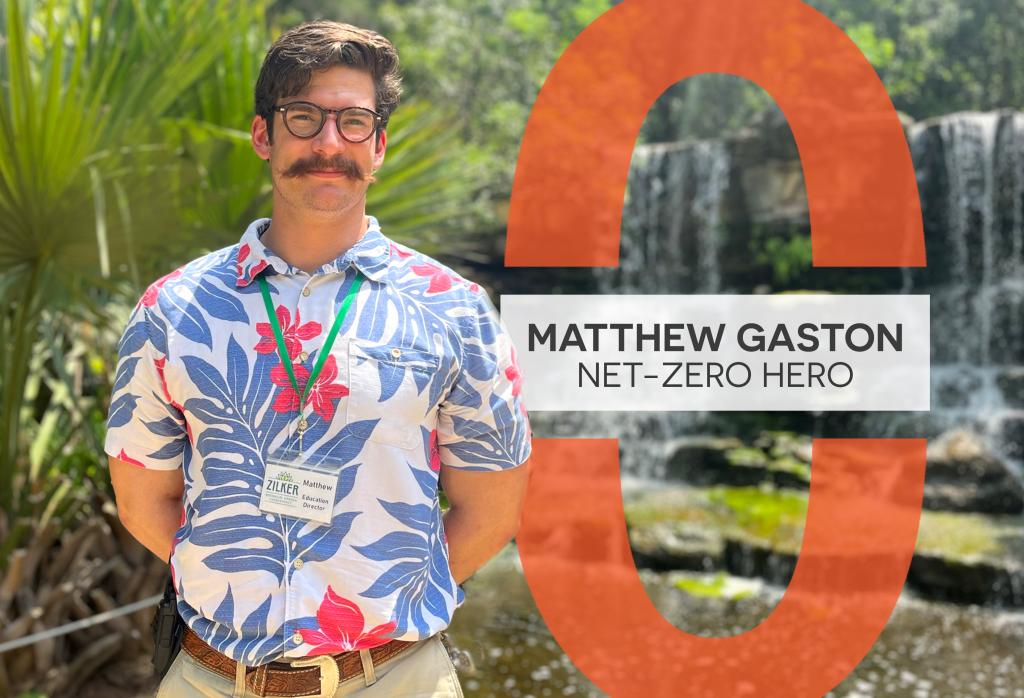 I'm helping to make Austin Net-Zero by educating our community about the importance of plants and sustainable landscapes.
Matthew Gaston is many things: educator, TikToker, native Central Texan, friend of plants, and our newest Net-Zero Hero! Matthew is passionate about fostering a love of plants — particularly native plants — throughout Central Texas and beyond. From his work as Education Director for the Zilker Botanical Garden Conservancy to his popular social media accounts, Matthew's knowledge, passion, and humor come together to create engaging experiences for his audiences, whether they are social media followers or elementary students on a field trip.
We met with Matthew to talk about what inspired his love of plants, his role as Education Director, and, in celebration of Pride Month, what plants have meant to him as a member of the LGBTQIA+ community. And, of course, we met at the most fitting place we could think of: Zilker Botanical Garden.
---
What inspired you to take action?
I was initially inspired by my grandparents to learn more about plants. This interest continued to grow at a summer camp at the San Antonio Botanical Gardens. I was intrigued by plants' shape, stillness, growth, and their service and uses to people and other animals. At the San Antonio Botanical Garden, I received a pamphlet about plants that attract pollinators. All the plants on the list were native species that provided food or habitat for native animals. I was particularly keen on hummingbirds, so I had my eyes set on planting Turks Cap throughout my backyard. I soon learned that planting native species was also the most sustainable as they required the least inputs (like water, fertilizer, and maintenance).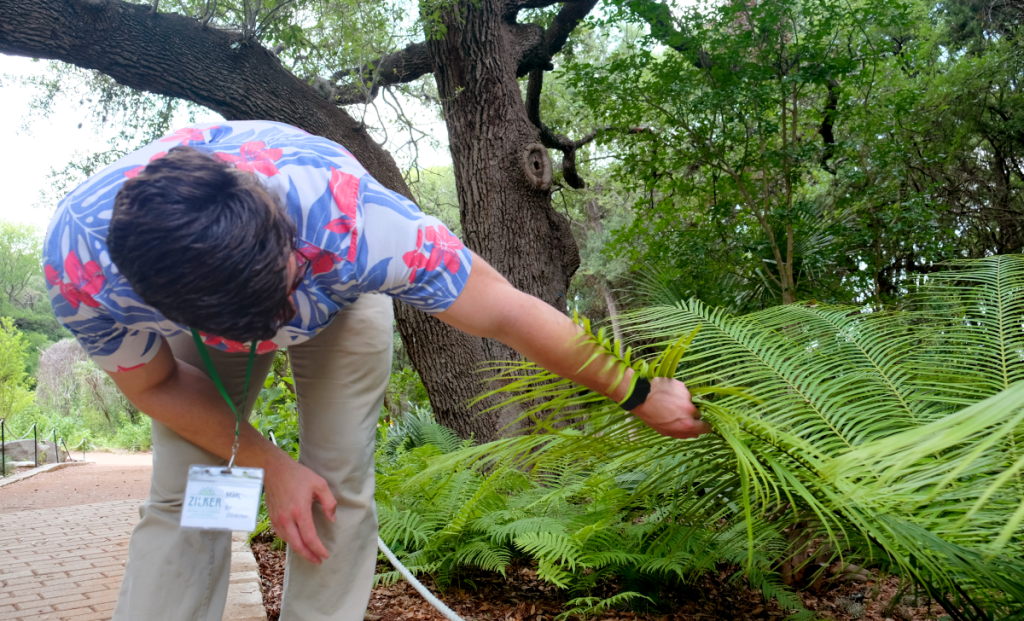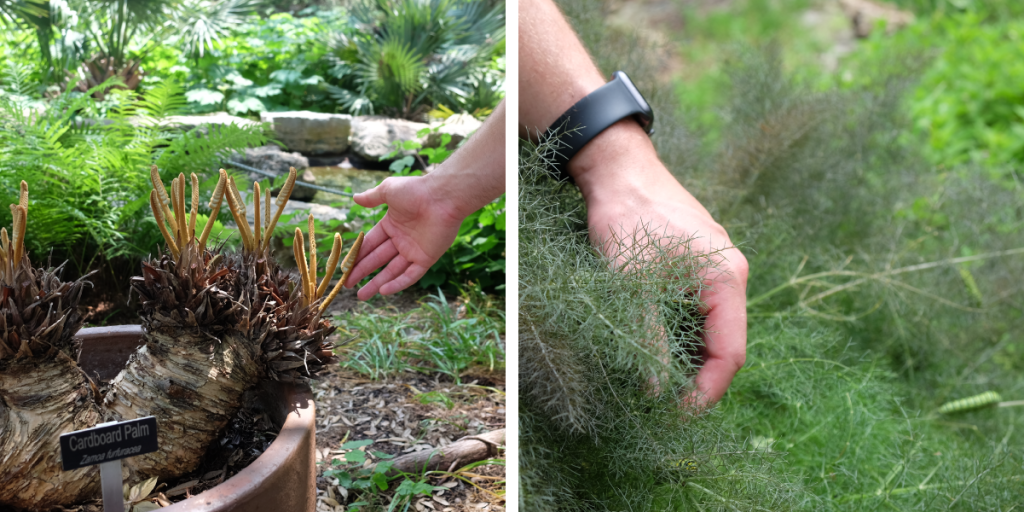 At many points along our walk, Matthew stops to show off something in the garden that excites him. Clockwise from top: the cone of a cycad, Swallowtail caterpillars on a fennel plant, the symmetry of growth in the Cardboard Palm.
I'm very passionate about the benefits of native plants. By planting native species, not only are we supporting local wildlife, but we are also working towards being net-zero and more sustainable. Native plants are more tolerant to Austin's intense heat, drought, and freezing weather, which makes it less likely that one would need to replant every year. These native plants are also best adapted to our soils, so intensive soil alteration is not required. Lastly, if we buy native plants, we are more likely to buy local, which supports our community. 
I am inspired to educate folks on the importance of plants and sustainable landscapes for a plethora of reasons. These reasons range from my simple desire to see lots of pollinators thriving in Austin to the personal ease and cost-effectiveness of planting sustainably to my desire to reduce the current capitalistic approaches to landscaping by spending loads of money on herbicides, fertilizers, annual plants, and pesticides. Suburban America needs to drastically alter its opinions of the yard.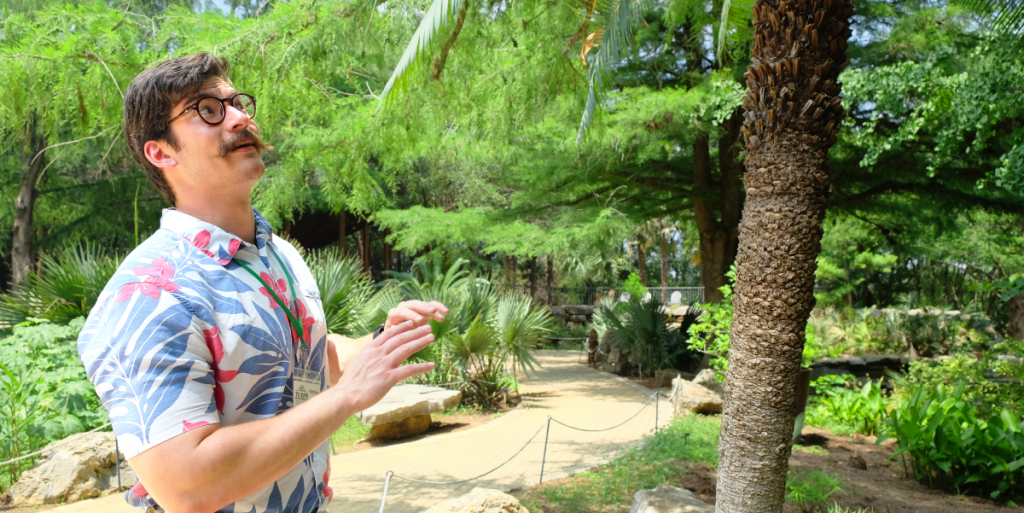 Matthew points out elements of a Cycad in the Hartman Prehistoric Garden.
How did you do it?
As the Education Director at Zilker Botanical Garden, I have a special opportunity to coordinate educational offerings for school groups and adults alike where I can incorporate sustainability concepts. With our docent-led field trips, we create discussion topics and activities based on each grade's learning objectives. For Kindergarten groups, we discuss the importance of water as we walk through the Taniguchi Japanese Garden. What do you notice? Is it clear? Is there anything living in the water? Who needs water? For 3rd Grade, we emphasize the habitats found throughout the garden. And with High Schoolers, we teach them how to use a Dichotomous Key to identify native plants.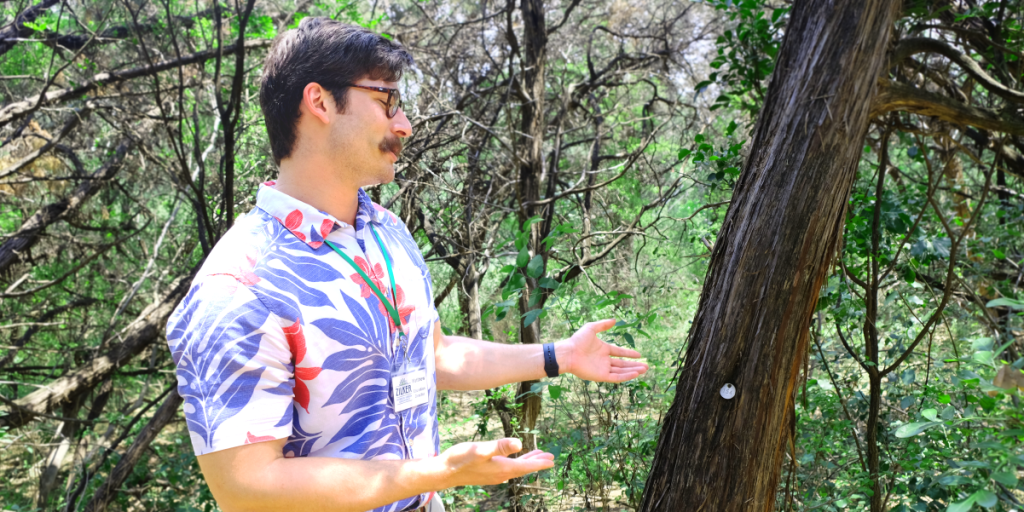 Matthew points out one of the tagged trees in the garden, sharing that many school groups ask about their purpose and meaning.
By introducing these ideas to young folks, we can gradually incorporate concepts of sustainability so that they are not seen as "we need to change and be sustainable" but instead to "we are already sustainable". We utilize the materials from the City of Austin's Grow Green program and the "Green Garden" at Zilker Botanical Garden to highlight techniques and methods for a sustainable landscape:
Make a plan

Amend the soil

Efficient irrigation

Select native and well-adapted species

Mulch

Reduce turf grass

Low maintenance
I prefer to call the Green Garden the Sustainable Garden as it makes more sense to kids. They are a bit too literal with the 'green' part… 
Outside of work, I create short educational videos explaining various aspects of plants. I discuss everything from how water moves through a plant to how the Texas Department of Transportation plants wildflowers along the roadways. The majority of my videos are impromptu and improvised, so whatever happens is what I keep in the published video. My plant videos are created simply to entertain and also to help folks appreciate the green shrubbery on the side of the road they never noticed. By pointing out interesting features — whether social, cultural, or ecological — I hope people can appreciate plants more and understand their significance in becoming net-zero.
What's been most rewarding about getting involved in this way?
The most rewarding thing about botanical education and science communication is seeing someone come to a realization that plants are more important than they thought — even better if we can utilize multiple senses. From the amazement at smelling the Chocolate Daisy (Berlandiera lyrata) to tasting the sour sweetness of an Agarita berry, these multisensory experiences leave significant impressions. Hopefully, the memory of smelling or tasting these native plants cements in someone's mind that sustainable landscaping does not have to mean cacti and rocks. Additionally, when folks make the connection that they can grow a sustainable garden that is full of flowers and buzzing with life, I am thrilled.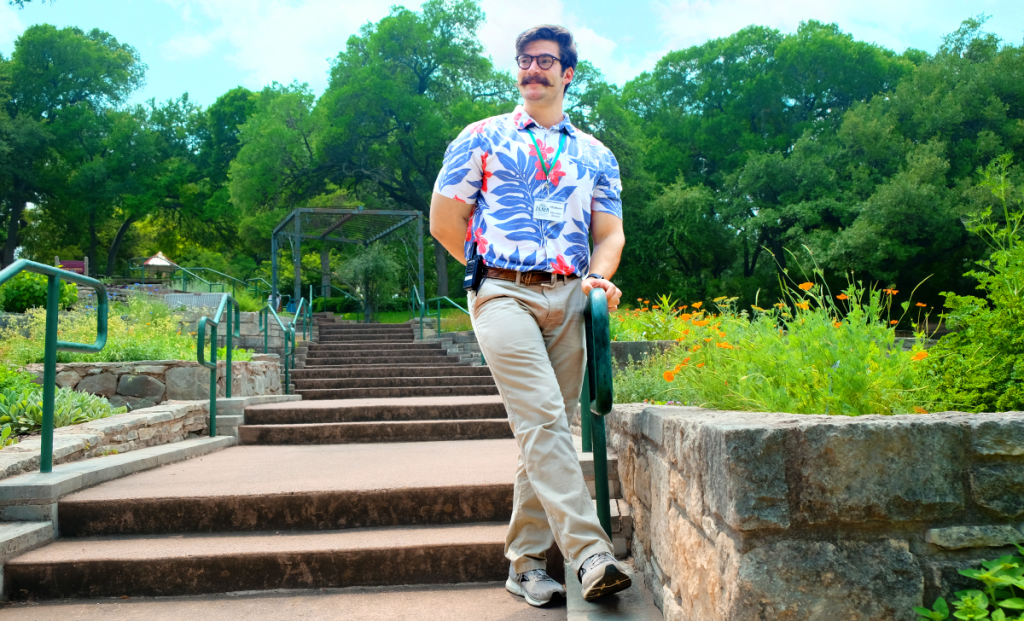 Matthew in the Herb Garden.
It's also rewarding to be able to present to folks on everything from plant propagation to soil science to sustainable design. Connecting with others who are also interested in plants and improving our environment is a pure delight. I gave a presentation on green roofs and living walls to a garden club, and when I showed them a photo of a roof covered in wildflowers, they all oooh'ed and ahh'ed. I was delighted to hear them so wowed by green roofs. 
What's been the toughest part?
This is a tough question, as I have been rather privileged not to experience anything too tough. My work at Zilker Botanical Garden is not necessarily tough, except that I accept perhaps too many groups, and we struggle to find sufficient educational volunteers to lead them all. If you are reading this, please consider becoming a docent at Zilker Botanical Garden. Join me and the ZBG team in helping educate school groups and adults on the importance of plants.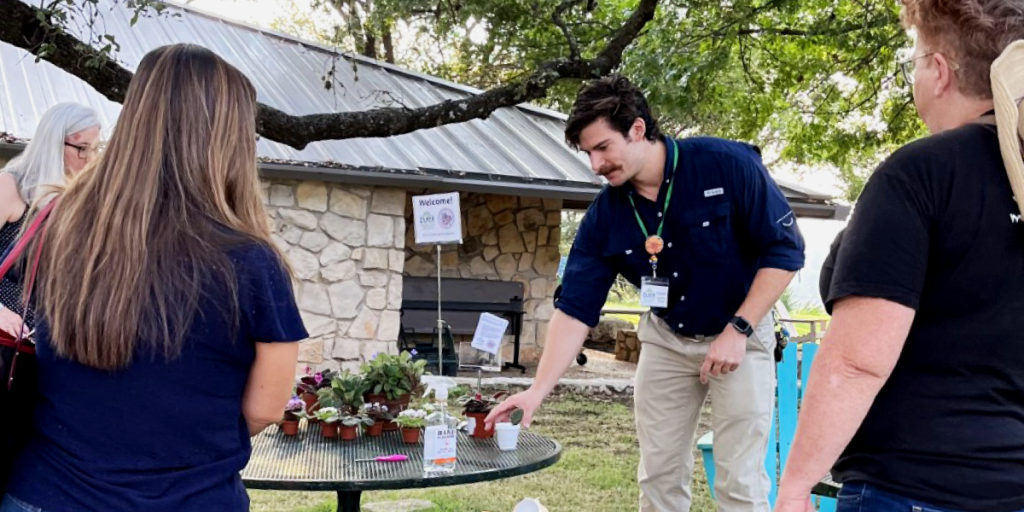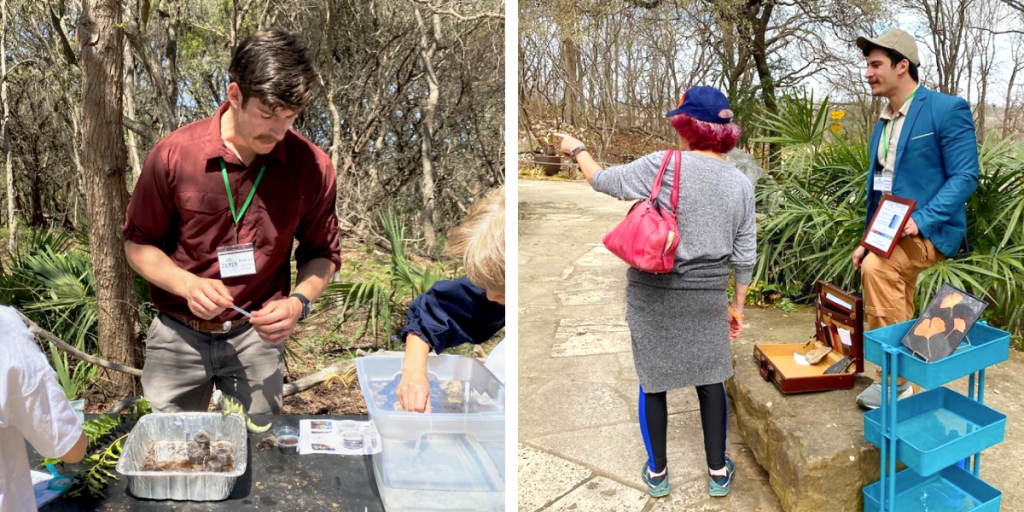 Matthew leads various educational programs at Zilker Botanical Garden.
In my video-making endeavors, perhaps the most challenging things are the negative comments. I find that 95% of comments are from people who are properly engaging in the topic or terribly complimentary, but 5% spew disgruntled gabble. Fortunately, I find these mostly humorous.
I made a joke once in one of my videos about how I do not like roses, and someone called me facile, identifying that I had failed to acknowledge the thousands of people who had bred them. I consider myself silly and good-humored, so I wanted to comment something along the lines of "what a pity as their work was futile" or something like that, but I know that he would have failed to appreciate my lack of appreciation. 
Our interview will come out during Pride Month, a time when we celebrate and honor LGBTQIA+ history, community, and culture. Some may be surprised to learn that the green stripe in the Pride flag represents a connection with nature. As someone who lives in both these worlds, what does that connection mean to you?
Nature was my escape as a kid. When I didn't feel comfortable, I would go outside and look at the plants. I was a terribly socially anxious, closeted gay kid, so when I was feeling stressed at a party or family gathering, I would simply go outside with the plants. Nature and plants were sort of my escape. I feel like plants are calm, understanding, and accepting because plants themselves are rather queer.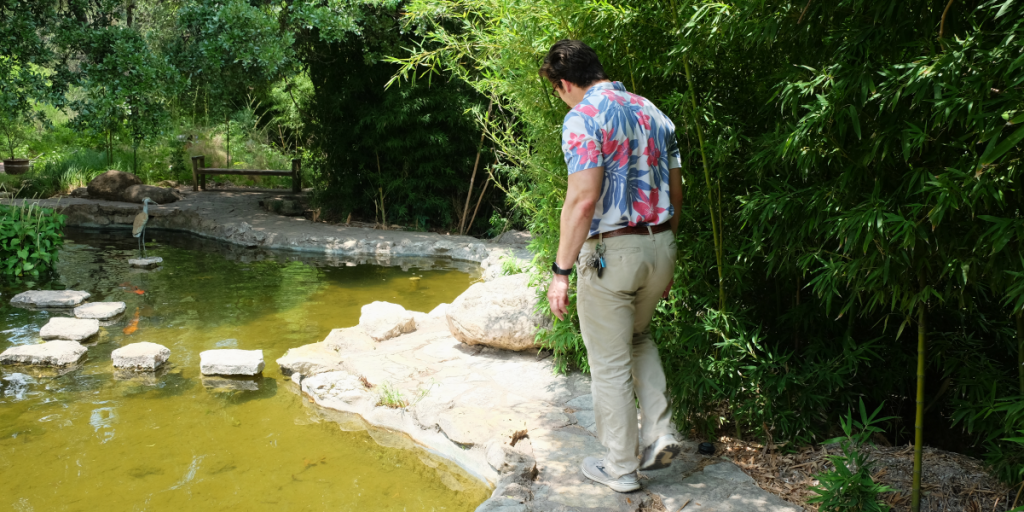 A peaceful moment: Matthew looks for water spiders in the ponds of the Taniguchi Japanese Garden.
I recall in my introductory biology course in undergrad, the professor was describing flowers. A flower that has only male reproductive parts or only female reproductive parts is called imperfect. If the flower has both male and female reproductive parts, then it is called perfect. Additionally, this flower is called bisexual. I was delighted to hear someone saying that the bisexual flower was perfect. These small details in botanical jargon further cemented my opinion that plants were, like myself, queer. 
Furthering on the concept that plants are allies of the LGBTQIA+ community, there is even a whole stereotype around the idea of "Plant Gays" — a gay person who is into plants and perhaps makes it their personality. I am perhaps a plant gay. 
What advice do you have for others?
Sometimes I like to give the following plant advice:
We might think that we have failed if our plant dies.

But better to grow it and fail than to have never tried.

We ought to do our best to prevent things from going wrong, but we must understand we are learners lifelong.
Overall what I would want to tell everyone is: be yourself, be brave, make mistakes, and have fun!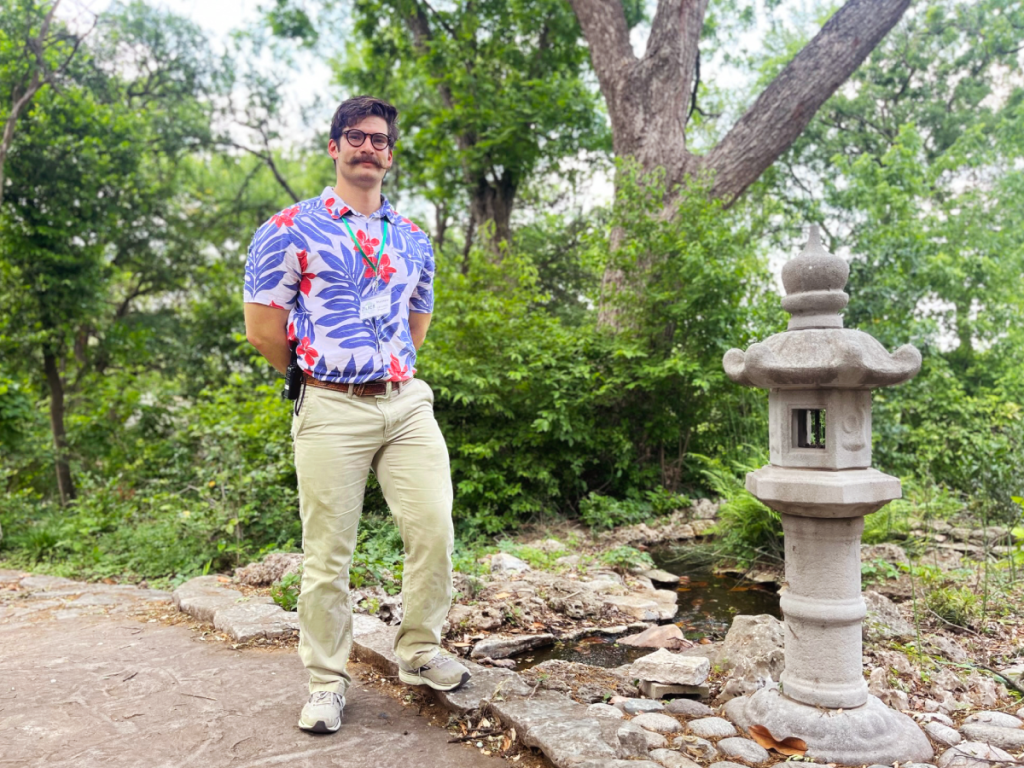 ---
For more humor and plant knowledge, follow Matthew on your favorite social media platform or visit Zilker Botanical Garden, and you might run into him. If you'd like to explore resources for creating a more sustainable garden, find resources from the City of Austin's Grow Green program. To learn more about Austin's net-zero goal and explore actions you can take to support a greener community, view the Austin Climate Equity Plan.
Share your Net-Zero contributions with us on Twitter or Facebook, and use #NetZeroHero. If you know a Net-Zero Hero (or heroes!) who should be recognized for their efforts, send your nomination to sustainability@austintexas.gov.