Net Zero Heroes: Sagar Kumashi & Saket Sripada

We're helping to make Austin Net-Zero by biking our way through life.
May is National Bike Month. To celebrate, we sat down with two Austinites who are doing their part to support a more sustainable Austin one ride at a time. Meet Sagar Kumashi and Saket Sripada. Sagar and Saket are friends committed to reducing their carbon footprint. In Austin, emissions caused by transportation are one of the biggest contributors to greenhouse gas emissions and the primary source of air pollution locally. Through their daily rides, Sagar and Saket are contributing to a greener, more livable city with each trip they take.
We met with Sagar and Saket in the Seaholm EcoDistrict to chat about their passion for biking, their favorite outdoor spaces in Austin, and what advice they have for future riders.
---
What inspired you to take action?
Saket: My middle school assembly always ended with a mantra that essentially translates to, "there is plenty for everyone's needs but not enough for anyone's greed." In the same school, we had environmental and eco-conservation themed workshops and clubs. My science teachers especially encouraged me to participate in them.
From these experiences, I became pretty interested in working on cleaner fuels from as young as middle school. However, all through my teens and twenties, I was not very mindful of pollution and ecological damage due to human activities. Once I learned more about emissions and my own carbon footprint, I was called to reduce my impact.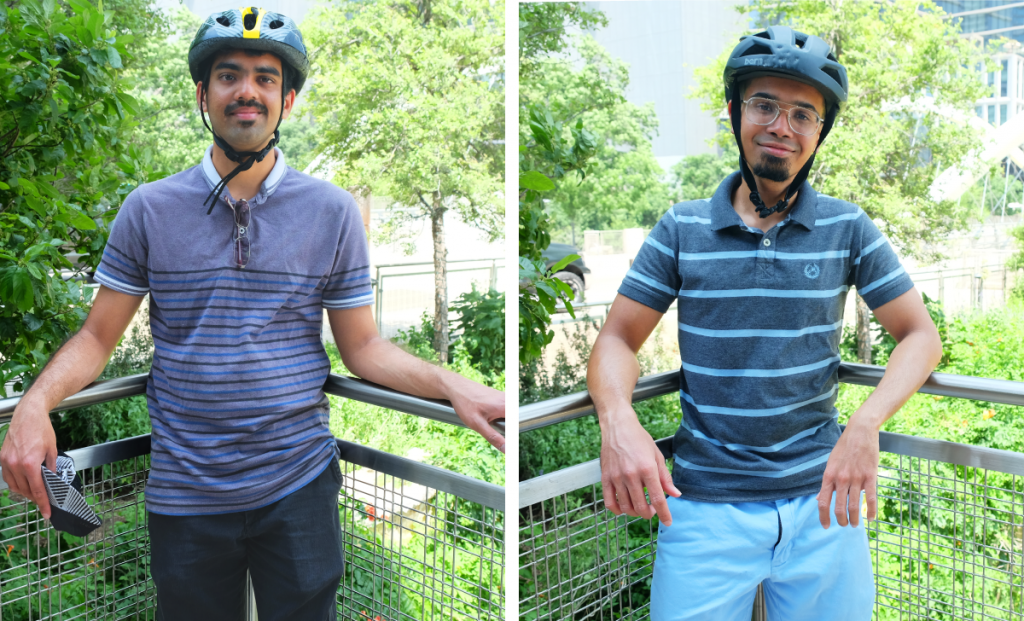 Left to right: Saket and Sagar pose at the Central Library balcony.
Sagar: There's the saying that, "the right thing to do is often the hardest thing to do." However, by providing rebates on e-bike purchases, and adding bike lanes to arterial roads in the city, I feel that City of Austin has been making it easier for people to do the right thing. These factors played a big role in pushing me towards getting my own e-bike when I moved to the city in 2021. For almost two years now, I have been using my e-bike for my daily commute and have been taking it on bike trails as often as I can.
I also want to commend the MetroBike by Bcycle station network in downtown Austin, something that I am sure Saket will also mention. Renting and using a MetroBike from one of these stations has always been an optimal experience for me.
How did you do it?
Saket: I strongly believe in reducing our carbon footprint. Once I identified sources of greatest emissions, I just picked the most important aspects of my urban lifestyle and tried to cut those out from my day-to-day life. I avoid fuel-powered machines when I can, like elevators and a personal car. I limit stovetop/gas cooking and instead choose to pressure-cook. I always turn off unused electric appliances. I also try my best in my roles at work and in my apartment to reduce paper (mis)use by going digital. 
My daily commutes, like getting groceries and other errands, ended up being some of the easiest ones for me to turn nearly carbon zero. I try my best to promote biking in my community as a healthy and reliable alternative.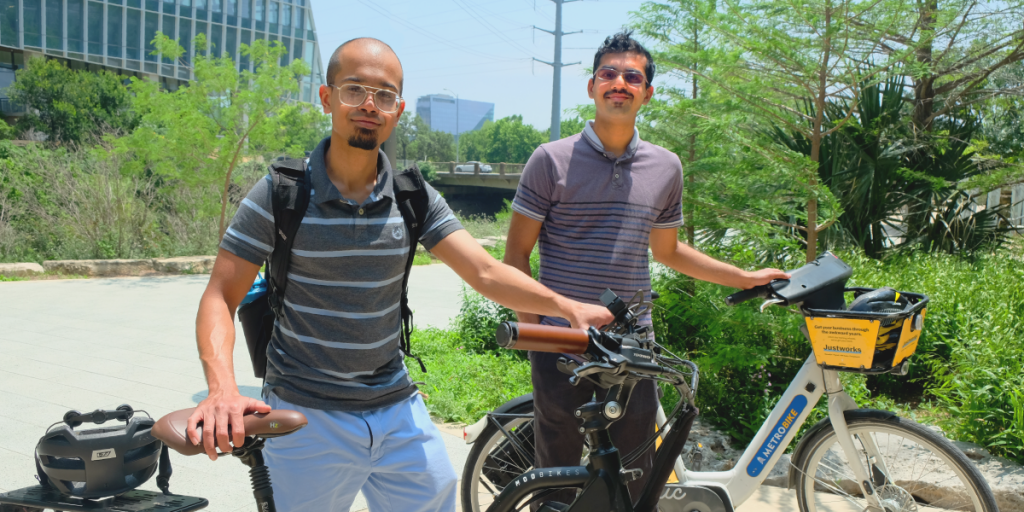 Friends on two-wheels: Sagar and Saket pose with their bicycles.
Sagar: Saket actually encouraged me to bike. After moving to Austin, I spent the first couple of months figuring out which commute option would suit me best. Saket, who had already spent a couple of years in the city, nudged me towards investing in a good bike. Seeing how he had been able to effectively use this mode of transport convinced me to adopt a similar approach.
What's been most rewarding about getting involved in this way?
Sagar: When I think about how my conscious lifestyle choices – such as my mode of transport and my commitment to recycling – minimize my carbon footprint, I am filled with a sense of satisfaction and pride.
Saket: For me, the sheer joy of merely having biked so much is in itself a pleasure! I get my cardio workout thanks to the hills of Austin and get to explore so many unique niches of the city that many who drive would never even know. The ultimate rewards are almost always the fabulous sunsets I get to see from the bridges across rivers, creeks along the river, or from Mt. Bonnell!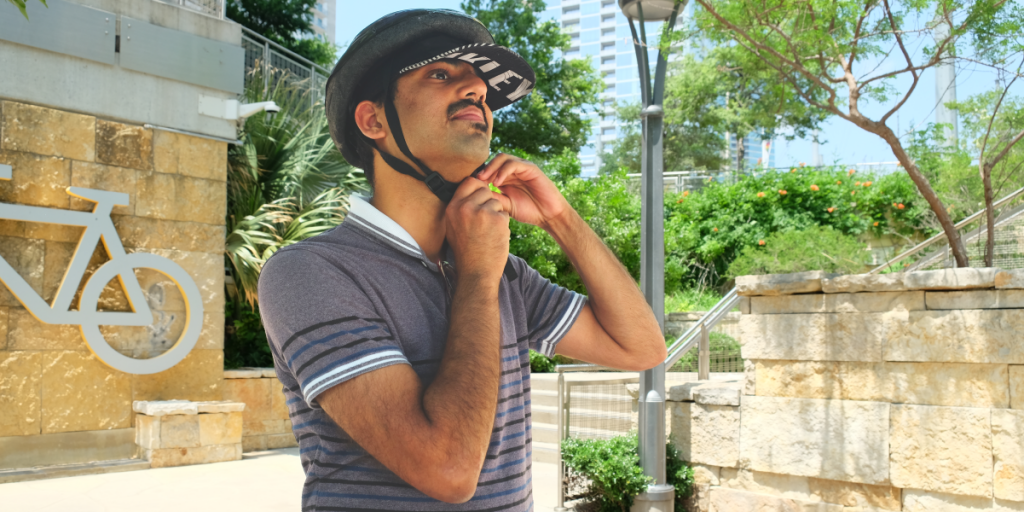 Saket gets ready to ride, strapping on his helmet.
Sagar: It's also really nice to see my enthusiasm for sustainable living being shared by a like-minded friend like Saket!
What's been the toughest part?
Sagar: Apart from the conventional challenges that most bike riders face in Austin – such as the occasional inclement weather – e-bike owners like myself find it harder to fix the bikes ourselves. A lot of the electrical components of the bike are custom parts unique to the e–bike brand. This makes troubleshooting problems and finding replacement parts quite tricky.
Saket: I find that the hills of Austin can be a challenge in the summer, as can winter precipitation. Otherwise, the only struggle has been rough pavement and potholes in some of the roads downtown during my daily commute to UT. These can definitely cause some back aches from all the bumps! There's also a lot of bike theft in the city! That's why I try to stick to the MetroBike bikes offered by CapMetro. As a student, I get a discounted membership.
Our interview will come out in May over National Bike Month. Why is biking so meaningful to each of you and do you have any tips for navigating the city on two wheels?
Saket: Bicycles have been a very integral part of my life ever since I was four. I had friends who loved to cycle around through all my childhood and my teens. It became a very powerful way for me to gain independence from public transport, in addition to quickly exploring niche areas of my neighborhood that would take longer by foot. In my twenties, bicycling became even more empowering as my preferred mode of rapid local commute to beat the traffic. It required almost no parking (and walking through parking lots!), no external dependence for maintenance – I could even take it to get my groceries! 
Sagar:  Yes, I agree. For me, biking is a fantastic way to get to know your city more intimately. Streets and corners that you would normally zip past in a car feel more familiar and memorable on a bike. From a practical standpoint, commuting on an e-bike is faster in the busier parts of downtown, when compared to a car. You don't experience the same level of traffic in the bike lanes, and you spend very little time, effort, and money on parking.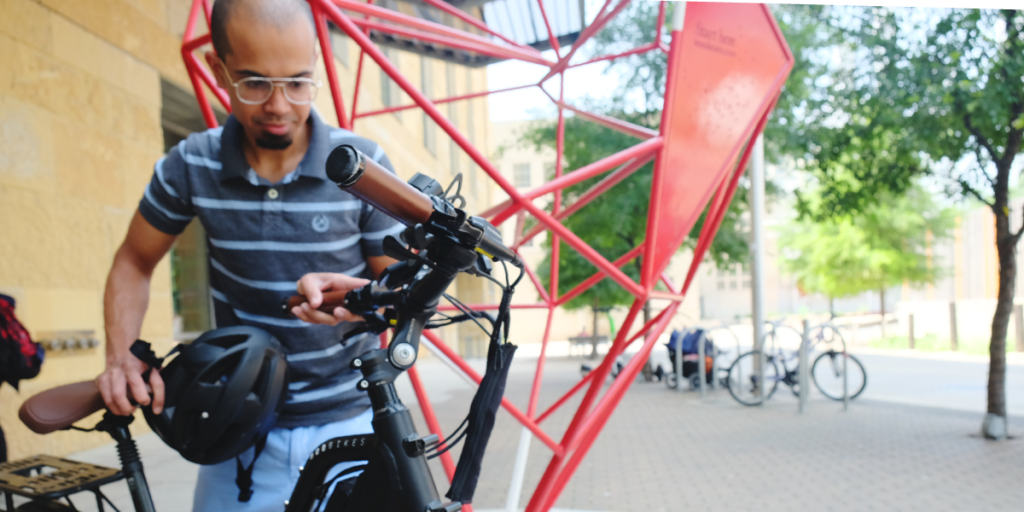 Sagar gets his e-bike from Mod Bikes, a local company, ready for a ride.
Saket: As someone who strongly believes in the principles of reduce, reuse, recycle, biking provides a guilt free way for enjoying nature and fun places without having to walk hours or drive. In Austin, MetroBike has been a blessing, especially for social biking and my summer commute! I strongly recommend exploring the MetroBike program.
Where are some of your favorite places in Austin for biking or, more generally, spending time in nature?
Sagar: I love exploring Southern Walnut Creek, Veloway, COTA, Onion Creek, the Ann & Roy Butler Hike and Bike Trail, and the bike routes in Downtown and South Austin – especially South Lamar and Sunset Valley!
Saket:  Personally, I like riding through Zilker, Shoal Creek, the Seaholm EcoDistrict and beach, every bit of the Ann & Roy Butler Hike and Bike Trail, Mt. Bonnell, and Red Bud Isle. I also love taking scenic drives going from Mozart's up to Mayfield Preserve, downtown east of Congress, and the Hancock and Muny Golf Courses.
What advice do you have for others?
Saket:  Find a community of folks who are true to your cause, like me with environmental sustainability! For me, a lot of challenge was from dealing alone with the conflict of personal convenience versus making environmentally conscious decisions, like commuting between Dallas and Austin. Driving in my personal car is so convenient. Carpooling with others or taking the bus can be less convenient, but yet I know these options are so much better for the planet! Trying to reconcile a lot of decisions alone was fatiguing!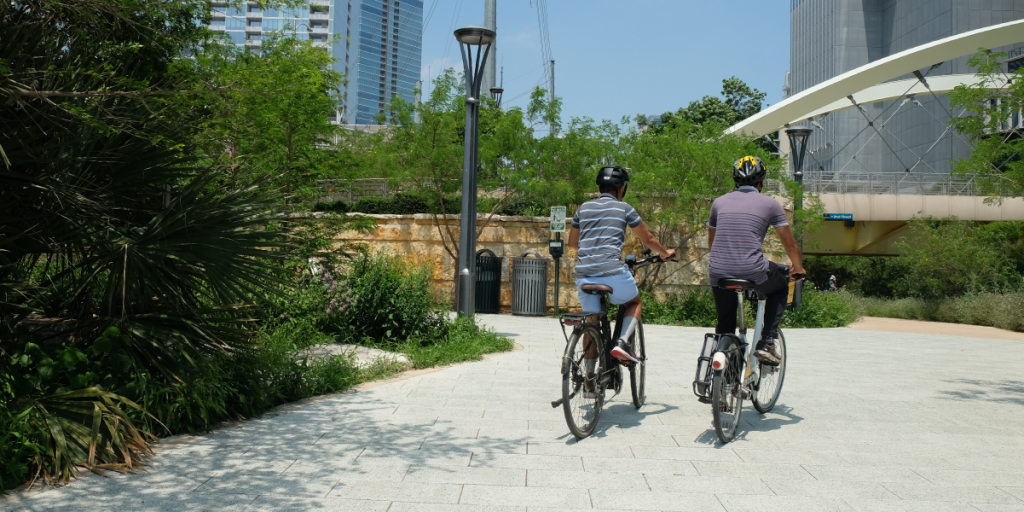 Sagar and Saket side by side on a ride.
Sagar:  It's easier now to make lifestyle choices that are environmentally sustainable and to find like-minded, environmentally-conscious people than it was in the past. If you are in Austin and are looking for guidance or enthusiasm on this front, I feel Saket is one of the best people you can talk to! He has a wealth of experience when it comes to sustainable living, and you can easily reach him on most social media platforms.
Saket: Thanks, Sagar. As I said, I feel that finding a community of folks who understand the struggles and have been working to address similar things can greatly uplift us by easing the loneliness and isolation.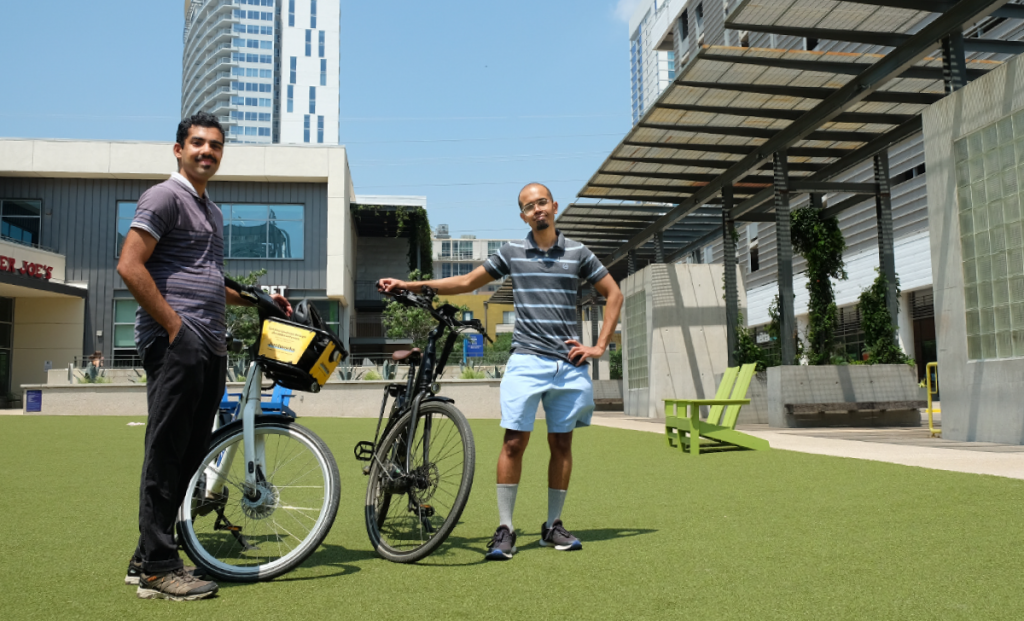 ---
Looking to explore the city on two wheels? Check out resources from the City of Austin's Bicycle Program and discover ways to celebrate Bike Month by following Get There ATX on Facebook. To learn more about Austin's net-zero goal and explore actions you can take to support a greener community, view the Austin Climate Equity Plan.
Share your Net-Zero contributions with us on Twitter or Facebook, and use #NetZeroHero. If you know a Net-Zero Hero (or heroes!) who should be recognized for their efforts, send your nomination to sustainability@austintexas.gov.