What Dog Owners Need to Know About Harmful Algae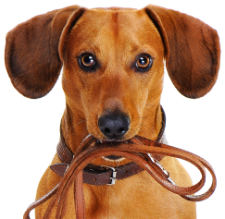 Who doesn't love a walk around Lady Bird Lake with their furry friends? And many dogs enjoy a stop at one of the off-leash areas around Lady Bird Lake to cool off in the water. But, before you allow your dog in the water, be sure to read this post to learn about the type of algae that could harm or kill your pet.
Exposure to Algae Toxins Can be Deadly to Dogs
Harmful algae are a type of blue-green algae, also known aa cyanobacteria, that can produce toxins. These toxins can cause illness or death in dogs. The City of Austin is aware of five dogs that died in 2019 after they were exposed to the toxins while swimming in Lady Bird Lake.
Dogs can be exposed to the toxins by swallowing the algae while swimming or by licking their fur after contacting the algae.
Tips to Keep Dogs Safe
Keep dogs away from floating mats of algae.
Rinse dogs after contact with lake water.
Don't let your dog swim in water that is warm and stagnant or where lots of algae is present.
If your dog becomes ill after swimming, take it to a veterinarian immediately and report any algae related illness to 3-1-1.
Regularly check www.austintexas.gov/algae.
If you allow your dogs to swim, it is at your own risk.
Be Aware of Symptoms of Harmful Algae Toxin Exposure
Excessive drooling, vomiting, diarrhea
Foaming at the mouth
Jaundice, hepatomegaly
Blood in urine or dark urine 
Stumbling
Loss of appetite
Photosensitization in recovering animals
Abdominal tenderness
Progression of muscle twitches 
Respiratory paralysis
Where to Get More Information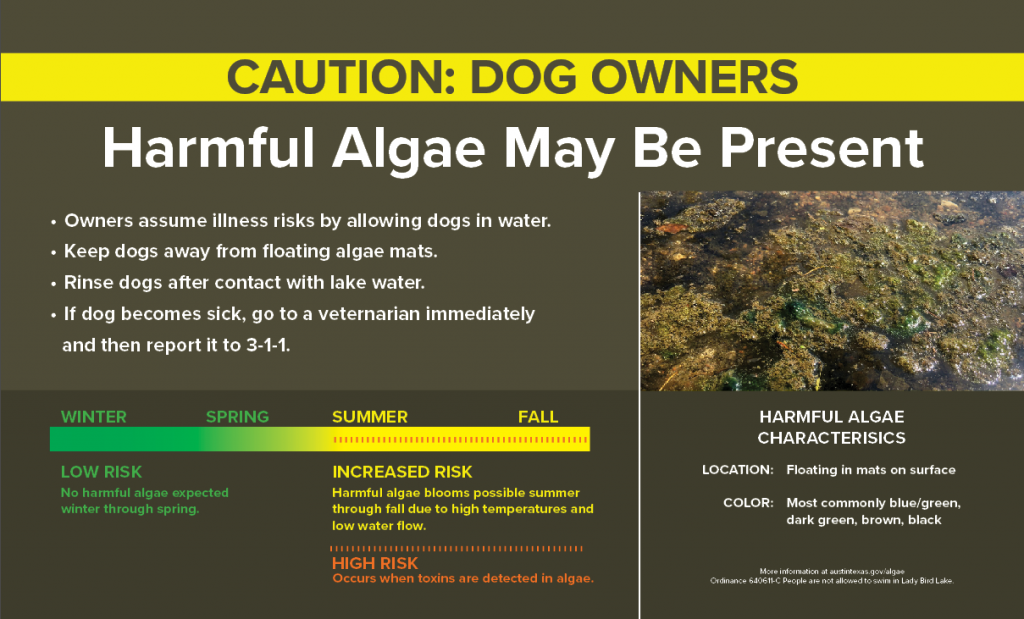 As you walk along Lady Bird Lake, look for signs warning you about harmful algae.
Check www.austintexas.gov/algae and follow the Watershed Protection Department on Facebook to get updates on the level of risk of harmful algae.
There is the potential for harmful algae to form in locations other than Lady Bird Lake. Algae and bacteria are much less likely to be a concern where the water is cool and flowing.
The Risk to People Appears Low
People were still able to use boats and paddle boards on the lake during the harmful algae outbreak. The City of Austin recommends that people avoid areas with floating algae mats and rinse off after contact with the water. However, toxins were only found in algae samples, not in water samples, and risk was low for recreational boaters and paddlers.
Drinking Water Has Not Been Affected
Currently, Austin Water does not use Lady Bird Lake as a source for drinking water. 
Scientists Are Monitoring the Lake
The Watershed Protection Department first identified harmful algae on Lady Bird Lake in 2019. Scientists began testing and identified algae toxins in various samples taken between August and October. 
Algae is most likely to be a concern in the summer and fall. Scientists will again begin monitoring and testing for the presence of toxins in the summer of 2020.
Learn more at www.austintexas.gov/algae.