Wooldridge Square Park History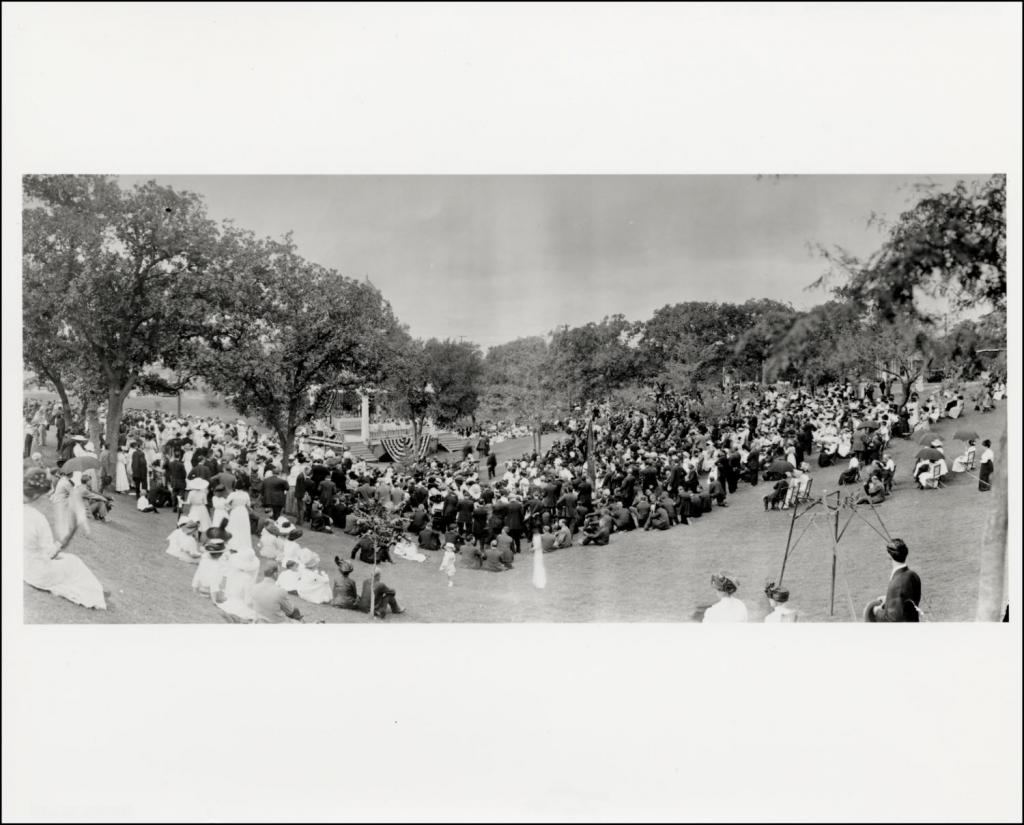 PHOTO: PICA C06049, Austin History Center, Austin Public Library
When Judge Edwin Waller platted the City of Austin in 1839, he designated four public squares in each quadrant of the city. Only three of the original squares remain and Wooldridge Square, in the northwest quadrant of downtown, is relatively unchanged and retains a high degree of historic integrity. For its first sixty years, Wooldridge Square was used by the public but remained municipally undeveloped. By 1907, improvements were made to the park, and in 1909, Austin Mayor A. P. Wooldridge, for whom the square was already named, sponsored the construction of a classical revival-style gazebo for public engagements in the park. In the early 20th century, many women's suffrage rallies leading to Texas ratifying the 19th Amendment to the U.S. Constitution on June 28, 1919, were held at Woolridge Park.
Texas Equal Suffrage Association (TESA), the state chapter of the National American Woman Suffrage Association (NAWSA), documented 98 suffrage organizations in 1918. TESA and its members were instrumental in Texas becoming the ninth state to ratify the U.S. Constitution 19th Amendment, which maintains that the right to vote shall not be denied by any state on account of sex. Local groups, such as the Austin Woman Suffrage Association, formed in 1908 as a chapter under the TESA, and the Austin Chapter of the National Woman's Party (NWP) formed in 1916 by Austinite Clara Snell Wolfe. 
Minnie Fisher Cunningham, of New Waverly and Galveston, Texas was elected president of TESA in 1915 and served in this position until the suffrage victory in 1919. Activists held a rally at the park to support "The Melting Pot Movement," which encouraged women to donate funds to the efforts being waged in other states that had women's suffrage on the ballot in 1914. Cunningham also held a rally at Woolridge Park in 1928 when she became the first woman from Texas to run for the U.S. Senate.
The park became known as an area where politicians and great orators were able to connect with the public. Wooldridge Square's significance reaches beyond Austin and is closely tied to significant statewide and national events. In 1948, Lyndon Baines Johnson, who would later serve as the 36th U.S. President, launched his U.S. senatorial campaign at a rally at Wooldridge Square.