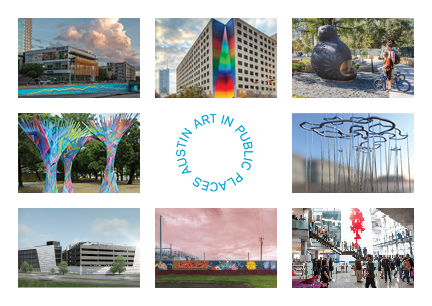 The Art in Public Places (AIPP) program announces upcoming public art projects based on an annual number of the City's eligible Capital Improvement Projects (CIP). The AIPP program receives 2% of the funding from those eligible CIP projects to use for obtaining unique artwork. AIPP averages 8 to 10 new projects every year - in parks, public buildings, walkways, and more!
Learn more about the AIPP Process: 
Project Development Process

The AIPP process can be divided into three phases: selection, design and fabrication/installation. Learn more about the Project Development Process.

Artist Selection

For each AIPP project, a Jury of visual art professionals is established for the purpose of making an artist/artwork selection recommendation. The Jury is comprised of 3-5 jurors, depending upon the size and complexity of the individual project.

No individual may serve more than once in any two-year period, in an attempt to bring diversity to the selection process and to more precisely match the expertise of the jury members to each project. Jurors are asked to consider the Criteria for Selection of Artists and/or Artwork Projects before serving on a Selection Panel.

Apply to participate in one of Art in Public Places' Artist Selection Juries.
Check out a few recent AIPP projects: 
Parks

Blackbird, Republic Square Park

Blackbird, a hand-carved sculpture by local artist Holly Kincannon and Kincannon Studios, LLC, is a contemporary blend of pop and traditional art. Located on the North side of Republic Square Park, with central placement near two existing Cypress Trees, the sculpture is an abstract realization of Austin grackles, as well as the whisper of music. The dark color and flamboyant details of the work draw inspiration from pottery and folk art of Oaxaca, Mexico.

Blackbird is hand-carved from five 10,000 lb. blocks of Texas Cordova Cream Limestone with a cast bronze tail insert. It will be finished with a Mineral Life Silicate Paint, waterglass coating and lacquer, and buffed to lustre. Surrounding the sculpture will be a bed of custom-mixed decomposed black granite and Core-Glow Glass Chips. Describing the work, Kincannon Studios remarks, "Inspired by the black pottery of Mexico, Blackbird exists to bring good cheer, and urges the unrepresented, the broken-winged or darkened spirit to take heart." Stay tuned for additional details on this project.

Watch a video about BlackBird.

TEMPO

The intent for the TEMPO temporary public art program is to promote tourism, cultivate curiosity, spark imagination, engage the community in a meaningful dialogue about public art, foster work by local artists and cultivate exploration of the City of Austin. Learn more about TEMPO.
Austin Bergstrom International Airport

Seaholm District 

The Art in Public Places Program has commissioned artworks in and near the Central Library and Seaholm EcoDistrict. Learn more about the Seaholm District.