With over 12 miles to explore, the Barton Creek Greenbelt offers a variety of recreational activities and stunning natural beauty. Visitors can hike through scenic trails, wade in refreshing swimming holes, and bike along the rugged terrain renowned for its limestone cliffs. A trail map, trailhead listing, and hiking tips can be found below!
Nature lovers would be interested to know that several endangered species make their home along the creek, including the Golden Cheeked Warbler, Austin Blind Salamander, Barton Springs Salamander, and Bracted Twistflower. Whether you're seeking adventure or tranquility, the Barton Creek Greenbelt provides a peaceful escape from the city, making it a popular attraction for locals and tourists alike.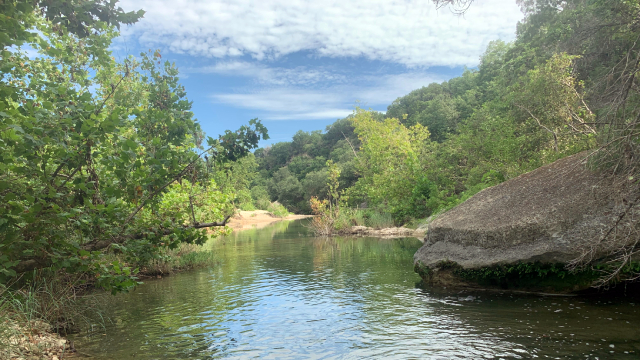 Main Access Points
The Barton Creek Greenbelt is best accessed at the following trailheads along the main 7.5 mile trail. Information on each trailhead can be found below.
Between Mile Markers 0 and 2

Zilker/Barton Creek Greenbelt Trailhead
2212 William Barton Dr, Austin, TX, 78746

Parking Lot, free on weekdays. $7 flat fee on Holidays and Weekends from March through September.

Restroom near Zilker Hillside Theater

---

Spyglass/Barton Skwy Trailhead
1601 Spyglass Dr, Austin, TX, 78746

Street Parking

One Composting Restroom, approximately .07 miles from trailhead

---

Barton Hills School Park/Homedale Dr. Trailhead
2009 Homedale Dr., Austin, TX, 78704

Parking Lot at Barton Hills School Park, free

No Restrooms

---

Gus Fruh/Barton Hills Dr. Trailhead
2632 Barton Hills Dr, Austin, TX, 78704

Limited Street Parking, free

No Restrooms

Between Mile Markers 2 and 4.5

360 Trailhead
3753 S Capital of Texas Hwy NB, Austin, TX, 78704

Dedicated Parking Lot, free

Composting Restrooms at trailhead

---

Gaines Park/Mopac Trailhead
3918 S Mopac Expy SVRD SB Austin, TX, 78746

Limited Street Parking, free

No Restrooms

Twin Falls access

Between Mile Markers 4.5 and 7.5

Trail's End/Camp Craft Rd. Trailhead
1712 Camp Craft Rd, Austin, TX, 78746

Street Parking, paid daily 8 a.m. to 8 p.m.

Two Compost Restrooms, approximately .05 miles from trailhead

Hill of Life access
Trail Safety and Etiquette
For All Visitors
Pay attention to your surroundings, and be aware of others who may be walking, rolling, or riding on the trail. 

Travel on the right and pass on the left, with no more than two people side by side. Let others know you are passing by calling out "passing on left"!  

Respect our natural environment by protecting wildlife and vegetation. Dispose of all trash properly, do not approach or feed wildlife, and stay on established trails.

Water levels can change quickly and without warning. Always be alert, even when conditions appear dry.

The greenbelt is a natural area with limited to no lighting. Bring flashlights, headlamps, or safety lights when hiking close to sunset. All park facilities officially close after 10 p.m. per City Ordinance.
For Pet Owners
Keep pets close to you and on leashes (leash must be 6 feet or shorter). 

Clean up after your pet and dispose of waste properly. Animal waste has a big impact on Austin's water quality, so please remember to 

scoop the poop

!
For People on Bicycles and Permitted Vehicles: 
Yield to pedestrians and brake for walkers and runners. 

Ride single file. Cyclists should follow each other on the trail. 

Signal when passing by saying so out loud or use your bell. 

Observe the posted speed limits.

The greenbelt has rough, uneven terrain. Road, cruiser, or commuter bikes are not recommended.
---
Water in the Greenbelt
Water levels in the greenbelt are variable and dependent on recent rainfall. The Parks and Recreation Department does not monitor water levels, however, the US Geological Survey (USGS) and the Lower Colorado River Authority (LCRA) have several water monitors on Barton Creek. Data is posted on their websites under Colorado River Basin/Barton Ck.
Conditions can change quickly. Always check the forecast before heading out and be alert!
---
Pack It In, Pack It Out!
Trash receptacles are only located at trailheads on the Barton Creek Greenbelt. Please plan to carry anything you bring with you for the duration of your visit, including personal items, trash, recyclables, and pet waste. The City of Austin Parks and Recreation is an official Community Partner with the Leave No Trace Center for Outdoor Ethics, and the Barton Creek Greenbelt was named a 2020 Leave No Trace Hot Spot. Visitors to the Barton Creek Greenbelt and all backcountry parks, trails, and green spaces are encouraged to "Leave No Trace."