Community Court
Closure Notice:
In Observance of 4th of July, the Downtown Community Court will be closed Monday, July 4, 2022. We will re-open on Tuesday, July 5, 2022 at 8:00 a.m. 
Downtown Austin Community Court Relocation
Downtown Austin Community Court has relocated all services to One Texas Center, located at 505 Barton Springs Road.
One Texas Center is on the corner of Barton Springs Road and South 1st St.  Free visitor parking is available onsite, and multiple transit lines have routes that pass near One Texas Center.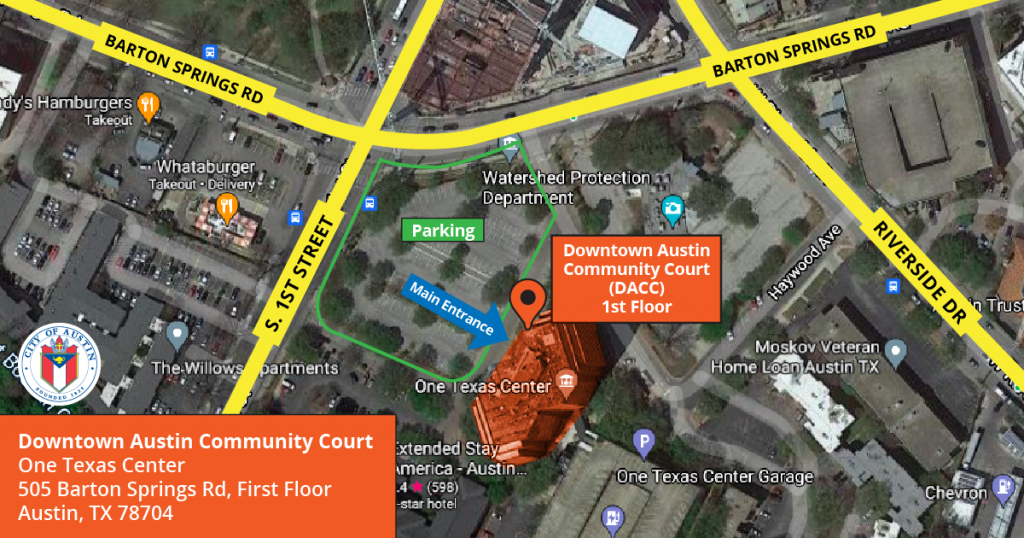 DACC Intensive Case Management Program
The Downtown Austin Community Court (DACC) will remain open for social services only. DACC's intensive and triage case managers continue to be available to individuals experiencing homelessness.  Controlled access to the DACC facility is in effect in order to meet social distancing recommendations of Austin Public Health.  You may experience longer wait times while controlled access is in place. We apologize for any inconvenience and thank you for your patience.
Triage Case Management Services Location
One Texas Center      
505 Barton Springs Road 
512-974-4879      
Open regular business hours*   
Monday through Friday                           
8:00 a.m. - 5:00 p.m.              
*Hours subject to change                     
DACC Community Service (CS) Program:
DACC's CS Unit enables defendants from the Downtown Austin Community Court and Austin Municipal Court to meet community service hour requirements through graffiti abatement, right of way maintenance, public space management through safe space, underpass, and restoration cleaning, and other municipal purpose jobs.  CS Crews deploy from DACC's building located at 505 Barton Springs Road, First Floor at 7:30am, seven days a week, and complete work each day at 2:30pm.  Defendants from the Downtown Austin Community Court or Austin Municipal Court needing to complete community service hours may show up at 505 Barton Springs Road, First Floor by 7:30am, no advance appointment is necessary.  In order to participate on a CS Crew, an ID or Driver's license is required and all participants must wear full-length pants and closed toed shoes.  It is also recommended that participants bring a sack lunch.  For more information about the CS Program, please call 512-974-4879.
Violet KeepSafe Storage (VKS) Program:
The VKS Program provides individuals experiencing homelessness a safe and secure place to store their belongings.  VKS was launched by Austin Resource Recovery in 2020, and DACC took over operation of the program in 2021.  Any individual experiencing homelessness may access storage through VKS, which is centrally located and enables individuals to store vital documents, family memories, clothing, bedding, and more.  These services are available at no cost to program participants.  Following a program expansion in July 2021, VKS is operational seven days a week, from 7:00am-7:00pm.  Individuals interested in accessing VKS services can call 512-974-4879, or may bring the items they want to store to VKS and sign up in person. The VKS program is in the former Health South Parking Garage, located at 612 E. 12th Street. 
DACC Court Operations:
In recognition of the current public health concerns for transmission of COVID-19, DACC has created additional options to resolve  court cases including online virtual dockets in addition to in-person dockets.
Court cases that are set on in-person non-virtual dockets will be rescheduled on or after August 2, 2021; defendants will be notified by postal mail of their new court date. Defendants may still contact the Court online, by email and by phone to get information and handle their court cases. Many options are available to resolve court cases that do not require an in-person appearance.
All due dates on pending cases will be extended until August 2, 2021. These include:
Initial appearance dates (as indicated on citation or Release to Appear from jail)
Payment dates (fines, payment plans, extensions, etc.)
Deferral dates (extensions, etc.)
Community Service (extensions, etc.)
DACC Class C warrant execution is temporarily suspended
All defendants are encouraged to contact the Court online, by email or by phone in lieu of making personal appearances to take care of their court business. We are experiencing longer than normal processing times for email and regular mail correspondence.
Online Virtual Dockets
If you want to see a judge regarding your case before the Court reopens, we now have virtual dockets available online. To see more information and request an appearance, please review the Virtual Court Services Guidelines
To view the virtual courtroom you can go to our YouTube channel at: https://www.youtube.com/channel/UC2oDINOYXL_QuOMRgOyJZEQ
For more information on DACC, please call 512-974-4879; http://www.austintexas.gov/department/community-court
If you would like to handle your case without seeing a judge virtually and before the Court reopens for in-person dockets, we also offer an option to do this through electronic correspondence.  To request a correspondence packet, please email comcourt@austintexas.gov or contact the DACC Prosecutor at DACCProsecutor@austintexas.gov and include your case or citation number in your request.
Open regular business hours*  
Monday through Friday                          
8:00 a.m. - 5:00 p.m.             
*Hours subject to change 
**********************