District 1 Council Member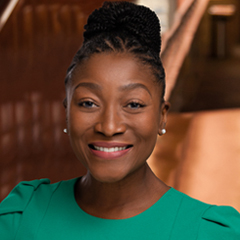 Council Member Natasha Harper-Madison represents Austin's District 1, the part of town where she was born and raised.
Her upbringing endowed her with an intimate knowledge of her community's strengths and its unique struggles. The lessons she learned as a successful small business owner on the Eastside led her down a path towards advocacy. She served as president of the East 12th Street Merchants Association and also founded East Austin Advocates, a nonprofit dedicated to connecting under-represented residents with the resources they need to succeed.
Her community-level activism sparked Harper-Madison's interest in seeking public office, a goal she achieved with her first campaign for City Council in 2018. In 2020, her colleagues voted to name her mayor pro tem, the second Black woman on Austin City Council to bear the title.
She is the chair of the Public Safety Committee and sits on the Housing and Planning, Mobility, and Public Health committees as well as the Capital Area Metropolitan Organization's Transportation Policy Board.
In between championing affordability, progressive mobility, and expanded economic opportunities, Harper-Madison is thriving breast cancer survivor and the proud mother of four, including an Austin firefighter.