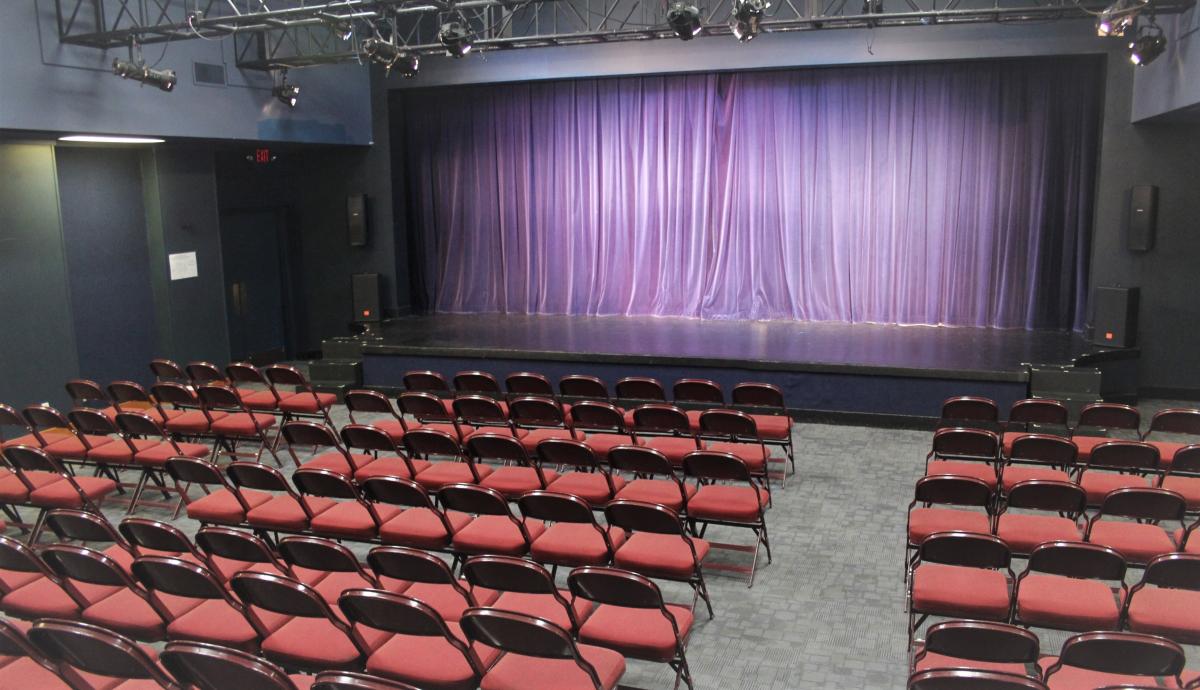 The Dougherty Arts Center (DAC) has been home to local, national and international performing artists since 1978. Bring your next film festival, dance recital, live concert of staged performance to our stage, or use our free creative space rehearsal rooms for your auditions, production meetings, workshops and rehearsals.
Rental Spaces
The DAC offers the following spaces for reservations:
150 seat theater with two dressing rooms for a hourly rental fee
2 450 sq. ft. community "creative spaces" free during business hours.    
Visit our Rental Spec Site to access images, schematics and other helpful information or download the DAC Facility Rental User Guide. 
Rental Inquiries and Reservations- 2024 Season
Theater rental requests for 2024 will be accepted starting at 12pm (CST) on Wednesday, July 5. 
Download the 2024 Rental Request form to your device. Please read the Facility User Guide at the beginning of the document to understand the policies and expectations of our space. 
Complete the document, save to your device and email it as an attachment to DACTheater@austintexas.gov 
Applications will be considered in the order they are received. 
Any submissions received prior to 12pm on July 5 will not be considered immediately. 
A completed application *does not* guarantee a reservation. 
Frequently Asked Questions
What kinds of events could I host in the theater? 

The DAC theater is equipped for the purpose of a variety of different events. It is best suited for small staged theatrical performances, acoustic concerts, dance recitals, film screenings and lectures.
 

Can I reserve space at the DAC for a personal event? 

The DAC does not rent space for life, family or personal events such as weddings, birthdays, quinceañeras, family reunions and social gatherings. This allows more space availability for community organized events.
Is the Julia C. Butridge Gallery part of the theater rental package?

No. The Julia C. Butridge Gallery is not included in the DAC theater rental agreement. The gallery is open to the public during regular business hours and cannot be reserved for private events. Renters will work with the Theater Coordinator to coordinate the concessions and box office set up in the gallery.

I want to host an event and invite vendors to sell merchandise. Can I do that?

Theater clients are allowed 2 tables in the gallery adjacent to the entrance of the theater to sell concessions or merchandise with the appropriate permits. We do not have the ability to accommodate additional vendors in the theater, gallery or outdoor area.

I would like to serve my guests and participants alcohol during my rental. Can I do that?

Renters planning to sell or serve alcohol to the public at the DAC will need to request so in writing to the theater coordinator and will be required to obtain general and liquor liability insurance, TABC permit for the sale of alcohol and a temporary food permit. More information can be  located on the PARD Special Events website.

Can I tour the facility?

Of course! However all tours and walkthroughs of the theater and creative spaces are by appointment only. Please email DACTheater@austintexas.gov to schedule a tour today
Helpful Documents and Links