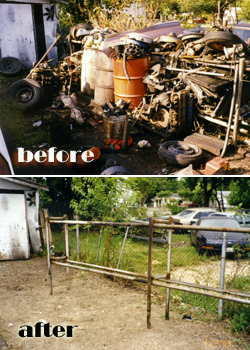 The Stormwater Discharge Permit Program staff conduct inspections of specific commercial and industrial operations within the City of Austin limits to ensure compliance with City Codes which protect water quality. Inspectors locate, verify, and monitor plumbing connections to the City storm sewer system and receiving waterways to prevent illegal discharges of commercial or industrial wastes. Inspectors check waste storage, handling and disposal practices as well as premise maintenance activities to prevent illegal discharges. The operational condition of water quality controls (oil/grit separators, stormwater ponds, hazardous material interceptors, stormdrains) is assessed. A Stormwater Discharge Permit is issued to the facility on an annual basis. Each facility is responsible for obtaining and maintaining a current permit. Legal action is taken against Cod violators when necessary. Inspectors notify and coordinate efforts with other related agencies.
Other program activities include:
Providing guidance on proposed and existing non-stormwater discharges to the storm sewer system or waterways from activities such as swimming pool filter backwashing, construction work, cooling tower blowdown, and secondary tank containment releases.
Responding to requests from inspections owing to property assessments, remediations, proposed temporary discharges, or a change in property ownership or management.
Tracking and dye-tracing plumbing connections to the storm sewer system to determine the route of materials through the system.
Collecting samples for analysis, typically for enforcement purposes.
Providing guidance on regulations, pollutant testing, clean up and prevention strategies.
Reviewing sample plans, remediation plans and stormwater pollution prevention plans.
Providing records information to the public upon official request.
Recommending Best Management Practices (BMPs) applicable to each facility or operation. These are pollution prevention measures geared to reducing pollutants at the source and preventing the release of potential pollutants with storm water.
Providing education materials, such as lists informing operators how to dispose of or recycle waste materials.
Monitoring compliance for the Texas Pollution Discharge Elimination System to control discharges of pollutants to surface water.