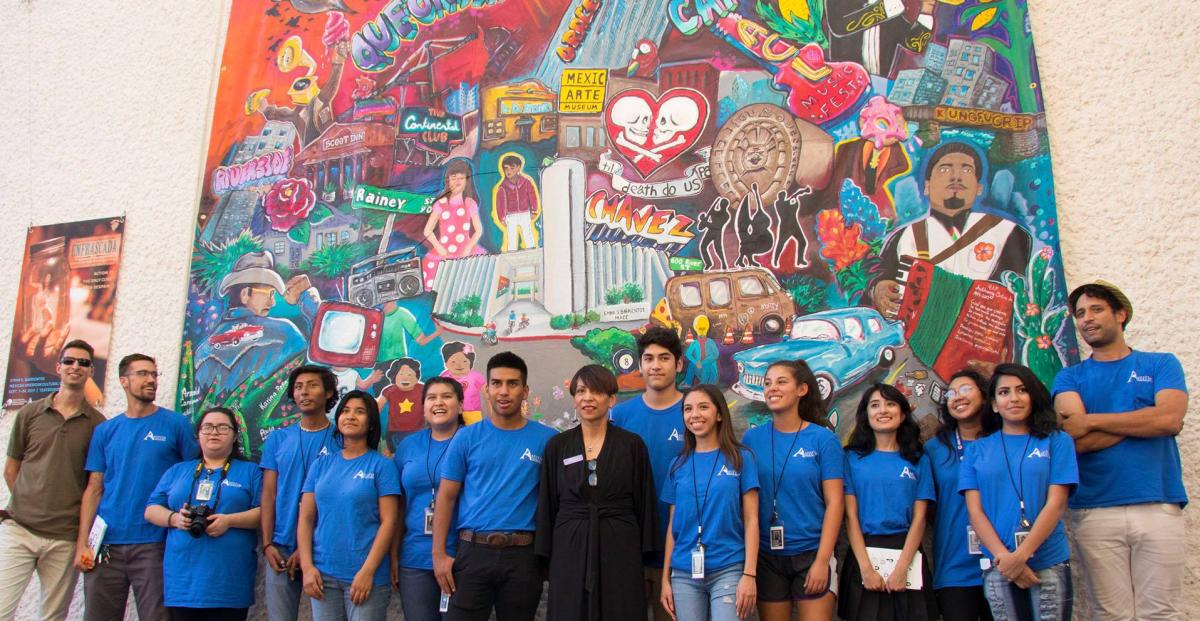 CAMINOS is an immersive; one year long paid internship empowering Austin-area Teens to carve their own path in the creative arts. Students work alongside ESB-MACC professionals on a variety of community oriented activities which include:
-Support and leadership at ESB-MACC's signature events and festivals;
-Curation and execution of Youth Art exhibits for the community at large;
-Production of relevant public artworks aligned with the ESB-MACC's mission;
-Public Outreach for the ESB-MACC at youth conferences; conventions and community events
The Students from the ESB-MACC teen leadership program meet most Saturdays of the year at the ESB-MACC. They undergo a rigorous application process and represent a diverse spectrum of schools and geographic areas of Austin, Texas. They are high-schoolers passionate about pursuing a creative career that can make a palpable difference in their communities. They are also very curious about learning more about Latin American and Indigenous cultures in the Americas and sincerely want to serve other teens by creating content and events that are relevant and enriching. In so doing, they become Ambassadors of Latinx culture in Austin while receiving precious professional development and empowerment along the way.
Follow us on Instagram at @atxcaminos

La Mujer Mosaic Mural
In the Summer of 2018, the teens from the ESB-MACC Caminos Program decided to embark upon a large scale mosaic mural arts project honoring the contributions of Latinas to our society. We will be unveiling this timeless public artwork made by Latinx teens to our community during the La Mujer Festival.  The mosaic is a double-sided wall which will face out towards the hike and bike trail (NW) and towards the ESB-MACC plaza (SE). The work will be 24x6 feet and will include iconic images of both public Latina celebrities as well as unsung heroines from our own community. J Muzacs is the Artist mentor responsible for overseeing the project, and it was coordinated by Frederico Geib, Caminos program director at the ESB-MACC. Stay tuned for the unveiling of the mural in April 2019!
Breaking Barriers Latinx Youth Conference
On February 9, 2019, the Caminos Teen Program organized its first- ever Latinx Youth Conference around the theme of breaking barriers. It was a powerful day for our youth to share thoughts, ideas, art, and music. We could not have anticipated such brave, talented, and expressive youth sharing so much of themselves to build resilience. We are stronger when we come together! Thanks to the Tiarra Girls for ending the day with an amazing musical performance. Remember for follow Caminos on social media for more events and opportunities like this! "They call us DREAMers but we're the ones that never sleep" (Click here to see photos on Facebook)
Application Process
Students undertake an application process which includes:
Filling out an application online by May 15, 2023

Submitting a recommendation (link in the application above)

Attending a panel interview
Applicants should be High School Students who are interested in pursuing a career in the creative industries while exploring Latino/a cultural issues.
Paid Internships & Job Experience
Students become paid interns at the ESB-MACC and get to work with outstanding professionals in areas that are relevant to their career path. They will work for 6-8 weekly hours on average earning about $15.50 per hour. Both interns and professionals will undergo an orientation process and receive guidance from the program coordinator along the way in order to ensure that the internships are both meaningful and productive for all parties involved.
Portfolio Guidance
Having a strong collection of works is essential for any creative professional to move forward in their career. That is why we will be offering portfolio guidance and support so Students can graduate from our program with robust work samples ready to be shared with universities, prospective clients and employers alike.
Collaborative Projects
Students will participate in a series of creative projects alongside accomplished artists which will focus on the promotion and preservation of Latin American culture in our communities. Types of projects include the creation of a graphic novel from A to Z; the making of a Mural, the production and branding of a Latinx Blog/Podcast, collaborations with local filmmakers, musicians and more!
Artist Mentorships
In order for us to improve at our craft there should be an exchange of techniques and ideas with others in our field. When young creatives are able to have this exchange with accomplished artists as mentors, the possibilities for rapid and meaningful growth often become a reality. Our Artist Mentorships are designed to benefit both parties by facilitating productive discourse with the aim of providing meaningful hands-on activities for the Student while the Artist benefits from the added energy, enthusiasm and extra help.