Venue Information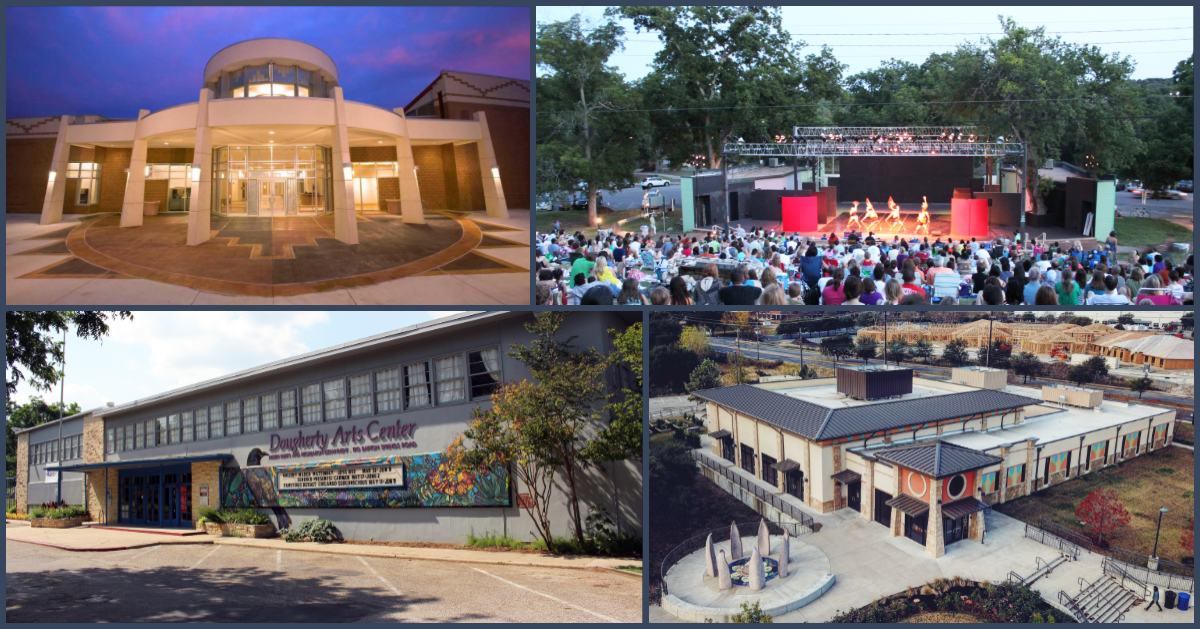 The mission of the Dougherty Arts Center (DAC) is to support emerging through established artists who create, showcase, and experience the arts first hand. We envision the DAC as Austin's cultural living room where people of all ages, races, ethnicities, abilities, genders, sexual orientations, socio-economic statuses, nationalities, and religions gather to create community through the arts.
Available Spaces:  Two rehearsal rooms and a 150 seat theater. For more information click here.
Phone: 512-974-4000
Address: 1110 Barton Springs Road, Austin, TX 78704
James Byers, Theater & Events Coordinator Email
The George Washington Carver Museum, Cultural and Genealogy Center is dedicated to the collection, preservation, research, interpretation and exhibition of historical and cultural materials reflecting all dimensions of experiences of persons of African descent living in Austin, Travis County, and in the United States. The museum is also a key source of information on the history and celebration of Juneteenth.
Available Spaces: Boyd Vance Theatre, indoor atrium, and dance studio. Click here for details. 
Phone: 512-974-4926
Address: 1165 Angelina Street, Austin, TX 78702
Arrietta Allan, Administrative Specialist, Email
The mission of the Asian American Resource Center (AARC) is to provide spaces, services, resources, and programs through an Asian American Pacific Islander perspective. The vision is to empower Austin's diverse communities through cultural understanding and life-enhancing opportunities.
Available Spaces:  Ballroom, great lawn, foyer, four classrooms and a conference room. For details click here. 
Phone: 512-974-1700
Address: 8401 Cameron Road, Austin, TX 78754
Bianca Xoyamayagua-Galvan, Program Supervisor , Email 
Nestled next to Barton Springs Pool is the Dougherty Arts Center's second performance venue, the Beverely S. Sheffield Hillside Theater, also known as Zilker Hillside Theater. The Zilker Hillside Theatre is committed to creating accessible opportunities for all members of the community to engage and collaborate in the performing arts.
Available Space: Outdoor Amphitheater, festival and event grounds. For more information click here.
Phone: 512-974-4000
Address: 2206 William Barton Drive, Austin, TX 78746
Lucy Miller-Downing, Program Supervisor Email