The Field Operations Division manages vegetation and green infrastructure at properties owned by the Watershed Protection Department. Our properties include stormwater ponds, creeks, and open space.
Explore our Properties Online
Explore our programs and properties through photos and graphics on our Green Infrastructure Management online tool or keep reading for short summaries.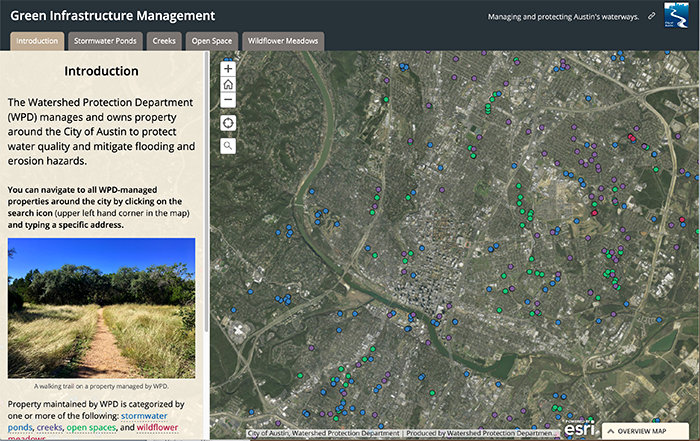 Stormwater Ponds
Our program oversees vegetation maintenance, which includes mowing, tree trimming, and general site cleanup for more than a thousand stormwater pond sites citywide. We frequently coordinate vegetation maintenance with other managing entities at these sites, including homeowners associations and neighborhood organizations.
Open Space
The Watershed Protection Department owns property around the city that is designated as open space. This open space can be acquired from property donations, voluntary home buyouts, or because the property contains stormwater infrastructure (such as ponds). We assume vegetation management responsibilities at most of these sites.
We often work with neighborhood groups and partner organizations on collaborative stewardship and land management of many of these properties. With this kind of coordination, it's possible to have wildflower meadows, restoration areas, community gardens, orchards, or even low-impact trails.
Watershed Wildflower Meadows
Through the Wildflower Meadow program, Watershed Protection is able to reduce costs and emissions associated with mowing, provide pollinator habitat, increase biodiversity, and promote healthy watersheds. Properties under this special type of maintenance are on a reduced mowing schedule, which allows wildflowers to bloom and reseed, while allowing native grasses to thrive. Learn more about the site selection, seeding practices, and management of these sites.
Creeks and Lady Bird Lake
Our program manages vegetation for more than 45 creeks and tributaries, adding up to more than 90 miles. We remove debris from creeks when it is most likely to obstruct the flow of water. We also remove trash and debris from Lady Bird Lake. Call 3-1-1 to report a blockage.
We coordinate with other City departments and partner organizations for trash pickup and other beautification and restoration projects along creeks and the lake.
For more information on adopting a creek, visit Keep Austin Beautiful
To learn about the Ready, Set, Plant! program, visit Treefolks.
Learn more about Grow Zones and other restoration efforts: