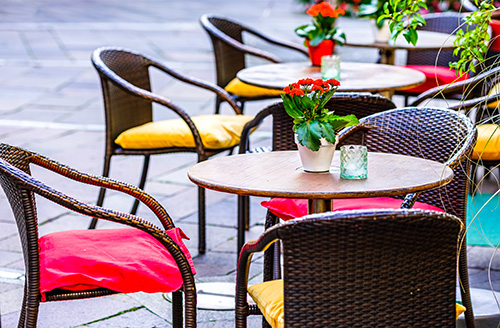 The City of Austin offers a variety of permit programs for businesses that would like to offer outdoor seating or retail options for their customers. The type of permit you will need depends on the space that you would like to utilize. Below are the three options available, broken out between public right of way areas such as sidewalks and City-owned parking spots, and permitting for private lots. 
Right of Way Permits
A Temporary Sidewalk Cafe Permit from the Austin Transportation Department's Right of Way Division allows the creation of a temporary sidewalk cafe and/or street patio. The permit is good for up to five years; it can be more affordable than the license agreement required for a permanent sidewalk cafe.  
Before applying for a permit, please review the Sidewalk Cafe webpage, which includes helpful design guidance.
Sidewalk Cafes
A Sidewalk Cafe is privately managed by the business, open for use only by its customers. Table service may be provided, and barriers are required only when alcohol is served.
Street Patio
A street patio (a.k.a. "parklet") is a sidewalk cafe created in street space formerly devoted to parking. It is permitted as a type of sidewalk café. By converting street space to a use that serves people, street patios can help make cities more welcoming and people-friendly. Austin City Council Resolution No. 20120322-067 directed the creation of the street patio program.
Parking Lot Patio Permit
Businesses that have a privately owned parking lot may apply to convert some of that space into seating through the Parking Lot Patio Permit. These temporary seating areas can be renewed annually and allow for outdoor seating or retails services when permitting such an area through a site plan exemption is not practical.
How to Apply
Instructions for how to complete the Right of Way permit applications can be found on the Sidewalk Cafe webpage.
Download and complete the Parking Lot Patio Permit Application form. Send completed application forms to parkinglotpatio@austintexas.gov.