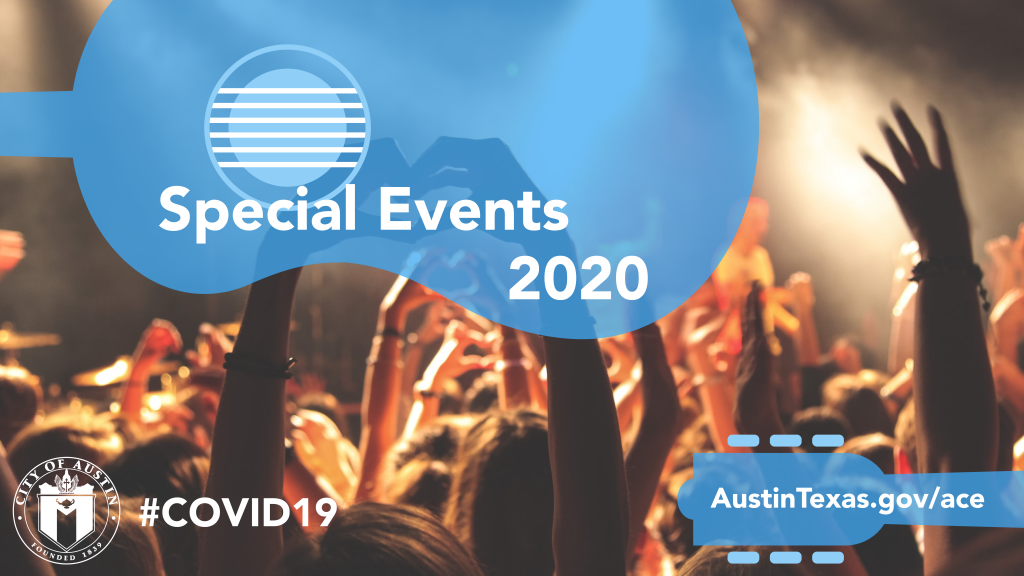 COVID-19 Special Event Updates
The Austin Center of Events has issued guidance to help businesses and events organizers navigate emergency COVID-19 rules safely. 
Except with some exemptions, outdoor gatherings of more than 10 people are prohibited under current Austin-Travis County Orders and the Emergency Rules until at least December 15, 2020.
New Orders and Health Authority Emergency Rules impose requirements on individuals and sites to reduce exposure to COVID-19.  
Emergency Rules Section 2.2. "No more than ten individuals may stand or gather together." This means an individual cannot stand or gather with more than 10 people outside of their household. 
Emergency Rules Section 2.3.4. "A group of ten or fewer individuals must be at least six feet from another group of ten or fewer individuals except when the groups are seated at tables that are at least four feet apart and separated by a solid barrier." Guidance for social distancing inside venues operating at 50% capacity or less.  
Businesses are still able to operate at 50% occupancy inside their venues and with no more than 10 people outside with certain exceptions to the occupancy limits. 
The City of Austin regularly updates the Direction of Businesses, Industries and Job Types chart to help businesses understand the latest Orders and impacts.  
The Austin Center for Events (ACE) has been working with event organizers over the past few months to determine the most safe and best path forward. With the future still unknown, ACE will update stakeholders as developments occur. 
Austin Public Health encourages everyone avoiding gathering with individuals outside of your household, wear face coverings when you have to go out, maintain social distancing, and practice proper hygiene.   
Permissible Outdoor Occupancy Exceptions
Outdoor events of more than 10 people are prohibited until December 15, 2020 with some exceptions. All exceptions require COVID-19 health and safety protocols including face coverings, social distancing and more as outlined in the latest Orders  issued by the Mayor and Governor, and must comply with Texas Department of State Health Services (DSHS) health protocols. 
Media Production:  
Permitted indoors up to 50% of total listed occupancy.  No outdoor occupancy limit outdoors, but must have 6 feet social distance between groups and follow other health protocols. Production office staff not on set should comply with the requirements for the office-based employees. 
Outdoor Dining:  
Restaurants are limited to 50% capacity indoors but are not subject to the 10-person limitation for outdoor gatherings. 
Outdoor businesses facilities/activities: 
The following facilities/businesses are limited to 50% capacity whether indoors or outdoors, but are not subject to the 10-person limitation for outdoor gatherings:  
Professional, collegiate, or similar sporting events  
Swimming pools  
Water parks  
Museums and libraries  
Zoos, aquariums, natural caverns, and similar facilities  
Rodeos and equestrian events 
Amusement parks 
Outdoor Motorsports Events
Permitted up to 50% of normal operating limits as determined by the venue owner. Must follow health protocols including face coverings, social distancing, etc.  
Outdoor Sports 
Permitted if there is no contact with between participants and no more than 10 participants play the sport at any time. Must comply with DSHS health protocol requirements. 
Religious Services 
Permitted, including those conducted in a church, congregation, or houses of workshop. Neither the 50% capacity limit nor the 10-person limit applies. 
Recreational Youth Sports 
Permitted. Spectators should maintain at least 6 feet of social distance from individuals not in the spectator's group. Not subject to the 50% occupancy limit or the 10-person limit. Must comply with DSHS health protocol requirements.   
School Sports and Extracurricular Activities  
Under the Health Authority Order dated July 14, extracurricular activities are prohibited until school systems re-open for on-campus instruction. 
Wedding and wedding receptions 
If a wedding is held at a business, such as a wedding venue or venue that hosts weddings, the venue can have no more than 50% occupancy limits inside. There are no outdoor occupancy limits for weddings. Weddings must follow health protocols (required face coverings, social distancing, etc.). 
Youth Camps 
Permitted. Neither the 50% capacity limit nor the 10-person limit applies apply. Face coverings, social distancing, and DSHS health protocol requirements must be followed. 
The COVID-19 website has been updated to reflect this guidance.
 
Special Event Guidance During COVID-19
City of Austin has additional specifications for events during COVID-19.
Car Parade Guidance (English PDF)
Drive-In Concert Guidance (English PDF) 
Reopening Every Venue Safely Best Practices for Music Venues (English PDF) 
Special Event Permit Application Cancellation from Spring 2020
The City received just under 200 Spring Festival Season permit applications. A list of the permit application cancellations is available. Cancellations may be for any reason, including but not limited to the Austin-Travis County Orders to prohibit mass gatherings.
Questions and More Information 
If you have questions about your event application or future plans, contact us at specialevents@austintexas.gov and we can schedule a remote meeting with you.
311 Information Dial 311 or 512-974-2000 to reach a City ambassador ready to answer any question, or assist with any issue you may have regarding City of Austin departments or services.
Stay Safe
COVID-19 Support
For special events follow Open Texas health protocol guidelines for COVID-19. 
APD Support
In case of emergency, always dial 911. For non-emergencies, dial 311 or 512-974-5000.
Submit a Police Report online to report a criminal incident to the police department or Download the APD app  to get direct access to APD services including station locations, crime prevention information, news updates, and more.
Get Around
Micromobility:
Micromobility Guidelines People who plan to use micromobility services, like scooters and some bikes, should do so in a safe and ethical manner. Please help keep Austin moving safely.
Get Home Safe:
Friendly reminder that buzzed driving is drunk driving. Know how you're getting home before leaving for a night on the town. 
Capital Metro:
Capital Metro can help you get around. Check out routes, maps and download their app to help you navigate Austin public transit.  
Austin-Bergstrom International Airport:
ABIA Ground Transportation information and a video to help you navigate ride share pick-up at the Airport. 
Explore Austin
Some locations and features may not be available during COVID-19. 
City Hall Take a tour around The People's Gallery in City Hall (at 301 W. 2nd Street) 8 a.m. to 5 p.m., Monday – Friday. Admission is always free!
Zilker Park is just south of downtown and one of our most-loved outdoor spaces. This 351-acre metropolitan park is home to a variety of recreation opportunities, facilities, and special events.
Central Library was named one of TIME Magazine's World's Greatest Places 2018. The library is home to 500,000 books, an art gallery, rooftop butterfly garden, café, and a technology petting zoo, and more.
Austin History Center is the history division of the Austin Public Library devoted to preserving information about local businesses, residents, institutions, and more so future generations have access to our history.
The Texas Capitol is the meeting place of the Texas Legislature. Our beautiful Texas Capitol building is widely recognized as one of the nation's most distinguished state capitols.
Ann & Roy Butler Hike and Bike Trail at Lady Bird Lake is one of Austin's many trails. This 10-mile trail is a gem right in the heart of downtown along Lady Bird Lake (Town Lake).
Blanton Museum of Art Located on the University of Texas at Austin campus, the Blanton Museum is an art collection with nearly 18,000 works showcasing art from across the ages. Discover new and old favorites as you check out their exhibits.
Bullock Museum Discover your love of Texas history and check out their ever-changing artifacts, rare documents, photographs, and special exhibits. 
Zilker Botanical Garden Visit the botanical gardens to enjoy handsome trees, natural grottoes, and aquatic features.
Entertainment Districts Explore Austin's divers entertainment districts where you'll find everything from trendy shops and restaurants to cool live music venues, renowned museums and galleries, and scenic outdoor destinations.
South Congress South of Lady Bird Lake, South Congress is a vibrant district with great food, shops, hotels, music, and Austin history! Check out this video about SoCo.
Leave No Trace and help Keep Austin Beautiful! Minimize your impact on Austin by practicing the principles and properly disposing waste in designated areas.