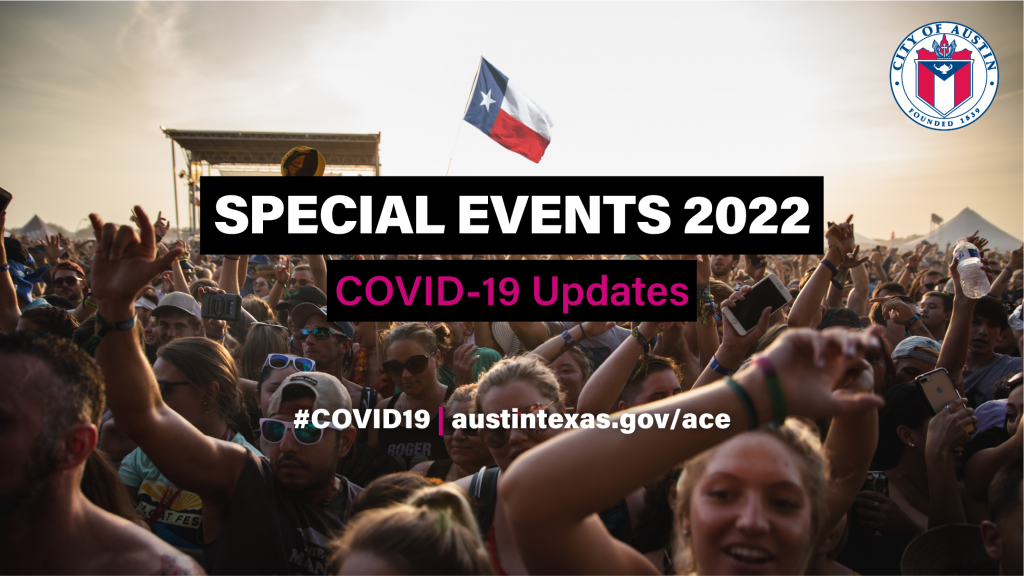 COVID-19 Special Events Updates: January 10, 2022
Since March 2021, Austin Center for Events (ACE), in partnership with Austin Public Health (APH), implemented a process for special events to mitigate the spread of COVID-19 and associated variants.  
Required COVID-19 Health & Safety Plan
A COVID-19 Health & Safety Plan must be submitted as part of an event organizer's special event permit application. Depending on which COVID-19 stage is assessed based on the risk guidelines, the requirements listed in this form may be modified based on current COVID conditions. Regardless of the current permitting guidelines, every event is encouraged to submit an application to start a reviewal process to accept modifications. 
Submit your COVID-19 Health & Safety Plan (via this on-line form). First time users will need to set up an account. 
Preview the COVID-19 Health & Safey Form (Health and Safety Form Preview)
Bringing Events Back: Safety Guide for Venues & Special Events
A detailed guide with the latest requirements will help event organizers with COVID safety mititations. This special events guidance is reviewed at least every 30 days in partnership with APH to ensure guidelines reflect current COVID-19 health conditions. Check out this new page with information and FAQs.
See the latest Bringing Events Back: Safety Guide for Venues & Special Events (PDF)  (Updated January 2022)
For indoor events with 1,000+ attendees, and outdoor events with 2,500+, the submitted Health and Safety Form must be approved by the Austin Public Health department. An APH staff member will review your form and work with you on strengthening mitigation efforts in order to hold a safe event.  
Summary of current plan requirements include:  
Conduct screening of all attendees including but not limited to: requiring proof of a negative COVID-19 test result within 72 hours of entering an event. 
Developing strategies for maintaining at least 6 feet of social distancing.  
Masking recommendations should follow the guidelines as shown in the latest Health Authority Rules  
Risk Based Guidelines: STAGE 5
APH, Travis County and local hospital partners monitor several key indicators including the seven-day moving average of new hospital admissions, positivity rate, the doubling time of new cases, and current ICU and ventilator patients. 
The Stage 5 recommendations of the Risk Based Guidelines include the following:    
Fully vaccinated and/or boosted individuals should continue to wear well-fitting masks whenever leaving their household and choose curbside/takeout options for dining. High-risk individuals should choose curbside or outdoor options for dining and travel only when essential.
Partially or unvaccinated individuals, and those who need their booster dose are discouraged from gathering outside of the home and traveling. Choose curbside/takeout/outside options for shopping and dining. Get fully vaccinated and boosted as soon as possible.
Vaccine Support & Mobile Vaccine for Events
Event organizers and their staff can get vaccinated before an event. Organizers can register to co-host a mobile vaccine event. Complete the Austin Public Health Mobile Vaccination Request Form to request a pop-up COVID-19 vaccination clinic at least one month before the event to help staff and volunteers be fully vaccinated prior to the event.  
COVID-19 vaccinations are free and require neither identification nor insurance. Residents can locate providers in their area using Vaccines.gov or they can text their zip code to 438829 (822862 in Spanish) to find a nearby clinic.  
City-owned Event Facilities 
Austin Public Health is also working closely with City of Austin departments that have event facilities. Each department is operating on an independent reopening schedule.  
Austin Public Library Department  announced The Austin Central Library will begin hosting private events and facility rentals beginning April 1, 2021. All events must receive approval by local health authorities and adhere to Austin–Travis County COVID-19 safety guidelines. More information is located at the rental page.   
Austin Convention Center Department has been given authorization by Austin Public Health to operate. For more information visit Austin Convention Center or Palmer Events Center sites.  
Gatherings on City Parkland and Park Facilities 
The Austin Parks and Recreation Department (PARD) continues to consult with public health authorities regarding park use. The use of picnic sites, event buildings, or special event sites occur based on the reopening guidelines for specific sites. For more information on current PARD facility operations, visit austintexas.gov/parkclosures. 
Events on City parkland require a separate park permit and reservation. Please contact the PARD Office of Special Events at reservations@austintexas.gov and consult the information on the PARD Office of Special Events department website.
Resources and More Information 
If you have questions about your event application or future plans, contact specialevents@austintexas.gov and we can schedule a remote meeting with you.
Special Event Permit Application Cancellation from Spring 2020
The City received just under 200 Spring Festival Season permit applications. A list of the permit application cancellations is available. Cancellations may be for any reason, including but not limited to the Austin-Travis County Orders to prohibit mass gatherings.