COVID-19 Special Events Updates: April 29, 2021
The City of Austin has launched new guidelines to enable events begin to reopening safely. Bringing Events Back: Austin-Travis County COVID-19 Event Safety Guide outlines COVID-19 health and safety recommendations for indoor venues, and new outdoor special event permit requirements for Austin Center for Events. These guidelines are a starting point for events to begin to happen again, and will be updated regularly as health conditions change. 
Special Events Guidance During COVID-19
New guidelines for events are now available. Check out this whole new page with information and FAQs!
After applying for a Special Events Permit, complete the COVID-19 Health & Safety Form 
Preview of questions on the Health & Safety Form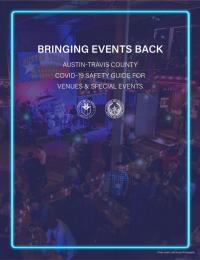 Special Events-Related Order Impacts
Executive Order GA-32 prohibited outdoor gatherings of more than 10 people unless the event was granted an exemption by the Office of the Mayor. This effectively prohibited outdoor events in Austin.
Executive Order GA-34 went into effect on March 10 and allows all businesses to operate at 100% capacity including wedding venues, sports and entertainment venues, performance halls, bars and music venues. GA-34 rendered GA-32 moot. 
Dr. Mark Escott, Austin-Travis County Interim Health Authority, adopted Health Authority Emergency Rules, which expire May 18, 2021. The Emergency Rules govern individuals and sites within the City of Austin and impose requirements to protect public health. Under the Health Authority Rules,  businesses and other sites must limit the number of people who stand or gather together in any one group to no more than 10 people and must require at least 6 feet between each group of individuals.    
Risk Based Guidelines: STAGE 3
Austin Public Health Risk-Based Guidelines provide guidance for individuals behavior. Austin Public Health uses several metrics, focusing on new hospital admissions, but also reviewing hospital and intensive care unit (ICU) capacity, ventilator use, overall positivity rate, and rate of change of these metrics determine the stage of risk. 
Stage 3 recommendations include: 
Continue wearing a mask, social distancing, and practicing good hygiene.
Higher-risk individuals (those over the age of 65 and those who have chronic medical conditions) should avoid non-essential dining, shopping, and travel.
Everyone should continue to avoid gatherings with social groups greater than 10.
Businesses and restaurants voluntarily operate at a reduced capacity of 50-75%.
*State of Texas legislates businesses can operate at 100% capacity.
City-owned Event Facilities 
Austin Public Health is also working closely with City of Austin departments that have event facilities. Each department is operating on an independent reopening schedule.  
Austin Public Library Department has announced The Austin Central Library will begin hosting private events and facility rentals beginning April 1, 2021 on a limited basis and at a reduced capacity. All events must receive approval by local health authorities and adhere to Austin–Travis County COVID-19 safety guidelines. More information is located at the rental page.   
Austin Convention Center Department has been given authorization by Austin Public Health to operate at 25% capacity and is expecting percentages to rise as the number of vaccinations increase. For more information visit Austin Convention Center or Palmer Events Center sites.  
Gatherings on City Parkland and Park Facilities 
The Austin Parks and Recreation Department (PARD) continues to evaluate re-opening PARD facilities according to the City of Austin's COVID-19 Risk Based Guidelines and in consultation with public health authorities. The reopening of picnic sites, event buildings, or special event sites will occur as conditions allow and in consideration of the reopening guidelines for specific sites. For more information on current PARD facility operations, visit austintexas.gov/parkclosures. 
Nearly all events on City parkland require a separate park permit and reservation. Please contact the PARD Office of Special Events at reservations@austintexas.gov, and consult the information on the PARD Office of Special Events department website.
Resources and More Information 
If you have questions about your event application or future plans, contact specialevents@austintexas.gov and we can schedule a remote meeting with you.
Special Event Permit Application Cancellation from Spring 2020
The City received just under 200 Spring Festival Season permit applications. A list of the permit application cancellations is available. Cancellations may be for any reason, including but not limited to the Austin-Travis County Orders to prohibit mass gatherings.