Street Performance Program is on hold due to safety guidelines resulting from COVID-19. For information about Coronavirus (COVID-19) click here. Please visit ATXRecovers.com for the latest resources and funding opportunities.
The Street Performance Program presents live music performances by Austin musicians downtown (500 W. 2nd Street) every Saturday during the fall and spring months. Each musician is compensated for their performance through funding by the Trammell Crow Company.
Funded through a one-time $150,000 allocation for music from Seaholm District developers Trammell Crow, the Street Performance Program pays an hourly rate of $150 to each musician for two-hour sets. This program perfectly represents our commitment to working with our redevelopment partners to support and highlight local music and art.
Musicians representing all genres may learn more about the program by contacting Division Manager Erica Shamaly.
General Information about Street Performing (Busking) in Austin
Street performing (a.k.a. "busking") is legal in Austin and does not require a permit unless you are performing in the City's park system. Please obey the following City Code requirements and best practices:
Acoustic performances only, with sound at 85 decibels or under - NO amplification allowed
Don't block sidewalks
Noise or music cannot be audible to a nearby business or residence after 10:30 PM CST
Always cooperate with Austin Police requests
Safety first! Make sure you're performing where people can safely gather without danger of stepping into a roadway
2019 Street Performance Program Artists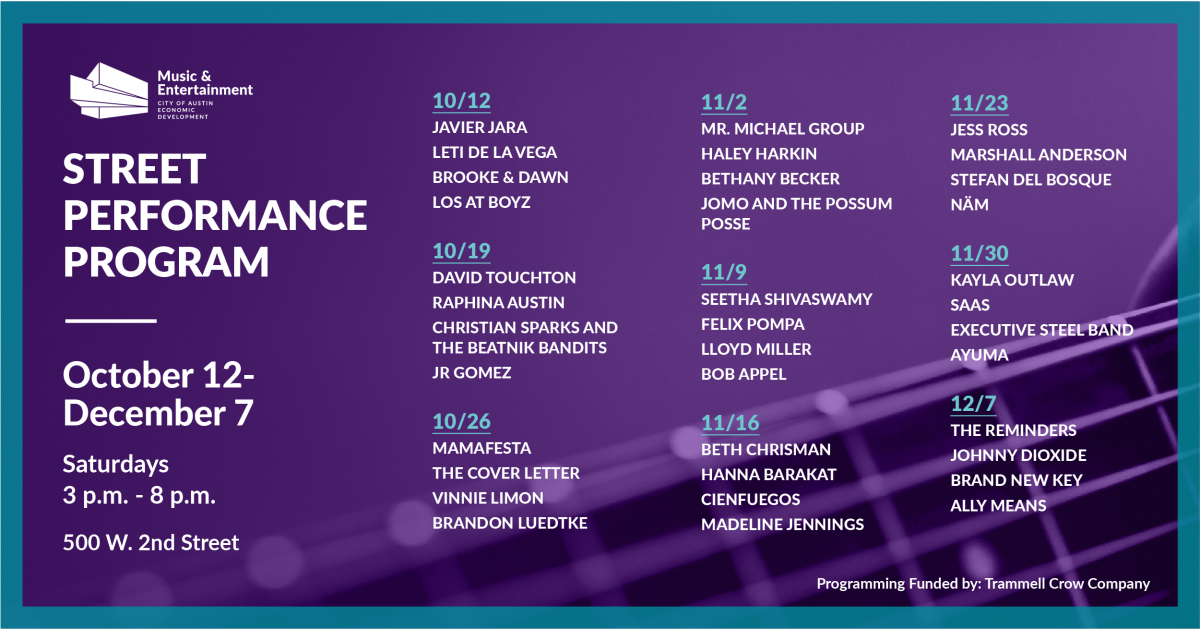 11/2

Mr. Michael Group
Heley Harkin
Bethany Becker
Jomo and the Possum Posse

11/23

Jess Ross
Marshall Anderson
Stafan Del Bosque
Nam

11/9

Seetha Shivaswamy
Felix Pompa
Lloyd Miller
Bob Appel

11/30

Kayla Outlaw
SAAS
Executive Steel Band
Ayuma

11/16

Beth Chrisman
Hanna Barakat
Cienfuegos
Madeline Jennings

12/7

The Reminders
Johnny Dioxide
Brand New Key
Ally Means
2019 Schedule:
Performances take place every Saturday afternoon from October 12 to December 7, 2019
3pm-7pm
Located in front of Google Building (500 W 2nd Street).